Aug 20, 2010 — by Eric Brown — from the LinuxDevices Archive — views
Strategy Analytics is projecting that the Connected Convergent Devices (CCDs) market, ranging from MIDs to netbooks, will achieve a global installed base of over 400 million units by 2014. In a separate report, firm estimates that consumer electronics devices with embedded Wi-Fi will reach 570 million units in 2010, representing 42 percent growth over 2009.
Strategy Analytics' report, "Connected Convergent Devices: The New Battleground," covers a variety of devices larger than smartphones, ranging from MIDs to tablets to netbooks - "a gap that is ripe for growth," notes the research firm. The report estimates the value of the CCD market will exceed $50 billion in 2014, representing an installed base of 400 million units.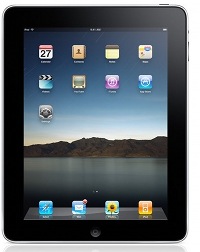 Like several other research firms, Strategy Analytics notes that netbook market growth has slowed since the introduction of the Apple iPad (pictured at right). Similar "cannibalization" will occur among other CCDs, particularly among tablets, e-readers and mobile Internet devices (MIDs), says the research firm.
"All categories have the potential to be very disruptive," stated Peter King, director of the Connected Home Device service at Strategy Analytics. "However, all have their place in the market, and as casual computing develops, new products such as the tablet can be additive to the market as well as cannibalistic."
The explosion of rival tablets to the iPad expected this fall, especially those running Android, will not only further curtail the netbook market, but also stem the e-reader market, which has seen recent price erosion and product withdrawals, says the research firm.
With the help of price cuts, sales of leading e-readers like the Amazon Kindle have held up surprisingly well against the iPad competition. Still, many speculate that dedicated e-readers will soon be a thing of the past, as e-reader interfaces are integrated in a variety of devices ranging from smartphones to netbooks.
"As rival tablets hit the market by year-end, many driven by Google's Android, we will see even more competition in this dynamic new market segment," stated King.
The report includes forecasts through 2014 for CCD unit sales, installed base, device penetration, and market value on a global level, as well as for six discrete regions, says Strategy Analytics.
Wi-Fi survives 3G explosion
Strategy Analytics released a separate study that estimates global sales of "Wi-Fi embedded CE devices" will reach 570 million units in 2010. Growth for this category, which covers some 22 product categories, will represent a 42 percent increase over the previous year, according to the study, "Embedded WLAN (Wi-Fi) CE Devices: Global Market Forecast."
The global installed base for such devices will surpass 2.6 billion by 2014, says Strategy Analytics. The retail value of the market will exceed $250 billion that year, the study projects.
U.S. sales of Wi-Fi embedded CE devices will reach 177 million units in 2010, with annual Wi-Fi device sales achieving 319 million units by 2014, says Strategy Analytics, At that point almost 707 million such devices will be installed in the U.S, says the study.
Due to dropping device costs, faster speeds, and the continuing proliferation of hotspots for Wi-Fi, the technology will thrive despite its growing 3G and 4G cellular competition, suggests the study.
"Consumer demand for the 'everywhere web' will drive Wi-Fi adoption in mobile Internet devices," stated Strategy Analytics' Peter King. "Even where 3G or 4G technologies are available, Wi-Fi will still be a preferred access route for many, as hot-spots and home networks proliferate."

One reason Wi-Fi can compete against 3G and 4G is that the Wi-Fi market is quickly moving to the faster, wider range 802.11n, says the research firm. The 802.11n technology is now integrated in mainstream consumer routers such as the Linsksys E2100L (pictured), and is now a standard feature on netbooks, as well as high-end smartphones.
"We expect to see the prices for 802.11n 1 x 1 chips very quickly fall to parity with 802.11g chips," says the research firm.
Until now, the embedded Wi-Fi device market has been dominated by computing and gaming, but the market will become "much more evenly spread" by 2014, says the research firm. In particular, "Wi-Fi networked TV and Blu-ray players will become significant products in the family room by 2014," stated King.
Wi-Fi device segments covered in the study are said to include cellphones, consumer notebooks, MP3/4 players, digital cameras, handheld games consoles, MIDs, consumer PCs, netbooks, tablets, portable navigation devices, flat panel TVs, DVD and Blu-ray players and recorders, set-top boxes, digital video recorders, digital media adapters, games consoles, digital audio systems, digital photo frames, and networked-attached storage devices.
Global forecasts to 2014 are segmented by product category, and key Wi-Fi technologies such as MIMO and 802.11n are quantified and segmented, says the research firm. Regional forecasts for Wi-Fi devices for Western Europe, the U.S., and Japan are also said to be available.
Availability
More information on the Strategy Analytics CCD study, including a table of contents, may be found here. More on the related Wi-Fi study may be found here. Each study costs $7,000.
---
This article was originally published on LinuxDevices.com and has been donated to the open source community by QuinStreet Inc. Please visit LinuxToday.com for up-to-date news and articles about Linux and open source.