Jul 15, 2010 — by Eric Brown — from the LinuxDevices Archive — views
ABI Research projects that by 2015, Linux-based operating systems, led by Android and Chrome OS, will represent 62 percent of the OSes shipping in all mobile devices aside from smartphones. The study also suggests that Linux offers a unifying advantage for mobile platforms, with a large number of upstream components that can be shared in addition to the Linux kernel.
The Google-backed Android and Chrome OS, Google's upcoming cloud-based Linux operating system (OS) focused primarily on netbooks, will lead the way among Linux mobile platforms beyond the smartphone, says ABI Research. However, other contenders will also play a role in dominating non-handset mobile devices, giving Linux 62 percent in five years, suggests the research firm.
In addition to covering Android and Chrome OS, the study focuses on the Moblin/Maemo mash-up MeeGo and the newly HP-owned WebOS. It also includes Canonical's Ubuntu Netbook Edition, which is undergoing some changes with a fast-booting Ubuntu Light version for netbooks based on Canonical's new "Unity" desktop environment.
ABI Research does not detail the scope of the category covered in the report, although a table of contents mentions growth forecasts for netbooks, media tablets, and MIDs (mobile Internet devices), the latter term typically referring to tablets with four to five-inch screens. By several recent accounts, including a study from DisplaySearch, consumer tablets will enjoy the fastest growth rate of the three segments in the coming years, replacing netbooks for the lead.
Alt

hough Apple dominates the tablet category with its iPad, new Android tablets are announced every week, it seems. Many of them, including the Velocity Micro Cruz Reader (pictured at left), will sell for under $200, less than half the cost of the iPad. Monochrome e-readers such as the still popular Linux-based Kindle and Kindle DX are also likely to be included in the study's scope.
Stated ABI senior analyst Victoria Fodal, "The number of Linux-oriented initiatives recently seen in the mobile industry indicates that Linux will be a key technology in the next generation of netbooks, media tablets, and other mobile devices."
Does Linux matter in a mobile device?
Some have suggested that the "Linux-ness" of various Linux-based mobile OSes is beside the point since beyond the shared kernel, the platforms are often strikingly different. ABI, however, would beg to disagree. Many of these OSes share a number of other upstream, open source components, and the increasingly sophisticated Linux kernel itself plays a large part in the platforms, suggests the research firm.
"Despite the growing number of Linux distributions in the mobile market, Linux has a unified base of upstream components, most notably the Linux kernel," states Fodale. This model enables companies to share the cost of research and development, yet differentiate their offerings in the marketplace, she adds.
The study is said to include a chapter on one potential source of standardized upstream components — the recently announced Linaro. A not-for-profit company launched by ARM and five semiconductor companies, Linaro is chartered to develop standardized, open source Linux tools, kernel, and middleware software for consumer electronics.
ABI Research offered no more free results from the report, "Linux for Mobile Devices," but says the study highlights the strengths and weakness of each mobile Linux platform, including architecture, development, applications, and governance models. Detailed regional forecasts of shipments by each Linux-enabled platform are also said to be included.
Other recent ABI Research: Smartphones, Smartbooks, and Netbooks
ABI Research has never been shy about estimating strong growth for Linux in the consumer embedded markets. Last month ABI Research released the results of a related study claiming that Linux would comprise 33 percent of the global smartphone market by 2015, led by Android. The Linux contenders, which were also said to include WebOS, MeeGo, Bada, LiMo, and ALP (Access Linux Platform), will grow faster in five years than the smartphone market at large, said the study.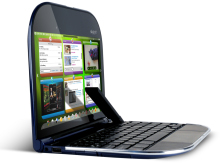 In February, ABI Research released a study predicting that 165 million "smartbooks" will ship in 2015. The smartbook category, which includes ARM-based tablets and small ARM-driven netbooks, such as Lenovo's Linux- and Snapdragon-based Skylight (pictured) would also seem to be covered in this most recent study. The research firm offered no details on smartbook operating system share, however.
In November, ABI Research published a surprising study projecting that by the end of 2009, Linux would represent 32 percent of netbook sales, far higher than the seven percent figure claimed for Linux by Microsoft. ABI also estimated that Linux would overtake Windows on netbooks by 2013, largely due to sales in less-developed countries.
Availability
The ABI Research announcement of its "Linux for Mobile Devices" study should be here, with the table of contents here.
---
This article was originally published on LinuxDevices.com and has been donated to the open source community by QuinStreet Inc. Please visit LinuxToday.com for up-to-date news and articles about Linux and open source.