Feb 10, 2010 — by Eric Brown — from the LinuxDevices Archive — 11 views
TES Electronics is shipping a Linux- and Android-ready hardware/software development kit for home automation, transportation entertainment systems, and industrial displays. The Magik-MX Kit offers a module based on a TI OMAP3530 system-on-chip, an I/O board, a seven-inch multi-touch display, and TES' Guiliani GUI/HMI framework.
The Magik computer-on-module (COM) and Magik-MX Kit are said to be available with Linux, Android, or Windows CE 6.0. Typical applications include home media devices, museum AV guides, portable industrial measurement devices, building security, media phones with DECT, personal medical devices, PNDs (portable navigation devices), and digital signage, says Stuttgart, Germany-based TES Electronics.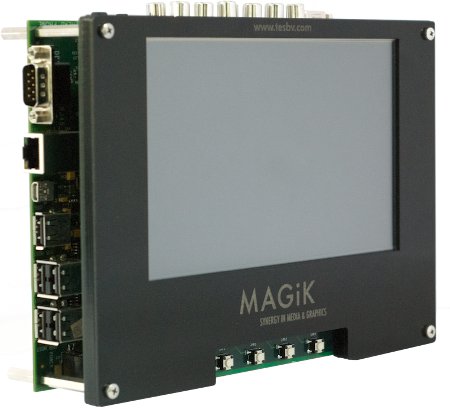 Magik-MX Kit
(Click to enlarge)
The Magik COM
The Magik COM that drives the hardware evaluation kit is based on TI's well-traveled ARM Cortex-A8-based OMAP3530 system-on-chip (SoC), which is clockable to 600MHz. The high-end member of the OMAP35x family, the OMAP3530 includes both a TMS320C64x DSP/video accelerator, enabling 720p video, and an OpenGL ES 2.0 graphics engine, based on Imagination Technologies' SGX 2D/3D graphics processor.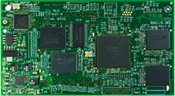 Magik computer-on-module
The Magik module (pictured above) is equipped with 256MB DDR memory, 512MB NAND flash, and 64MB of NOR flash, says TES. The module can boot from either the NAND flash or else the microSD slot available on the kit's I/O board (below), says the company. The business-card sized module is said to offer Ethernet, USB, and serial connectivity, and support HDMI, analog video, and LCD displays.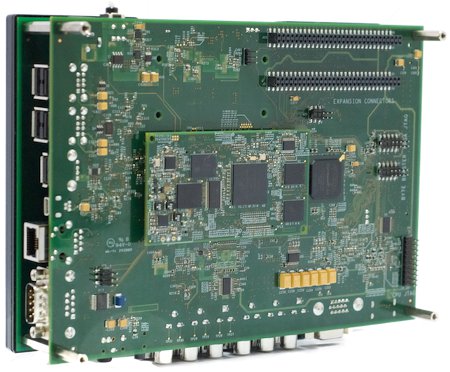 Internal view of Magik-MK I/O subsystem, showing raised Magik module
(Click to enlarge)
Specifications listed for the Magik COM include:
Processor — TI OMAP3530 with ARM Cortex-A8 @ up to 600MHz
Memory — 256MB Mobile DDR (166MHz) memory
Flash — 512MB NAND flash; 64MB NOR flash; SD interface
Display — Supports HDMI , analog video, and LCD; extended via kit's 7-inch 800 x 480 touchscreen
Networking — 10/100 Ethernet controller
USB — 1 x USB 2.0 high-speed host interface; 1 x USB 2.0 high-speed On-the-Go device interface
Serial I/O — 3 x UARTs
Audio — I2S compliant audio codec (TI TWL4030 with 16-bit stereo DAC, 13-bit ADC)
Power Supply — 5v power supply, with on-board power management
Dimensions — 3.54 x 1.96 inches (90 x 50mm)
Operating temperature — 32 to 158 deg. F (0 to 70 deg. C); ext. temp version -40 to 185 deg. F (-40 to 85 deg. C)
The Magik-MX Kit
The Magik-MX Kit combines the Magik COM with a 7-inch, 800 x 480 multi-touch enabled display and an I/O board. The latter communicates with the COM via dual 180-pin high-speed connectors, says TES.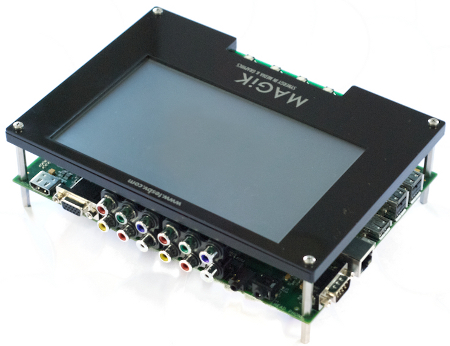 Magik-MX Kit, showing video I/O on left
(Click to enlarge)
The company did not detail I/O specs except to say that the Magik-MX Kit offers HDMI, RCA, and component video I/O, a microSD slot, and an Altera Cyclone III FPGA (field-programmable gate array), said to offer "generic expansion." Judging from the photo above and the architecture diagram below, however, the device also appears to offer real-world Ethernet, plus USB ports, and a serial port.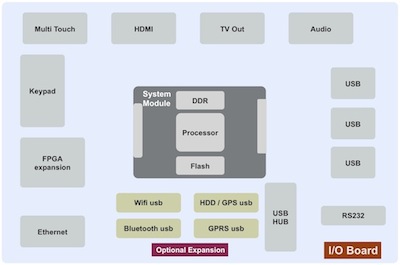 Magix-MX Kit architecture
According to TES, the Magik-MX board also provides optional WiFi, Bluetooth, and "mobile modem" support, as well as "optional DECT and CAT-iq support on USB/SPI." The kit is said to be RoHS compliant and available in industrial temperature grades.
Magik SDK
The Magik-MK Kit ships with a software development kit (SDK) that offers TES' open source Magik OS, which integrates a Linux kernel 2.6.29, and is extendable with an Android implementation. The SDK also supplies a Windows Embedded CE 6.0 BSP (board support package), says TES. Other features include an API for OpenGL ES 1.1 and 2.0, the Guilani GUI framework, and PacketVideo's OpenCore multimedia framework integrated with MPEG-4, H.264, MP3, and AAC codecs for Linux and Android.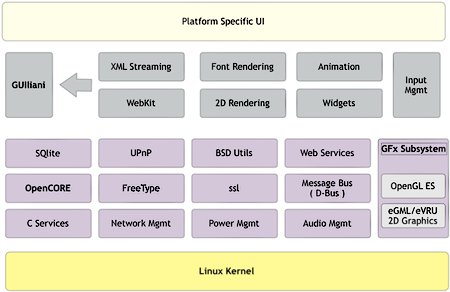 Magik OS architecture
Last April, TES introduced a
Linux version
of its Guiliani HMI (human machine interface) UI framework and editor. Guiliani for Linux supports OpenGL ES on both hardware- and software-accelerated GPUs (graphical processing units), and includes a Linux software development kit (SDK).
Designed to support the Model View Controller approach to design, in which business logic is separated from UI, the framework is said to support creation of GUIs on rendering back-ends including OpenGL, OpenGL ES, SDL, DirectFB, GDI, and framebuffer devices. Guilani also supplies PacketVideo's OpenCore media playback and recording framework.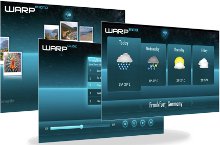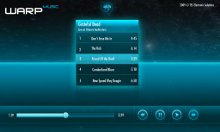 Sample interfaces available with Magik SDK
(Click on either to enlarge)
Stated Michael Sharpless, TI Worldwide Sales Manager, Elite Design House Program, "As an Elite Design House member, TES' hardware and software design expertise is clearly highlighted on Magik through integrating multimedia and a user-friendly HMI framework for a variety of industrial and consumer applications."
Stated Juergen Zeller, CEO TES Design Services & Technology, "A true added value is bringing TES Guiliani HMI on OMAP35x to ease customer's development of user interfaces in the non-mobile market."
Availability
The Magik-MK Kit and Magik module are available now, says TES Electronics, which did not list pricing. More information may be found here.
---
This article was originally published on LinuxDevices.com and has been donated to the open source community by QuinStreet Inc. Please visit LinuxToday.com for up-to-date news and articles about Linux and open source.