Jul 2, 2009 — by Eric Brown — from the LinuxDevices Archive — views

Empower Technologies announced two single-board computers (SBCs), along with a Linux SDK based on the company's LEOs (Linux Embedded Operating System) distribution. The EMP3503 and EMP3530 SBCs are equipped with Texas Instruments OMAP35xx SoCs, and are aimed primarily at digital signage and interactive kiosk applications.
The EMP3503 and EMP3530 are identical except for their processors, the similar ARM Cortex-A8-based, Texas Instruments (TI) OMAP 3503 and OMAP3530 system-on-chips (SoCs). Representing the low- and high-end models of the four OMAP35xx, the SoCs both use a 600MHz Cortex-A8 core, known for its performance-boosting superscalar architecture. Both boards also offer 256MB RAM, 256MB flash, and SD expansion, says Empower.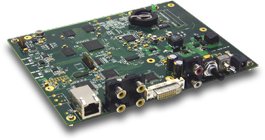 Empower EMP3530
The high-end OMAP3530, which forms the basis for the TI-sponsored, open-platform
BeagleBoard
SBC, adds both an OpenGL ES 2.0 graphics engine and TI TMS320C64x+ digital signal processor (DSP) core tailored for digital media acceleration. As a result, the EMP3530 is said to support High-Definition (HD) video up to 720p screen resolution. The EMP3503, on the other hand, is based on the bare-bones OMAP3503, and is capable of less than true HD video, described as "multi-processed 480p, single-process 720p."
Measuring 5.9 x 7.5 inches, the fanless EMP35xx SBCs are about twice the size of the 3-square-inch BeagleBoard, but boast similar benefits such as low power draw, limited heat generaton, and being capable of instant on and off operation. In addition to supplying an Ethernet port, the SBCs offer an internal USB interface that can be used to connect SATA devices via an SATA-to-USB converter.
According to Empower, the USB interface can be leveraged to provide up to eight optional USB ports, which would typically be used for USB RFID readers in the boards' intended display/kiosk role. There are also options for either a WiFi or 3.5G GSM modem, says the company.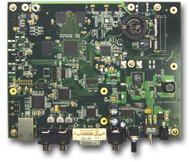 EMP3503
Specifications listed for the EMP3530/3503 include:
Processor — TI OMAP3530 (EMP3530); TI OMAP3503 (EMP3503)
Memory — 256MB DDR SDRAM
Flash — 256MB NAND flash
Flash expansion — 1 x SD card slot
Storage — supports SATA hard drive with internal USB to SATA controller
Digital video — DVI-D video out, convertible to HDMI with optional adapter cable, for up to 720p (EMP3530), or multi-processed 480p, single-process 720p (EMP3503)
Analog video — Composite video out (NTSC/PAL)
Audio — 6W stereo speaker output
Networking — 10/100 Ethernet port (RJ45)
USB — Up to 8 x optional USB ports for USB RFID readers; 1 x optional USB wireless port for either WiFi or 3.5G GSM modem
Other features — IR motion sensor; teal-time clock with coin cell battery backup
Dimensions — 5.9 x 7.5 inches (150 x 190mm)
Operating system — LEOs Linux onboard; Android and Windows CE installs optional; optional LEOs Media Player1.0; optional EMP3530-SDK Media Development Platform
EMP3530-SDK and LEOs
Empower's EMP3530-SDK (software developer kit) is based on its mature, digital media oriented LEOs Linux distribution. LEOs has long been tailored for a variety of TI processors running on Empower PowerPlay PDAs and other similar devices offered over the last decade. LEOs is primarily configured for the OMAP591x SoC, but has presumably been modified for the new OMAP35xx SoCs.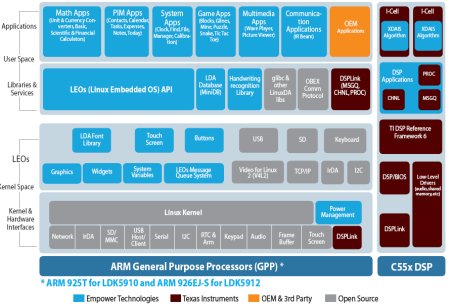 LEOs architecture (TI OMAP591x version)
(Click to enlarge)
LEOs features are said to include:
Tailored for TI DM644x, OMAP591x, and any new embedded CPU offer by TI in the future
SDK with Application Program Interface (API) for third-party developers
Customizable Graphical User Interface (GUI), and intelligent power management
Supports expansion cards, Bluetooth, and GPRS/CDMA
Provides MP3 and digital voice recording functionality
Soft keyboard supports both QWERTY and Magic Pen (patent pending) handwriting recognition
Handwriting recognition engine based on natural handwriting
Multi-language support
The SDK includes an EMP3530 SBC, with a JTAG connector onboard, a CD with the LEOs SDK, and programming manuals, says Empower. To program the TI C64x+ DSP processor core available on the EMP3530, TI's Code Composer Studio software is required.
Empower's "industrial grade" media player software, "LEOs Media Player1.0" is available as an option, says Empower. The company also offers licensing for an enterprise content management software package running under an onboard web server. The software is said to enable remote browser access to upload and interact with content, as well as perform software upgrades.
Stated Empower President and CEO Paul Leung, "The EMP3530 and EMP3503 single board media computers are the PMP (Personal Media Player) equivalent for the industrial and commercial user. Similar in features to consumer PMPs, these solutions are small, easy to install and cost-effective."
Stated Alejandro Erives, OMAP35x marketing manager, TI, "Empower capitalizes on the performance and handheld power levels provided by TI's OMAP35x devices to deliver a solution that performs fast, efficient processing now required by the latest innovative industrial and media equipment in the market."
Availability
The EMP3530 and EMP3503 SBCs with the EMP3530-SDK media development platform are now available in open frame or boxed configurations, says Empower Technologies. More information on the EMP3530 may be found here.
---

This article was originally published on LinuxDevices.com and has been donated to the open source community by QuinStreet Inc. Please visit LinuxToday.com for up-to-date news and articles about Linux and open source.