May 16, 2008 — by Eric Brown — from the LinuxDevices Archive — 50 views

[Updated May 16] — Former Debian project leader Martin Michlmayr has released a "debian-installer" package for devices based on Marvell's Feroceon architecture. Initially supporting the Qnap Systems TS-109 and TS-209 network-attached storage (NAS) devices, the "developer's release" installs a… 2.6.25 kernel and Debian unstable, Michlmayr said.
The port to the TS-1090/TS-209, which Michlmayer says was done with the support of Qnap and Marvell, comes with several disclaimers. "When I mean 'developer release,' I mean it," Michlmayer warns in his release notes. "This is not for end-users but for people who know what they are doing. Also, it's quite experimental and had little testing."
Michlmayr's installer draws pre-built Debian ARM EABI binaries from the "unstable" branch of Debian's ARM EABI port, called "armel" in Debian. Binaries can also be drawn from the "old arm" ARM port, Michlmayr said via email.
The 2.6.25 Linux kernel was the first to support Marvell's Feroceon architecture, a micro-architecture implementation of the ARM Ltd.'s ARMv5 architecture. Commonly used in dozens of NAS devices, the architecture also recently debuted in Marvell's Discovery Innovation series of network processors, featuring a dual-core model clocking to 1.2GHz. Future Discovery-series Feroceon chips will clock to "2GHz and beyond," Marvell has indicated.
To use Michlmayr's installer, users will need a tftp server, and a Qnap device hacked to expose a serial console port. Michlmayr commented, "The TS-109/TS-209 uses the same serial header as the TS-101. There is a pin header on the board but you will need to make a serial shifter. This is explained for the TS-101 at here. The pin layout is the same (see this photo), but the header is found at a different place on the board; if you look at this photo, it's the 6 pin header behind the left button; the 3.3V pin is close to the edge of the board."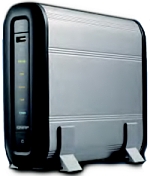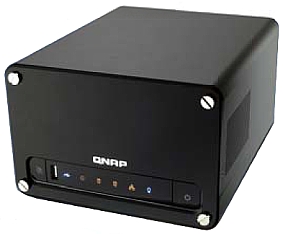 Qnap TS-109 (left) and TS-209 (right)
(Click either to enlarge)
The debian-installer team plans to do a "beta2" release, followed by a "beta3" release based on a 2.6.25 kernel. With that release, things should get more accessible for end-users. Michlmayr also plans to write a script to flash the installer onto the QNAP, so eliminate the need for a console and tftp server.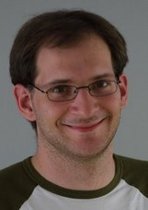 Martin Michlmayr
Michlmayr (pictured at right) is a contributor to various free and open source software projects and works for HP's Open Source and Linux Organization as an Open Source Community Expert. He led the Debian project for several years, and in 2006 he released a debian-installer for Debian's "Etch" distribution that supported the Linksys NSLU2 NAS gadget, known affectionately as the "Slug." In March of last year he issued Release Candidate 2 of the Etch installer, adding support for Intel's ARM-based XScale I/O processors (IOPs), and for several IOP-based devices.
More on the TS-109 and TS-209
Both TS models devices feature a fanless design and aluminum alloy case with power consumption said to be less than 14.4W in normal operation. Both are equipped with Marvell 5182 "Orion" SoCs, featuring ARM cores clocked at 500MHz and based on Marvell's Feroceon architecture. Both have 8MB of flash and 128MB of DDRII SDRAM, although Marvell last month began offering a "Pro II" model with 256MB, targeting "power users." RAM obviously is critical for those using the devices to build software, as the GNU compiler collection (gcc) uses lots and lots of memory.
In October, Qnap updated the firmware for its TS-109 and TS-209 devices, which were introduced last summer. The release added DLNA media-sharing capabilities usable with Sony's PlayStation3 and Microsoft's Xbox 360.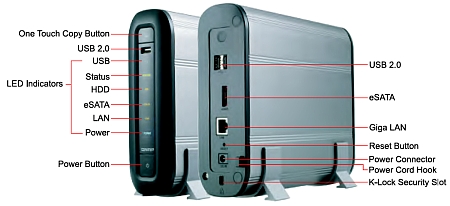 TS-109 connections, front and back
(Click to enlarge)


TS-409 Pro Turbo
(Click for details)
The TS-109 supports up to 1TB storage on an internal SATA hard drive, says Qnap, and can expand to 2TB via external eSATA or USB drives. The TS-209 is similar, but provides a built-in second drive. They both support RAID-1 mirroring and provide servers for backup, file, web, MySQL, print, FTP, iTunes, and UPnP media services, and offer remote replication and photo sharing features. The soon-to-be-hacked TS-409 Pro Turbo NAS, meanwhile, offers a hot-swappable HDD design, RAID 0/ 1/ 5/ 6/ 5+ support, and online RAID capacity expansion and level migration, says Qnap.
The Qnap devices ship with a 2.6.12 Linux kernel, together with Qnap's self-maintained Linux implementation. Open source packages include SAMBA, proftpd, httpd, busybox, bittorrent/ bittornado, and nfsd, with all Linux development done in-house, according to the company.
Also on the horizon is support for the more powerful TS-409 Pro Turbo version, featuring four drives.
Availability
Martin Michlmayr's debian-installer for the Qnap TS-109 and TS-209 should be available here. In addition to thanking Qnap Systems and Marvell, Michlmayr also thanks Frans Pop, Byron Bradley, and Sylver Bruneau for helping out on the project.
---

This article was originally published on LinuxDevices.com and has been donated to the open source community by QuinStreet Inc. Please visit LinuxToday.com for up-to-date news and articles about Linux and open source.