Mar 26, 2008 — by LinuxDevices Staff — from the LinuxDevices Archive — 39 views

[Updated Apr. 28] — Dozens of network-attached storage (NAS) servers and other consumer appliances will gain mainline kernel and Debian GNU/Linux support soon. The 2.6.25 kernel, currently in the final stages of testing, will support Marvell's Feroceon micro-architecture and "Orion" SoCs, with Debian support… close behind, sources say.
Yesterday, Linus Torvalds launched release candidate 7 (rc7) for the 2.6.25 kernel, commenting, "Give it a good testing, because we're hopefully now well on our way towards that eventual real 2.6.25 release!" The comment suggests the newest kernel could well launch this week.
The kernel will include patches from the Orion git tree maintained by Nicolas Pitre and Lennert Buytenhek. The two notable ARM Linux hackers were hired by Marvell to add mainline Orion support, according to Martin Michlmayr, an HP engineer who led the Debian project for several years. Longtime Marvell engineers Itzhak Perelstein and Saeed Bishara appear to have worked closely on the port as well.
After 2.6.25 ships, Debian support will not be far behind, Michlmayr suggested, commenting, "Debian support is mostly waiting for the 2.6.25 kernel release; most of the basic support will be done in time 2.6.25 is out."
In practical terms, mainline kernel and Debian Linux support make devices based on Orion more appealing to hackers and hobbyists, or anyone wishing to run modern software on them even after the manufacturer discontinues support. So far, Orion chips have been used in lots of network-attached storage appliances that run Linux, as well as in wired and wireless networking equipment and other consumer devices based on other OSes. Marvell Director of Marketing Sandeep Shah said, "While we support several operating systems (Linux, VxWorks, netBSD, to name three), the [Orion-based devices] that are most visible in the Linux community today are the NAS ones."










Linux- and Orion-based NAS devices
(L-R) HP MV-2100, QNAP TS-409 and TS-109, Hammer MyShare, Seagate / Maxtor SS-II, Synology CS-407, LaCie 2Big network, Iomega StorCenter, D-Link DNS-323
(Click any device for details)
Shah supplied the following "partial list" of NAS design wins based on Linux and Orion:
Seagate / Maxtor Shared Storage II 300GB / 500GB / 1TB
Buffalo LinkStation Pro
Buffalo LinkStation Living
Buffalo TeraStation Pro
D-Link DNS-323
LaCie Ethernet Disk mini
I·O DATA LANDISK Giga
I·O DATA LANDISK Tera
Iomega StorCenter Network Hard Drive 500GB / 750GB / 1TB
QNAP TS-409 Pro
QNAP TS-209 Pro
Synology DS107+
Synology DS207+
Synology CS407
Synology RS407
Philips SPD8020
HP Media Vault mv2120
HP Media Vault mv5100
Additionally, Shah noted that board vendor Technologic Systems markets a tiny TS-7800 development board based on a Marvel 88F5182 processor clocked at 500MHz. The board comes with Debian Linux, boots in 2.6 seconds, and has an on-board FPGA with 12,000 LUTs (look-up tables), enabling customers to add custom low-powered sensor interfaces for industrial applications, among other potential uses.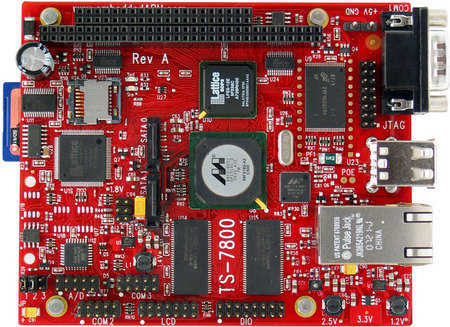 Technologic's Orion-based development board
(Click for details)
More about Orion
The Orion chips are based on Marvell's ARM9-based "Feroceon" micro-architecture, which the company implemented itself as an ARM architecture licensee. Other SoC (system-on-chip) vendors that have licensed the architecture and implemented their own micro-architectures include Intel, with the XScale and XScale v3 micro-architectures, and Freescale, with i.MX. (TI's OMAP parts are based on off-the-shelf ARM cores).
"Orion" is trademarked by another company, and for that reason, Marvell markets the chips by their model numbers, such as "88F5181, 88F5182, etc," Shah said. The parts are also associated with the "MediaVault" brand that Marvell uses for its hardware reference designs.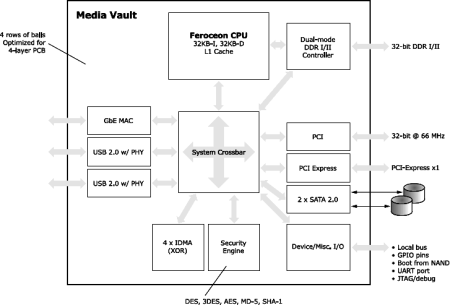 Typical Orion SoC architecture
(Click to enlarge)
In addition to one or more Feroceon cores, the Orion chips integrate I/O-intensive optimizations such as mixed-signal interfaces and a high-speed crossbar switch, Marvell said. And, there are lots of on-chip peripheral interfaces, including:
DDR2 memory controller
Security engine
2 x USB 2.0 ports supporting both host and device modes
PCI and PCI Express ports
2 x SATA 2.0 ports
2 x gigabit Ethernet MAC ports with either RGMII or SGMII interfaces
Additional options include graphics, multimedia devices, and 802.11n wireless, according to Marvell.
Marvell offers a number of MediaVault references designs based on Orion SoCs. The designs include a "Marvell packaged and maintained, open-source, production-proven Linux SDK," Marvell said. Available designs appear to target set-top boxes and DVD-Rs, as well as triple-play gateways and "DAS" (direct-attached storage) devices.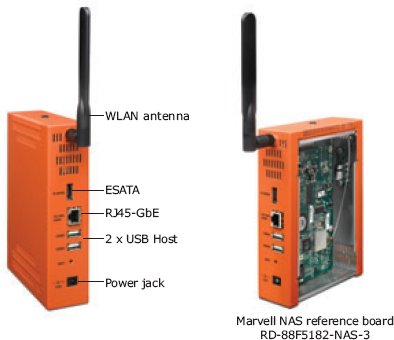 Marvell RD-88F5182-NAS-3 board and reference design
The RD-88F5182-NAS-3 design pictured above targets wireless streaming media server applications. Touted features include:
88F5182 processor
Embedded WLAN 802.11b/g, based on Marvell 88W8335 and 88W8010
Plug-in 802.11n PCIe minicard
80/160GB, 2.5-inch 7200 RPM SATA HDD
External system interfaces:

Gigabit Ethernet (GbE) on RJ45
2 x USB Host
ESATA
Power jack 12V25W
Shah concluded, "We are very excited about opening up the Orion family as well as future CPU SoC products to the Linux community. We are opening up more and more documents as these products become mainstream, and this is an ongoing process."
Michlmayr also acknowledged work done by Herbert Valerio Riedel and Byron Bradley on porting Linux to various Orion-based hardware platforms.
Thanks to Martin Michlmayr for calling this story to our attention
---

This article was originally published on LinuxDevices.com and has been donated to the open source community by QuinStreet Inc. Please visit LinuxToday.com for up-to-date news and articles about Linux and open source.