Sep 30, 2009 — by Eric Brown — from the LinuxDevices Archive — 2 views
Dell is shipping the first laptop offering its MontaVista-designed fast-boot technology. The Latitude Z laptop runs Windows 7 on an Intel Core 2 Duo, but also offers a TI-built, ARM-based module running the Linux-based "Latitude ON" technology, touted for instant access to email and the web with minimal power usage.
Dell announced Latitude ON in August 2008, then more details in October, at which point MontaVista CEO Rusty Harris said that the technology was built on MontaVista Linux running on an ARM-based Texas Instruments (TI) processor.
Two views of the Latitude Z
At the time, Dell said that Latitude ON would be available "in the coming months" on the Latitude E4200 (pictured farther below) and E4300 notebooks, the two lightest-weight models of five re-engineered Dell Latitude laptops. Dell has now announced that the Windows-based E4200 and E4300 are available with Latitude ON as a $200 option, while the new $2,000 Latitude Z offers it as a standard feature.
Dell bills the Windows 7-based Latitude Z as "the world's thinnest, lightest 16-inch laptop." The 4.5-pound, sub-0.5-inch thick laptop's Intel Core 2 Duo is paired with up to 4GB of DDR3 memory. The Latitude Z is said to offer a 16-inch, 1600 x 900 pixel display, WiFi, optional 3G, Bluetooth, Ethernet, a camera, and solid state drives (SSDs) with up to 500GB of storage.
Dell also touts the laptop as being the world's first laptop with wireless docking and inductive charging, and promises that the inductive charging stand will be available as an option in a few weeks.
Dell has yet to use the taboo words "ARM" or "Linux" in any of its Latitude ON marketing materials, but according to several industry reports, including EETimes, the company has confirmed the presence of an ARM processor. In addition, a MontaVista spokesperson confirmed to LinuxDevices today that the technology runs MontaVista Linux on an ARM processor.
One other intriguing clue is that Dell now refers to the processor as a "smartphone" processor, which might suggest TI's OMAP3530 (see farther below for background).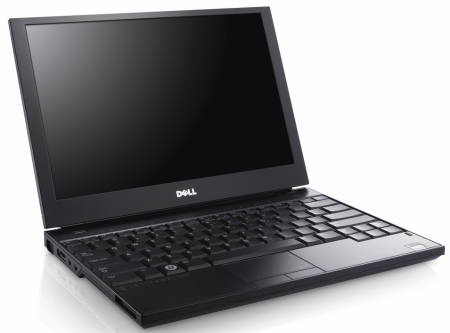 Dell's Latitude E4200 is available with Latitude ON as a $200 option


(Click to enlarge)
According to Dell, Latitude ON comprises "a sub-processor and sub-operating system" that delivers interactive access to email, the Web, contacts, attachments, and calendars in about two or three seconds. Latitude ON makes use of the keyboard and display, and controls 200MB of storage, says the company.
Dell also claims multi-day battery life for laptops running Latitude ON, although a footnote reveals that this feat requires an extra-cost battery, and in a feature chart, battery life is referred to as "multi-day idle." Still, the ARM-based implementation is likely to offer much greater power efficiency that Windows 7 running on a Core 2 Duo.
Other Latitude ON features are said to include:
Firefox browser
Access to IMAP, POP, Novell Groupwise, or Microsoft Exchange 2003 email
Citrix Receiver, enabling IT administrators to ensure remote secure access similar to a thin client
Strong password requirement
Supports virtual private network (VPN) functionality
Ability to read .doc, .xls, .ppt, and .pdf documents
Dedicated Latitude ON button for instant connection
The use of Citrix Receiver is an interesting addition to the Latitude ON stack. In May, Open Kernel Labs (OK Labs) and Citrix announced they would deliver the "Citrix Receiver" virtualization client on the OKL4 microkernel-based mobile hypervisor by the end of the year. As a result, smartphones running Linux, Android, Symbian, and Windows Mobile will be able to display secure, virtualized Windows desktop images, said the partners.
Latitude ON and Montebello background
In February of this year, MontaVista announced a mobile Internet device (MID) oriented version of MontaVista Linux called MonteBello, which also boasts fast boot-ups. In July, MontaVista demonstrated related, but unnamed fast-boot technology, and in a July interview with MontaVista founder and CTO Jim Ready, he said that MonteBello and Latitude ON were essentially the same technology.
When we spoke with MontaVista's Dan Cauchy back in February about Montebello, he said the technology would initially target MIDs using an ARM Cortex-A8-based OMAP3x system-on-chip (SoC). Considering that Dell calls the mysterious processor a "smartphone" chip, it is likely one of TI's mobile-oriented OMAP34xx SoCs, such as the OMAP3430 processor found in the Palm Pre.
Availability
The Latitude Z with Latitude ON is available now, starting at $2,000, says Dell. Also available are Latitude ON options for the Latitude E4200 and E4300 notebooks, at an upgrade cost of $200, says Dell. More information may be found here.
The EETimes story claiming the "sub-processor" found in the Latitude ON module is an ARM-based processor may be found here.
---
This article was originally published on LinuxDevices.com and has been donated to the open source community by QuinStreet Inc. Please visit LinuxToday.com for up-to-date news and articles about Linux and open source.