Feb 16, 2009 — by Eric Brown — from the LinuxDevices Archive — 2 views

[Updated: Feb. 17, 2009] — MontaVista will demonstrate a Linux distribution for mobile Internet devices (MIDs). The "Montabello" stack builds upon its Mobilinux distribution with MID-focused middleware and applications, and offers extended battery life, fast boot-up, and "seamless"… wireless handoffs, says MontaVista's Dan Cauchy (pictured).
Montabello will initially focus on MIDs based on the Texas Instruments OMAP3x platform running the superscalar ARM Cortex-A8, said Cauchy, senior director of market development. However, the company hopes to expand to other processor platforms, as well as different form factors including automotive infotainment devices, netbooks, and mobile data and voice devices that blur the lines between smartphones and MIDs, said Cauchy.
"Montabello is targeted at MID customers who want an instant on, always on, always connected device," said Cauchy, a longtime MontaVista executive and former chairman of the Linux Foundation's Carrier Grade Linux (CGL) group. "It's really more driven by battery life and instant-on than by performance, so we offer a lot of advanced power management, and we focus on roaming handoffs."
While Montabello may extend to high-end smartphone formats, Mobilinux will remain the company's product for traditional smartphones, said Cauchy. "Montabello is intended to bring Mobilinux to a slightly bigger screen, with more functionality and enterprise features, and a full suite of applications."
Montabello targets both consumer and corporate MIDs
Montabello is licensed as a combination of a software stack, and customization services, and the company will work with device manufacturers to build customized versions, including specific corporate designs, said Cauchy. "We will engage with customers to fully spec how the device will look and feel, including display requirements," said Cauchy. "We can help build all sorts of different form factors, from an iPhone-like device to a MID, all the way up to a netbook. Montabello is very customizable, so every device can be different."
Montabello lacks the phone-specific application stack included in Mobilinux, said Cauchy, but does include its power management, security, and 3G and WiFi connectivity. It initially targets both consumer and enterprise devices based on OMAP3, with 128-256MB of RAM.
Montabello components include:
GTK UI framework
XFWM window manager (which is XFCE's window manager), although the component is "negotiable," Cauchy said
AutoVPN function, with support for OpenSSL as well as Cisco-type VPNs
Email client with "full" connectivity to MS Exchange Server
Mozilla-based (Gecko-based) browser, with Firefox UI, although different UIs can be used for different form factors, Cauchy said
PDF viewer
Contact management and calendar apps
MontaVista-written connection manager extensible for various radio types
"Full" settings manager, with all the customizable settings in one location
Firmware upgrade utility, extensible for future addition of OTA (over-the-air) upgrades
Out-of-box setup wizard that prompts for a configurable group of settings, such as user ID, location, timezone
Bluetooth support
GPS location-aware capability, including drivers for popular GPS chipsets (a GPS application is also planned, but Cauchy commented, "We found that so far, most device makers already have a significant investment in the GPS app of their choice.")
Optional integration with DataViz (third party) viewer for Word, Excel, and Powerpoint, including MS's new XML-based formats (!)
Full native Linux SDK support (Java SDK planned "fairly shortly" after initial release). Flash SDK also planned.
Other planned components for future releases include support for WiMAX and touchscreens.
Fast boots and quick resumes
Cauchy seemed particularly proud of Montabello's fast boot capability, which he said derived from work done on Mobilinux. It may also share a lineage with the MontaVista-derived fast-boot technology incorporated in Dell's Latitude ON fast-boot feature. "We can show a splash screen in under two seconds, and can boot to init in about five seconds," said Cauchy. "Depending on what the application is doing, you can have something useful happening in five to ten seconds."
Cauchy also noted that Montabello supports application pre-linking, "which can shave off significant clock cycles from application launches," he said. And of course, after the initial boot, advanced power management and "S3-like" suspend states are possible. "You can put most of device to sleep, and by pressing a button it can instantly respond. We have both a low-power state that turns off most things on the device, and then a suspend state which can typically resume in a half second," Cauchy said.
Aspects like fast boot, fast suspend/resume, and long battery life will be the features that make or break a MID, at least in the first generation, said Cauchy, who added, "We're really geared to provide that instant on, always on MID experience."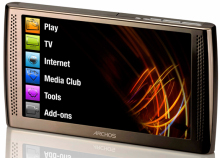 Here come the ARM MIDs:
Archos 7 PMP
(Click for details)
Analysis
With enterprise features like AutoVPN and Exchange Server support, Montabello appears aimed more at competing with Microsoft's Windows Mobile stack than with other ARM Linux-based MID stacks (i.e., Maemo), which so far have mostly focused on entertainment. Windows Mobile has great branding power and familiarity to enterprise developers, but as high-profile projects like Android raise awareness of Linux's viability in devices, and as more Linux developers enter the corporate workplace, MontaVista could win some enterprise device development contracts from Microsoft, especially among customers with non-mainstream requirements.
The lack of touchscreen support suggests that MontaVista may have created Montabello initially for customers in the high-end navigation device field, although MontaVista would not comment on that possibility. If the stack is to succeed in consumer devices, touchscreen support seems like a must, in the post-iPhone world. It remains to be seen how well XFWM could be adapted for use with touchscreens, though presumably Hildon or another Freedesktop.org-friendly touchscreen environment could be swapped in if need be.
The MID market is still highly confusing, bleeding over into smartphones on one side, and netbooks on the other. Until recently, the MID category has been owned by Intel, which invented the term for tablet-like devices running its Intel Atom. A number of Atom-based MIDs have arrived, running Linux-based stacks assembled using Moblin development tools. Yet the new V2 version of Moblin, due in Beta the second quarter, is targeted at netbooks instead of MIDs.
The term "MID" is often now extended to ARM-based Linux tablets, which actually pre-dated the coinage by several years. Such tablets include the pioneering Nokia N8xx Internet Tablet, which is also set for an OMAP3x upgrade this year, and the MID-like OMAP3x-based Archos 5 and Archos 7 (pictured) portable media players (PMPs). Archos recently announced a new OMAP3x-based PMP that runs Android.
Additional ARM Cortex-based MID-like devices are likely to arrive later this year based on TI's omnipresent OMAP3x, with apparently at least one of them running the Montabello stack, according to Cauchy. Meanwhile, Freescale is sampling its first i.MX51-family system-on-chip (SoC), with the first version, the i.MX515, targeted at netbooks. The i.MX51 platform will be spun off for other devices, says Freescale, including potential MID-like devices.
Also waiting is the wings is Qualcomm, which is readying a MSM8xxx mobile SoC platform that incorporates a 1.2GHz "Scorpion" applications processor, a 600MHz DSP, and "full 1080p" HD video playback, and which is targeted at a range of consumer electronics that might include both MIDs and netbooks. The Scorpion, like ARM's Cortex-A8, is reportedly based on the advanced ARMv7 instruction set, and compatible with its earlier Snapdragon mobile processors. All these developments set the stage for always-connected, mobile data terminals that run a Mozilla browser as their "killer app," paving the way for mobile devices to surpass PCs as the primary Internet access device.
Availability
MontaVista Montabello will "ship in the coming months," said Cauchy, moving to general availability by mid-year. Pricing was not disclosed, though in the past, MontaVista has typically offered royalty-free licensing to smaller customers, along with "shared risk" or "pay-as-you-go" licensing for large companies licensing its tools on a site-wide basis.
---

This article was originally published on LinuxDevices.com and has been donated to the open source community by QuinStreet Inc. Please visit LinuxToday.com for up-to-date news and articles about Linux and open source.