Feb 7, 2011 — by LinuxDevices Staff — from the LinuxDevices Archive — 2 views
Dell's seven-inch Dell Streak 7 tablet boasts a fairly affordable price, plus a powerful dual-core Tegra 2 processor that delivers zippy performance. However, it needs Android 3.0, better battery life, and an improved screen and camera to keep up with the fast-running competition, says this eWEEK review.
Dell's five-inch Streak, released to the U.S. market in August, suffered from something of an identity crisis. Was it a tablet competitor to Apple's iPad, despite the smaller touchscreen? Or did its calling ability make it more of an Android smartphone, on par with the Samsung Galaxy S?
Dell obviously hoped their new baby would appeal to an audience in the market for both types of device — the risk being that, in attempting to hit that sweet spot between the two, the Steak would end up an also-ran in the tablet and smartphone categories.
Dell's Streak 7 suffers no such crisis. Announced at CES last month, the Streak 7 seems clearly meant to compete within the tablet category, such as the Samsung Galaxy Tab and Research In Motion's upcoming PlayBook, both of which also include seven-inch screens.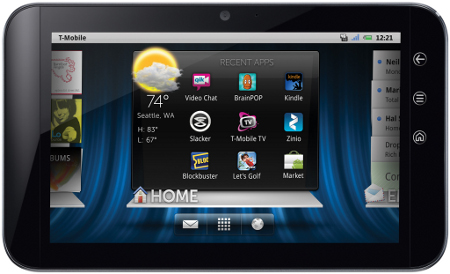 Dell Streak 7


(Click to enlarge)
Like its predecessor and the other Android-based tablets currently on the market, the Streak 7 runs Android 2.2 ("Froyo"), which was developed for smartphones (and smaller screens). Dell is promising over-the-air (OTA) software updates in the future, presumably to the upcoming, tablet-optimized
Android 3.0
("Honeycomb"), and that could change the user experience considerably. In the meantime, all the quirks of Android 2.2 on a larger-screen device are pretty apparent.
Hardware
Hardware-wise, the Dell Streak 7 is a handsome, middle-of-the-road tablet. It weighs just under a pound. The seven-inch format and smoothly curved bezels make for a comfortable one-handed grip — provided you have a hand on the larger side. The textured backing provides a little bit of friction on smooth surfaces.
The Gorilla Glass front will presumably resist at least some damage — it survived four 3-foot and 5-foot test drops onto a hardwood floor with no cracking or chipping. (As always, dropping your expensive mobile device is not recommended.)
Whereas the original Dell Streak featured three mechanical buttons along its topmost rim — camera, power and volume — the Streak 7 offers only power and volume. Like the original Streak, this larger edition relies on a PDMI (portable digital multimedia interface) connector with a 30-pin receptacle, connected to a USB port and AC adaptor.
Both Streaks' design is such that the connector takes a bit of fumbling to slot into the tablet, but that's a comparatively minor quibble — far more minor, say, than the Streak 7's seeming inability to charge when plugged via USB into a ThinkPad.
The front of the Streak 7 offers three capacitive buttons: Back, Menu and Home. This is an Android device standard, and they all seemed responsive no matter what app or feature happened to be running at the time.
The Streak 7's screen, with an 800 x 480 resolution, seems a bit dim compared to the Samsung Galaxy Tab's 1024 x 600 resolution. RIM has claimed its PlayBook's resolution will match the Tab's, which means the Streak 7 could find itself lagging in the category come the next few quarters.
Nor were the Streak 7's viewing angles particularly ample: Unless you stare at the screen head-on, or at the slightest angle, it becomes unacceptably dark.
If the Streak 7's hardware has an Achilles Heel, it's the five-megapixel rear-facing camera. The software is Android standard, with the ability to granularly adjust for picture quality, white balance, etc. No matter what the setting and lighting conditions, though, the resulting images often appeared muddy or washed-out. The camera module's positioning on the upper-left portion of the Streak's frame also made for some awkward centering.
As with the original Streak, the camera's bright spot — so to speak — is the camcorder, and its ability to shoot 720p video. Uploading both still images and video to Picasa, Facebook, Gmail, and Twitter is a snap.
Performance and battery life

Thanks to the Streak 7's dual-core 1GHz Nvidia Tegra processor, apps and games run with nary a stutter. I played games such as Gun Bros and Asphalt 5 for 90 minutes or more at a stretch, without the back of the device becoming more than just a little warm, and with no slowdown.
Combined with the T-Mobile 4G connection, downloading and opening Web pages and running video was likewise a speedy experience. Inevitably, though, that speed costs power: over a few days' consistent testing, I needed anywhere from two hours to four hours to drain a full battery charge.
Which brings us to the subject of Android 2.2 — or rather, the increasingly desperate need for Android 3.0. Or more specifically, the need for Google to offer a version of Android not only optimized for tablet apps (done, once Honeycomb is pushed into the ecosystem,) but also tweaked for tablet-caliber power management.
More than once, I've run a third-party app or game only to find it sucking away at the tablet's battery like a particularly famished vampire; and when you navigate away from said program, there's no indicator or guarantee that it isn't still running in the background.
Say what you will about the drawbacks of the "walled garden" model advocated by Apple or Microsoft — at least you're assured of a certain quality level. If Google and its partners can impose a greater degree of order on Android Marketplace, and tweak how those apps interact with Android, then the Marketplace could conceivably gain the cachet it needs to battle more heartily against Apple's App Store.
In addition, the Streak 7 crashed on me three times over the testing period when running apps. In each instance, I needed to perform a hard restart. Whether this is the fault of Android or the app is an open question. Nonetheless, those crashes contributed greatly to the sense of Android needing another polish. Hopefully, Google will decide to push out Honeycomb sooner rather than later.
Software
Software-wise, Dell offers the same "Stage" user interface as its original Streak. As soon as you start up the device, you're offered a set of screens, accessible by swiping left or right. These include Home, Web, Email, Social, and Music.
The icons within these screens are enclosed within a graphical interface meant to evoke an old-style theater. Aesthetically, it looks far better on a seven-inch screen than a five-incher, but most users will likely swipe right to Android's apps screen.
For business users, the Streak 7 offers Quickoffice, calendar, and integrated GPS leveraging Google Maps for on-the-road navigation. As with the original Streak, syncing Exchange is an exercise in pure aggravation, although integration with a Google account was the usual synch.
The seven-inch screen meant the virtual keyboard is better used in portrait mode, at least for those with smaller hands, and Swype is available for those who like it. Having just tested Windows Phone 7 and its Office hub, the experience with the Streak 7 left me wishing for Microsoft to finally produce a tablet-optimized version of Office 2007 or 2010; it would certainly make porting and editing documents that much easier.
Conclusion
With its seven-inch screen and powerful processor, Dell's Streak 7 removes the ambiguities that surrounded its smaller predecessor. In addition, the Streak 7 feels a bit more polished than the original Streak. Meanwhile, it's $450 price tag, or $200 with a two-year T-Mobile contract, is lower than the Galaxy Tab, which runs on a slower processor.
Still, the Streak 7's screen, camera, and battery life leave much to be desired. Presumably, the future upgrade to Honeycomb will eliminate some of the quirks associated with Android 2.2, and perhaps improve the battery power to the point where the device is worthy of that speedy dual-core processor. Until that day, though, the Streak 7 may have some trouble distinguishing itself in the seven-inch tablet market.
Availability
The Dell Streak 7 is available now for $450, or for $200 with a two-year T-Mobile contract.
Nicholas Kolakowski is a writer for our sister publication eWEEK.
---
This article was originally published on LinuxDevices.com and has been donated to the open source community by QuinStreet Inc. Please visit LinuxToday.com for up-to-date news and articles about Linux and open source.