Jan 6, 2011 — by Eric Brown — from the LinuxDevices Archive — views
LG Electronics announced a four-inch Android 2.2 phone called the Optimus Black — claimed to be the world's slimmest and touted for its high-luminance, low-power "Nova" screen technology. In addition, T-Mobile pre-announced an LG-manufactured, 4G-ready "G-Slate with Google" tablet that will run Android 3.0.
LG, which started off slow in the Android phone market, has come on strong over the last year. After shipping the LG Eve in late 2009, it moved on to a mid-range Verizon offering, the LG Ally, among other models.
In July of last year it launched its Optimus series with the modest Optimus One and Optimus Chic, and tipped its hand that an Android tablet was was in the works. It then followed up with the world's first dual-core phone, the Tegra 2-based Optimus 2X, shipping this month in Korea. (Take that, Motorola!)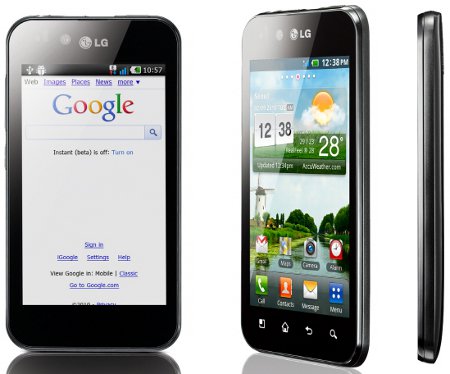 LG Optimus Black
(Click to enlarge)
This year, the U.S. market will finally get a high-end LG Android phone with the Optimus Black. LG did not reveal many details, including the processor, although one would presume if it were another Tegra 2 phone, they'd be shouting it from the rooftops.
Still, with its four-inch display, the device appears to be in the upper realm of Android phones. The company has also apparently dreamt up its own answer to Samsung's AMOLED phones with something called Nova — claimed to be dramatically brighter than typical smartphone displays.
While LG says Nova is available for the first time in the mobile market, it's a variation on the in-plane switching (IPS) LCD technology that Apple uses for the iPhone 4, according to Phonescoop. (Asus' new Android 3.0-ready Eee Pad convertible tablets also offer an IPS technology.)
Thanks to the Nova technology, the Optimus Black's four-inch display offers 700 nits of brightness and "provides users with an easier and more natural experience" and "pure white tones that deliver true black and white colors," says LG. Nova also enables users to maintain visibility whether they're indoors or outdoors under strong sunlight, the manufacturer adds.
The Nova display is further touted for reducing power consumption by 50 percent during general indoor use compared to a conventional LCD. In addition, "AMOLED consumes twice as much power as NOVA to display a full white screen, the most frequently used color scheme for web browsing," claims the company.
LG doesn't make any specific duration claims for its 1500 mAh battery except to say that Optimus Black users will have "enough power for their daily needs, even at maximum brightness settings."
LG touts the Optimus Black for its ultra-slim design, which starts with a thickness of 9.2mm (0.36 inches) and tapers to 6.0mm (0.236 inches). The 3.84-ounce (109 g) phone includes a "subtle back arch" and a "flush and flawless finish" that hides the receiver behind the phone's edges, says LG.
Other firsts touted for the Optimus Black include a "Wi-Fi Direct" feature for transferring data between mobile devices, possibly an implementation of Bluetooth 3.0's WiFi piggybacking capabilities.
In addition, LG claims to offer the world's first two-megapixel front-facing camera. (For the record, Acer says its "next generation smartphone" will offer the same feature when it ships in April, and several tablets have been announced as having a two-megapixel front-facing webcam.)
The Optimus Black will ship with Android 2.2, but will be upgradable to Android 2.3, which will enable the front-facing camera to take advantage of Gingerbread's improved video telephony features, says the company. Android 2.3 was the first release to officially support dual cameras, including a front-facing model.
LG layers Android with version 2.0 of its Optimus UI, which lets users directly access messages, emails, and missed calls from a locked screen with a single finger tap, says LG. The phone's Gesture UI is said to offers intuitive commands such as lifting, shaking, and tapping, for taking calls, entering camera mode, or listening to music, says the company.
Stated Jong-seok Park, president and CEO of LG Electronics Mobile Communications Company, "LG Optimus Black reflects our core strengths of advanced technology, in both display and design, offering the world's brightest screen and the world's slimmest design in an attractive and smart package."
G-Slate taps dips into the Honeycomb
Close on the heels of Motorola's Xoom and Asus' Eee Pad Android 3.0 ("Honeycomb") tablet announcements, as well as Google's own preview of the upcoming release, T-Mobile tipped its own LG-manufactured Honeycomb tablet.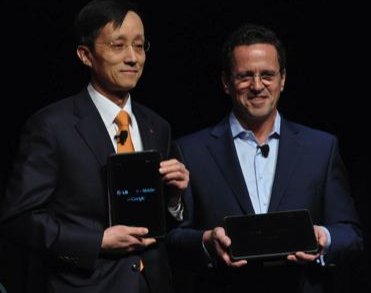 G-Slate unveiled today at CES
Source: Engadget
The "T-Mobile G-Slate with Google by LG" will offer 4G capability, says T-Mobile, referring to its HSPA+ 3.5G service, which the carrier claims offers 4G-like speeds. According to an
Engadget,
story, T-Mobile announced that it is upgrading the network to 42Mbps speeds starting today, which would give more credence to the 4G claim.
The G-Slate will offer Android 3.0, including Google Maps 5.0 with 3D interaction, Google eBooks, and Google Talk with video and voice chat, says the company. T-Mobile did not post a photo of the tablet, but Engadget published a rather dim image (above) of the formal unveiling at CES.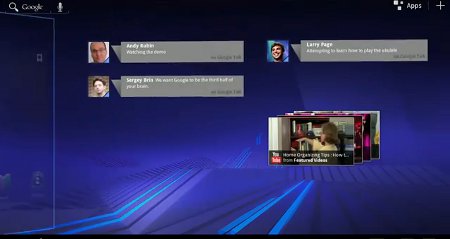 Android 3.0 running on G-Slate
(Click to enlarge)
T-Mobile also posted a number of
YouTube
videos showing the cool-looking new Android 3.0 running on a G-Slate prototype (see below).
Stated Jeff Hwang, president of LG Mobile Phones, "Streamlining everyday tasks and enhancing entertainment with blazing fast 4G speed, the T-Mobile G-Slate by LG will deliver the latest in Android technology and provide users with an advanced tablet experience."
Android 3.0 on the G-Slate demo on YouTube


Source: T-Mobile
(Click to play)
Availability
The LG Optimus Black will be rolled out globally in the first half of 2011, says LG, which did not offer further information. More details on the T-Mobile G-Slate with Google by LG will be made available at a later date, possibly today.
More T-Mobile videos on the G-Slate's Android 3.0 UI may be found here. The Engadget blog from yesterday's LG event may be found here, and the item on the unveiling today should be here. Its story on T-Mobile's HSPA+ upgrade may be found here.
---
This article was originally published on LinuxDevices.com and has been donated to the open source community by QuinStreet Inc. Please visit LinuxToday.com for up-to-date news and articles about Linux and open source.