Sep 15, 2010 — by Eric Brown — from the LinuxDevices Archive — 2 views
Dell announced a version of its Dell Streak mini-tablet aimed at electronic medical record (EMR) applications, while Sprint and Calgary Scientific are prepping a version of the HTC Evo 4G with Calgary's ResolutionMD Mobile medical imaging software. Meanwhile, a major market for mobile healthcare is emerging, although federal regulations could be an obstacle, says eWEEK.
This fall, hospitals and physicians will be able to order Dell's five-inch Dell Streak Android 2.1-based mini-tablet as an option with Dell's healthcare solutions, says the company. The device will be loaded with client apps designed to interact with Dell's EMR and MCC (mobile clinical computing) enterprise software, providing healthcare professionals with digitized patient information, says the company.
The product is designed to make it easier for hospitals and other healthcare enterprises to comply with U.S. federal HIPAA regulations on security and privacy, says Dell. Security is ensured "because patient information resides in Dell's healthcare enterprise hosting center or the hospital's data center, but not on the device," says the company.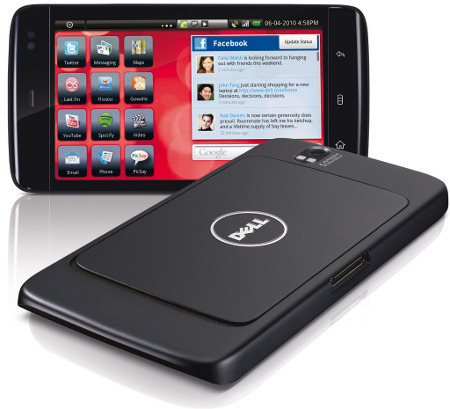 Dell Streak
Benefits of the Dell Streak in a healthcare environment are said to include its light, 220-gram weight and compact size, as well as the availability of onboard cameras in the front and back for recording images that can be uploaded to the patient's EMR.
Dell also points to the Streak's telephony capabilities, in combination with a five-inch touchscreen that offers a more suitable view of medical images than is available with typical three- or four-inch smartphones.
The Dell Streak is equipped with a 1GHz Snapdragon processor and 2GB of internal storage, plus a microSD slot, says Dell. The device also offers a five-inch capacitive, multi-touch display with WVGA resolution, says the company. Other features include Wi-Fi, Bluetooth, telephony, and 3G connectivity. (For more information on the Streak, please see our earlier coverage, here.)
Stated Jamie Coffin, vice president of Dell Healthcare and Life Sciences, "With the Streak integrated into our solution portfolio, we are making electronic patient information accessible to physicians and clinicians in a form factor that is easy for them to use."
Sprint and Calgary spin medical-targeted Evo 4G
While Dell is targeting its Streak tablet at EMR applications, Sprint is aiming its HTC-manufactured Evo 4G Android smartphone more specifically at mobile medical imaging in a partnership with Calgary Scientific. An Android version of the latter's HIPPA-compliant ResolutionMD Mobile software, said to be "powered by PureWeb," will be offered on the Evo 4G.
Sprint, meanwhile, has developed a secure platform for ResolutionMD and other medical imaging applications that spans its wireline IP network, as well as 3G and 4G wireless networks, says the carrier.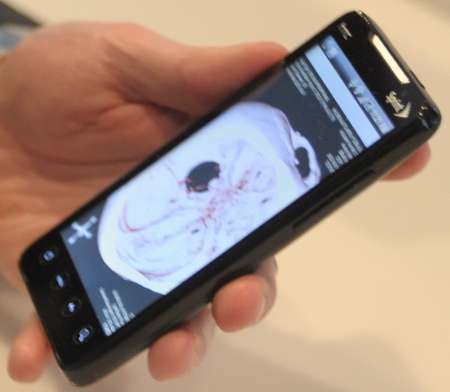 ResolutionMD Mobile running on Evo 4G


(Click to enlarge)
ResolutionMD Mobile supports the display of medical images, and also integrates reports and video for clinical consultations, say the partners. The combination is said to enable physicians to give patients bedside care from remote locations.
The technology can be used anywhere there is Wi-Fi or Sprint cellular data access, say the companies. It would be especially useful in remote and rural settings where access to medical experts is limited, say the partners, citing remote stroke care as one particular useful application.
Calgary's PureWeb technology is said to overcome security and privacy concerns involved with remote EMR applications. As with the Dell Streak medical implementation, image data and confidential patient information is never stored on the mobile device itself, so if the device is stolen, the data is said to remain safe.
No word was offered on availability, but Calgary Scientific is currently seeking FDA approval for diagnostics in the hand-held device category, say the companies.
ResolutionMD Mobile is initially targeting the Evo 4G phone, the first smartphone to run on Sprint's WiMAX-based high-speed 4G cellular network. The companies are also working on certifying the software for the new Samsung Epic 4G, another Sprint Android phone that supports its 4G network, says Sprint.
According to Calgary Scientific's website, ResolutionMD Mobile is now available for Apple iOS, and will soon be certified for high-end Android 2.2 phones, including the Evo 4G, Motorola Droid, and Google Nexus One.
The HTC Evo 4G is powered by a 1GHz Snapdragon processor, and includes a 4.3-inch, 800 x 480 touchscreen with pinch-to-zoom, a mobile Wi-Fi hotspot router, and an eight-megapixel camera. The newer Samsung Epic 4G, meanwhile, is one of several variations of Samsung's Galaxy S line of Android smartphones, and offers a 1GHz Samsung "Hummingbird" system-on-chip, four-inch Super AMOLED display, a 4G radio, and a QWERTY keyboard.
Stated Tim Donahue, Sprint vice president, Industry Solutions, "Our strategy is to provide a holistic communications environment that enables caregivers to access the information they need within the hospital or anywhere in the country covered by the Sprint 3G or 4G networks or Wi-Fi."
Stated Randy Rountree, EVP of Sales and Marketing, Calgary Scientific, "The quality of the new devices such as the HTC Evo 4G and Samsung Epic 4G both with 3G and 4G capabilities, coupled with the desire of Sprint to work with developers like Calgary Scientific, to continually improve the performance of advanced software applications using huge, security-sensitive data sets, over these amazing networks is impressive and long overdue."
Deloitte study sees healthcare as "killer app" for mobile
In recent weeks, our sister publication eWEEK has run a series of stories by Brian Horowitz on the growing role of mobile devices in healthcare information technology (HIM). For example, a story on Sept. 3 reported on a Deloitte Center for Health Solutions report calling the combination of mobile devices and electronic health records (EHRs) a "killer app" with significant benefits for patients.
According to the Deloitte survey results, 50 percent of U.S. consumers would like a device to monitor their medical condition and guide them on how to improve it, says eWEEK. In addition, about some 57 percent were interested in accessing health records online while connected to their doctor's office.
Deloitte expects that health records embedded in mobile devices will be particularly useful in dealing with obesity, elder care, and asthma, says the story. For example, patients can use mobile phones and tablets to enter medical information and transmit the data to their medical facility where it gets entered into an EMR.
The terms electronic medical record (EMR) and EHR are often used interchangeably, but the former typically refers to a comprehensive set of medical records secured within a healthcare organization, while EHR refers to the emerging field of personal healthcare records that are owned by patients and can be shared with a variety of medical professionals.
A second eWEEK story by Horowitz examines a recent Frost & Sullivan report that estimates an ambulatory EMR market in 2009 representing $1.3 billion in revenue, and forecasts growth to $2.6 billion in 2012. Defined as the use of EMRs in outpatient environments, the "ambulatory" segment appears to include mobile device integration of EMRs in addition to more traditional PC-based systems.
Nancy Fabozzi, a Frost & Sullivan analyst and author of the report, describes a "gold rush" by vendors to cash in on government stimulus money for EMRs and EHRs, following the government's July announcement of meaningful-use guidelines on how to access federal aid for EMR implementation.
FDA weighing regulations for medical smartphone apps
A third eWEEK story by Horowitz looks at recent attempts by the Food and Drug Administration (FDA) to evaluate whether smartphone apps that allow patients to monitor their vital signs wirelessly should earn FDA approval before implementation.
For example, the iStethoscope iPhone application and the Android-based Instant Heart Rate app could warrant FDA regulation, says the story.
An FDA spokesperson told eWEEK that hearings have been held on the issue in July, and that the FDA is developing draft guidance to "help clarify an appropriate policy and role for the FDA regarding the regulation of mobile applications, including those on smartphones."
Despite the huge potential market in mobile health applications, uncertainty over the FDA's plans could be slowing investment and software development in the area, says the story.
Study sees high consumer interest in mobile EHRs
A fourth eWEEK story reports on a recent PricewaterhouseCoopers study claiming 40 percent of Americans surveyed said they would pay for a mobile device to keep track of their vital signs and send the data remotely to their doctor. The survey was said to span 2,000 consumers and 1,000 physicians.
The study found that that three in 10 Americans were willing to use their mobile phone to track and monitor their health and send the information to their doctor. Meanwhile, 88 percent of physicians would like to see patients track their vital data at home, says PricewaterhouseCoopers.
In July, Spyglass Consulting reported survey results stating that 94 percent of physicians were using smartphones, says the story. However, 78 percent of physicians said they "struggled with timely communication among colleagues."
Availability
The Dell Streak will be made available as part of Dell's healthcare solutions this fall, says the company. More information may be found here.
No information was provided on the availability of the ResolutionMD Mobile version of Sprint's Evo 4G. More information on Calgary Scientific's ResolutionMD Mobile software may be found here.
More information on Sprint's healthcare services and products may be found here.
The eWEEK stories by Brian Horowitz on mobile healthcare include the Deloitte study on mobile EMRs, here, the Frost & Sullivan study on ambulatory EMRs, here, the FDA's evaluation of smartphone healthcare apps, here, and the PricewaterhouseCoopers study on consumer preferences in mobile healthcare, here.
---
This article was originally published on LinuxDevices.com and has been donated to the open source community by QuinStreet Inc. Please visit LinuxToday.com for up-to-date news and articles about Linux and open source.