Sep 15, 2010 — by Eric Brown — from the LinuxDevices Archive — 4 views
HTC announced two Android 2.2 smartphones with an upgraded HTC Sense UI layer and "HTCSense.com" connected services. The 4.3-inch HTC Desire HD is essentially an Evo 4G clone without the 4G, but adding a new 1GHz Qualcomm 8255 Snapdragon processor, while the 3.7-inch HTC Desire Z is a T-Mobile G2 twin, featuring an 800MHz processor and a QWERTY slider.
No U.S. launch is planned for the high-end HTC Desire HD, which is heading for Europe and Asia in October along with the Desire Z. The latter phone, however, will launch in North America later in the year, says HTC.
Both phones update the original, Euro-focused HTC Desire. This near twin of the HTC-manufactured Nexus One was announced in February along with the mid-range HTC Legend, another phone available to European and Asian markets from carriers such as Vodafone.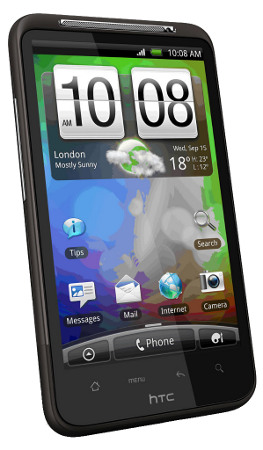 HTC Desire HD


(Click to enlarge)
Despite the shared brand name, the HTC Desire HD is much more similar to Sprint's
HTC Evo 4G
than to the Desire. In fact, except for the lack of a 4G WiMAX radio and some new styling, it's pretty much a twin. The Desire Z, meanwhile, appears to be a spin-off of HTC's new T-Mobile USA-destined
G2
. (See farther below for more details on each phone.)
HTC Sense moves to web services, PC access
Both the Desire HD and Desire Z debut a major update of HTC's Sense UI layer. Despite Google's intent to make add-on UI stacks redundant with upcoming UI enhancements to Android 3.0 ("Gingerbread"), the skins will not go gently into that good night. HTC, for one, has vowed to keep upgrading its Sense UI layer, Gingerbread or no.
The new Sense layer features a HTCSense.com web service that enables users to manage their phone from desktop computer browsers, a feature that Android itself has begun to explore with the Android 2.2 release featured in both the new Desire phones.
HTCSense.com enables users to locate a missing phone by triggering the handset to ring loudly, even if it is set to silent, or use its GPS chip to flag its location on a map, says HTC.
Users can also remotely lock a phone, forward calls and texts to another phone, and send a message to the phone to arrange its return, says the company. As a last resort, users can also remotely wipe personal data from the remote phones.
The new connected services site offers desktop PC access to phone setup tasks, or provides access to archived mobile content such as contacts, text messages, and call history, says HTC. Other connected services offered via HTCSense.com include a new "camera experience" that enables user to apply camera effects to HD videos or images captured by the phones' cameras, says the company.
An HTC Locations service, meanwhile, is said to offer a "differentiated online mapping experience," available from a desktop web browser. HTC Locations features "instant, on-demand mapping without download delays or incurring mobile roaming charges," says HTC.
The upgraded HTC Sense layer includes a new e-book reader using the Kobo e-reader's mobile client and bookstore, says the company. HTC Sense also enables more customization with wallpapers, HTC scenes, sounds, or plugins.
According to a story in Pocket-Lint covering the HTC event in London this morning, the Sense layer now loads in 10 seconds, which is said to be much faster than the previous version. As with Motorola's MotoBlur, Sense has been criticized for slowing down the Android experience.
The new Sense adds mail filtering, allowing users to set up a VIP list for prioritized mail, and it now loads long emails in the background, says the story. Via HTCSense.com, users are now said to be able to read phone messages on their desktop computers.
The new mapping app, meanwhile, makes greater use of the digital compass for orientation purposes, and offers pre-caching of commonly used maps, says Pocket-Lint. Sense is also said to add DNLA (digital living network alliance) support for streaming videos to a TV, or for playing videos on the phone that are streamed from other DNLA-ready devices.
HTC Desire HD
HTC has yet to post specs on the HTC Desire HD (pictured farther above), but according to the few details released, as well as various reports from the unveiling event, the phone is a near doppelganger of the HTC Evo 4G.
According to HTC, the phone offers a 4.3 LCD display, which presumably retains the Evo 4G's 800 x 480 resolution. While the Evo 4G sports a Qualcomm Snapdragon QSD8250 system-on-chip (SoC), the Desire HD moves up to the similarly 1GHz Snapdragon QSD8255.
According to a TG Daily report from the show, the upgraded Snapdragon features more efficient power usage, with HTC claiming the Desire HD can "easily" last all day without a recharge.
The HTC Desire HD enables 720p, partial-HD video recording, and provides a new HTC Fast Boot feature providing a faster power-up sequence, says HTC.
According to TG Daily, the Desire HD boots up in 12 seconds, compared to previous Desire's 45-second load time. It is unclear whether the 10-second Sense boot-up time mentioned above is included in this total.
Like the Evo 4G (pictured at left), the Desire HD featu

res an eight-megapixel camera with dual-flash, says HTC. Other features include Dolby Mobile and SRS virtual sound, says the company.
The phone is said to build upon the unibody heritage of the HTC Legend, and is sculpted from a block of solid aluminum.
According to several reports, including SlashGear, the Desire HD is essentially the same as the Evo 4G except for the above differences and the presence of a UMTS/HSPA+ radio instead of WiMAX. In addition, says the story, the design replaces the removable (and losable) battery door with a hatch similar to the Legend's.
Desire HD features include 802.11b/g/n, Bluetooth, and GPS/aGPS, says SlashGear. Other Evo 4G features likely found on the Desire HD would include 512MB of RAM, 1GB of internal flash, as well as an 8GB SD card.
Additional Evo 4G features include an HDMI port, digital compass, proximity and motion sensors, a 3.5mm headset jack, a micro-USB port, and a forward-facing, 1.3 megapixel webcam. It's not clear whether the Desire HD offers the Evo 4G's mobile hotspot capability. (For more details on the HTC Evo 4G, please see our earlier coverage, here.)
HTC Desire Z
The HTC Desire Z features what would now be considered mid-range smartphone specs, but only six months ago might have been considered high end. According to UnwiredView, the Desire Z is essentially a European version of T-Mobile's recently announced G2, formerly code-named the HTC Vision. Judging from the feature list we've seen so far, this appears to be the case.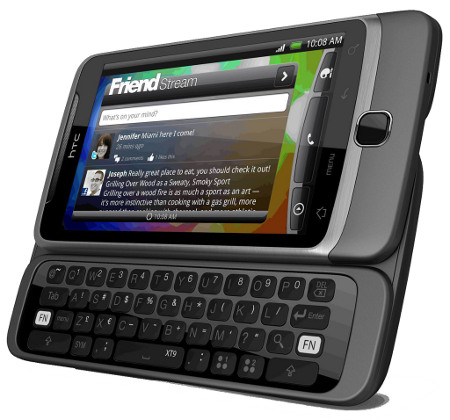 HTC Desire Z
(Click to enlarge)
Like the G2, the Desire Z offers a new, more power efficient Qualcomm processor, in this case the 800MHz 7230. As with the Desire HD, it offers HTC Fast Boot technology, and is claimed to offer improved performance and battery life. HTC does not say which phone is being compared here, but the earlier Desire ran on a 1GHz Snapdragon, and the Legend offered a more modest 528MHz Qualcomm MSM7600.
The Desire Z features the same "unique pop hinge" as the G2, opening to reveal a QWERTY keyboard, making the Desire Z and G2 the first two HTC-manufactured Android phones to feature a keyboard. The Desire Z's keyboard includes keyboard shortcuts and two customizable keys for providing instant access to common functions, says HTC.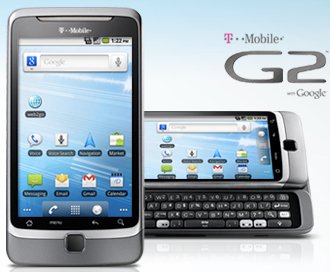 T-Mobile's G2 bears a striking resemblance to the Desire Z.
According to HTC, the Desire Z enables 720p HD video recording with its five-megapixel auto-flash camera. No more specs were posted by HTC on the Desire 2, but
Pocket-Lint
says it offers 512MB RAM and a 3.7-inch capacitive touchscreen display with "Super LCD" technology.
The phone measures 119 x 60.4 x 14.16mm and weighs 180 grams, says the story. An optical trackball is also said to be available.
All this seems to match up with the specs that have been revealed to date on the G2. Other G2 features include 4GB of internal flash memory and an 8GB microSD card in a slot that can hold up to 32GB. The G2 also offers a 3.5mm headphone jack, a stereo headset, and Bluetooth support. Presumably both phones offer Wi-Fi, GPS, and other smartphone basics.
Stated Peter Chou, CEO of HTC Corp., "We're excited to be taking the HTC Sense experience beyond the phone to a whole new level with a series of connected HTC services we call HTCSense.com."
Availability
The HTC Desire HD and HTC Desire Z will be broadly available through mobile operators and retailers across major European and Asian markets starting in October, and the HTC Desire Z will ship in North America later this year, says HTC.
According to Pocket-Lint, the Desire Z will be launched exclusively in Europe by Vodafone. The Pocket-Lint story on the new Sense UI layer may be found here, and its story on the Desire Z should be here.
The TGDaily story on the Sense UI layer and Desire HD may be found here.
The SlashGear story on the Desire HD should be here.
The UnwiredView story on the new Desire phones should be here.
---
This article was originally published on LinuxDevices.com and has been donated to the open source community by QuinStreet Inc. Please visit LinuxToday.com for up-to-date news and articles about Linux and open source.