Mar 23, 2010 — by Eric Brown — from the LinuxDevices Archive — 1 views
Sprint and HTC announced the first 4G WiMAX-capable Android smartphone, with downloads claimed to be up to ten times faster than 3G. The HTC Evo 4G is powered by a 1GHz Snapdragon processor, and includes a 4.3-inch, 800 x 480 touchscreen with pinch-to-zoom, a mobile WiFi hotspot router, and an eight-megapixel camera.
According to Sprint, Clearwire's 4G network covers more than 30 million people and should expand to 120 million people by the end of the year. Sprint claims that its 4G network delivers download speeds up to 10 times faster than 3G. As suggested by the footnotes, however, it would be more accurate to say "two to 10 times faster," as 3G speeds are said to average from 600Kbps to 1.7Mbps, and 4G speeds average from 3-6Mbps. (More information on WiMAX and Clearwire appears later in this story, and in our December story on the network's progress, here.)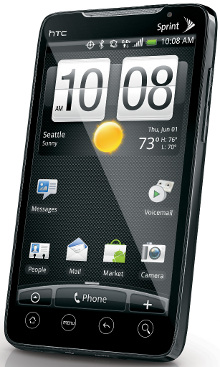 Sprint's HTC Evo 4G
(Click to enlarge)
Still, even at 3Mbps, the HTC Evo 4G (above) should dramatically change the smartphone experience, especially in regard to video playback and videoconferencing. The phone will also default to Sprint's 3G network when 4G is unavailable, says the carrier.
Apparently modeling the phone on its high-end, Windows Mobile based HD2 phone, HTC equipped the Evo 4G with the same 1GHz Qualcomm Snapdragon QSD8250, widely considered to be the fastest processor available in smartphones. (Other Snapdragon-based Android phones include the HTC-manufactured, Google-branded Nexus One, the LG Eve, and the Acer Liquid.)
The Evo 4G offers a 4.3-inch display, but oddly enough Sprint does not list the resolution. According to Engadget, however, the resolution is 800 x 480 pixels. The site, which calls the Evo 4G "the best specced phone we've ever witnessed," also fills in a few other missing details about memory.
Engadget claims the Evo 4G offers 512MB of RAM, 1GB of internal flash, as well as an 8GB flash card as standard. Other details are provided by Sprint, which says the SD card slot can hold up to 32GB cards.
HDMI and a mobile hotspot
The Evo 4G is equipped with WiFi, stereo Bluetooth, GPS, a digital compass, and proximity and motion sensors, says Sprint. The phone also supplies a 3.5mm headset jack, a micro-USB port, and a kickstand for video viewing, says the company. No talk times are advertised for the 1500mAh battery.
The Evo 4G offers an eight-megapixel auto-focus camera, with HD-capable video camcorder, as well as a forward-facing, 1.3 megapixel webcam, says Sprint. The phone is also said to offer an HDMI port that outputs video at 720p. (HDMI cables must be purchased separately.)

Another novel feature is a mobile hotspot that, MiFi-like, enables up to eight WiFi-enabled devices to share the 4G bandwidth. Sprint appears to suggest that this capability is entirely built-in; however, on its Evo 4G page, the company points to an optional $100 Sierra Wireless manufactured "Sprint Overdrive" mobile hotspot.
Android 2.1, HTC Sense, and Google Goggles
On the software side, the Evo 4G provides the latest Android 2.1 release, as well as a custom web browser that is optimized for the 4.3-inch display. In addition, the phone offers Adobe Flash, plus pinch-to-zoom and automatic text reflowing, says Sprint.
The Evo 4G additionally offers the latest version of the HTC Sense UI layer, adding new features including "Friend Stream." This is said to aggregate multiple social communication channels, including Facebook and Twitter, into a single, organized flow of updates.
There is also said to be a new "Leap" thumbnail view for switching between home-screen "panels", plus the ability to download new widgets. A new "polite" ringer is said to quiet the ringing phone by lifting it up.
Other built-in apps include the Google Goggles image recognition app, as well as text messaging and email composition features with voice-to-text support. Social networking integration with sites like Facebook, Twitter, and Flickr are provided, as well as visual voicemail, says Sprint.
Google services are supplied, including YouTube, Gmail, Google Talk, Google Voice, and Google Maps. The phone also offers Sprint TV and Nascar Sprint Cup Mobile, as well as live video sharing with Qik, says the company. Android Market access is also said to be provided.
Dev resources for tapping 4G, mobile routing, and HDMI output
Sprint has posted a 4G developer guide on the Sprint ADP development website that explains how to develop on an Android 2.1 handset, and how to take advantage of 4G bandwidth. The guide also shows how to leverage other novel capabilities of the Evo 4G, including the forward-facing camera and HDMI output.
Also shown by the 4G developer guide is how apps can detect what network is being used — 3G, 4G or WiFi — in order to provide the best-possible quality. Sample apps and source code that highlight these features are also said to be available, says the company.
The phone, as well as the 4G network it runs on, should enable new types of apps that bring together video, presence, and location information simultaneously, says Sprint. For example, an app might allow users to simultaneously watch a streaming sporting event while downloading stats and conducting a video chat.
Stated Dan Hesse, Sprint CEO. "Not only is this feature-rich device incredible on our Sprint 3G network, but Sprint 4G speeds will take mobile multimedia, including live video streaming, gaming and picture downloads, to a whole new level."
Stated Peter Chou, CEO of HTC, "We believe that the HTC EVO 4G represents the best of Sprint and the best of HTC working together to bring an unmatched device to the U.S."
The Sprint 4G network currently covers 27 markets, including Atlanta, Baltimore, Chicago, Dallas/Ft. Worth, Las Vegas, Philadelphia, Portland, Ore., San Antonio, and Seattle. This year there are plans to expand to cities including Boston, Denver, Houston, Kansas City, Minneapolis, New York City, San Francisco, and Washington, D.C. A full list is said to be available here.
Availability
The HTC Evo 4G will be available via all Sprint channels, as well as national retail partners, RadioShack, Best Buy, and Walmart, this summer, says Sprint. Pricing will be announced at a later date, but pre-registration begins today, here.
The Engadget story on the Evo 4G should be here.
---
This article was originally published on LinuxDevices.com and has been donated to the open source community by QuinStreet Inc. Please visit LinuxToday.com for up-to-date news and articles about Linux and open source.