May 5, 2004 — by LinuxDevices Staff — from the LinuxDevices Archive — 125 views
Daimler-Chrysler has used real-time embedded Linux in a portable automotive diagnostic tool currently shipping to dealers and repair shops. The StarScan tool enables shops to work on 2004-model year and later Dodge, Chrysler, and Jeep vehicles incorporating CAN (controller area network) buses.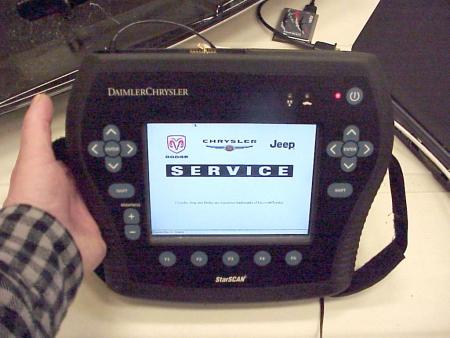 StarScan is packaged in a small, rugged, ergonomic case
(Click for larger view)
CAN, a patented serial bus system developed by Robert Bosch GmbH, is currently emerging as a popular way to network "intelligent" devices as well as sensors and actuators within automotive systems and sub-systems. The 2004 Dodge Durango was the first Daimler-Chrysler vehicle to use a CAN bus, and Dodge dealers began receiving StarScan devices to support Durango diagnostics in August of 2003.
Why real-time Linux?
The StarScan device will eventually also support legacy networking protocols used in older Daimler-Chrysler vehicles. In fact, support for older protocols was a key factor why board supplier and engineering consultant BrightStar Engineering chose to use FSMLabs's RTLinuxPro, a dual-kernel operating system with a small real-time kernel that runs a full Linux (or BSD) OS as its idle task.
Stuart Adams of BrightStar explains that real-time requirements were driven by "various quirky timing requirements particularly for older (legacy) protocols. For example, you may have to send data to a UART at 9600 baud, but provide a 1500 microsecond gap between bytes. There are lots of odd timing things like this . . . you could probably handle them without RT, but the resulting software would be more complex and less portable."
Standard networking, and other features
Along with real-time performance, the StarScan features standard internet connectivity in a light-weight, 2.6-lbs device with low power requirements.
The StarScan can be powered by an internal battery, a 12-volt vehicle battery, or an external wall-wart style power transformer. It comes with a docking/recharging station that can also connect it to a PC or a LAN. Firmware updates and automotive repair bulletins can be downloaded over the Interet or from PCs on a local LAN.
The StarScan also includes a PCMCIA slot, and can also support optional wireless LAN connections using WiFi cards from Avaya (formerly Orinoco, formerly Lucent Technologies) or from Cisco's 350 series.
The StarScan includes a 6.4-inch color VGA (640×480) LCD touchscreen display. It has 16MB of integral Flash memory, as well as 512MB of CompactFlash storage and 128MB of SDRAM. It also includes a Secure Digital (SD) memory card slot, and USB ports for optional keyboard, mouse, CR-ROM, printer, and other peripherals.
Real-time statistics
The StarScan is based on a single board computer with an AMD Alchemy AU1000 embedded processor. The board was designed specifically for automotive applications by BrightStar Engineering. FSMLabs lists the following real-time specifications for RTLinuxPro running on the StarScan's SBC:
Clock Resolution 2.52 ns, 396 MHz
Context Switch – Realtime thread to Realtime thread: 22.3 us
Scheduling Jitter: 42.2 us
Interrupt Latency: 10.6 us
Interrupt Thread Latency – Realtime ISR to Realtime thread (via Semaphore): 22.0 us
Interrupt Thread Latency – No reschedule (via Semaphore): 30.0 us
Thread Yield – Realtime thread to Realtime thread: 9.4 us
Thread Cancellation: 10034.7 us
Semaphore Latency: 28.3 us
Uncontested Mutex Acquisition: 8.0 us
Contested Mutex Acquisition: 25.9 us
Pthread Condition Variable Latency: 25.6 us
Uncontested Spinlock Acquisition: 14.7 us
Contested Spinlock Acquisition: 23.7 us
FSMLabs also supports BrightStar boards that use the AMD AU1100 and Motorola's automotive chip, the MPC5200.
---

This article was originally published on LinuxDevices.com and has been donated to the open source community by QuinStreet Inc. Please visit LinuxToday.com for up-to-date news and articles about Linux and open source.