Oct 23, 2000 — by Rick Lehrbaum — from the LinuxDevices Archive — 31 views
Product overview
The Ericsson H610 Cordless Web Screen (formerly called the HS210 Cordless Screen Phone), unveiled in prototype form last February at CeBIT (Hannover, Germany), represents one of the first home products to emerge from Ericsson's broad vision of "anywhere, anytime communication" technologies and products. The H610 is meant to provide a complete cordless communication center for the home — a combination cordless telephone, answering machine, address book, message center, and Internet appliance — all in one compact and portable unit. This, from one of the world's leading wireless communications device manufacturers.
Basically, the H610 consists of a wireless webpad with color LCD touch screen and built-in cordless speakerphone, plus a small base station. Ericsson says the system will be as easy to install and use as a normal cordless telephone — all you do is connect the base station to power and a phone line, power up the H610, and touch the screen to begin operating the device. Once enabled, you can use it to make phone calls, surf the web, check your email, and send voice clips.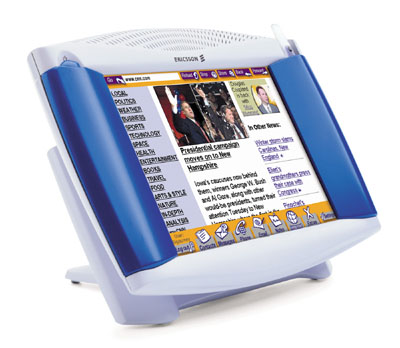 One unusual aspect of the H610 is that unlike ordinary cordless phones, it communicates with its base station via
Bluetooth
— a new 2.5 GHz short-range spread spectrum digital wireless technology championed by makers of cell phones, PDAs, and other portable devices. To date, Bluetooth's range has been limited to approximately 10 meters, which would be rather restrictive for a relatively expensive product meant for use by individuals within their homes. However, Ericsson and other Bluetooth supporters are hard at work extending Bluetooth's range to 100 meters through increases in both transmit power and receive sensitivity, and Ericsson is emphatic that the H610 will offer the 100 meter range by the time of volume production shipments.
Another area of rapid evolution will be that of the H610's Internet connection. Although the H610 base station prototypes shown thus far by Ericsson have been limited to accessing the Internet over ordinary telephone lines via a built-in dialup modem, Ericsson plans to offer several broadband access alternatives by the time the device reaches full production. Specifically, both cable modem and DSL interfaces will be among the H610's base station Internet connection options.
Technical specifics?
The H610 is built around Intel's StrongARM SA-1110 system-on-chip processor (info), running at a 200 MHz CPU clock rate. Internal memory consists of 32MB of DRAM for program operation, plus 32MB of Flash memory for nonvolatile storage. Beyond this, Ericsson has not disclosed detailed hardware specifications of the device at this time.
On the software side, Ericsson formed alliances with several leaders in the Linux software market in order to assemble the H610's embedded Linux operating system and application software environment. For the embedded Linux OS, Ericsson turned to Red Hat (see story); the browser comes from Opera (see story); and Trolltech's Qt/Embedded GUI toolkit forms the basis of the H610's graphical windowing environment (see story). The use of Qt/Embedded provides significant memory savings as well as some desirable added features such as anti-aliased text and alpha-blended pixelmaps, in contrast with a conventional GUI approach based on the X Window System plus a Window manager (e.g. KDE or GNOME). (Qt/Embedded talks directly to frame-buffer memory, so it eliminates the need for a layered approach.)
Building a user/developer community
Ericsson and Red Hat are collaborating to turn the H610 into a broadly supported Information Appliance platform, complete with a community of developers, users, and advocates. To this end, many of the software technologies being developed — including development tools — will be released under an open source license, enabling third party developers to freely design, port, and debug applications for the H610.
To foster the growth of just such a community, Red Hat has announced plans to establish a dedicated area of redhat.com, where tools and application software for the Ericsson Cordless Web Screen will be freely shared. "We're going to be building a community website, because it will be possible for people to program these devices," says Kim Knuttila, Vice President and General Manager of Red Hat Client Services. "If you think of the sort of community that surrounds . . . Palm OS, . . . that model will be employed here as well — tools, tips, techniques, newsgroups, help, chat, etc."
When can I get one?
The H610 is currently in development, and is expected to become available in the first quarter of 2001. Pricing has not been publicly disclosed.

This article was originally published on LinuxDevices.com and has been donated to the open source community by QuinStreet Inc. Please visit LinuxToday.com for up-to-date news and articles about Linux and open source.