Dec 16, 2003 — by LinuxDevices Staff — from the LinuxDevices Archive — 22 views
Samsung is shipping a high-end smartphone powered by embedded Linux from Mizi Research that supports both Chinese and English. The device is being distributed in China, initially, where it works with #2 China wireless provider Unicom's CDMA2000 1x network. This confirms an earlier rumor that Samsung would ship a Linux smartphone in 2003. China is generally considered to represent the world's largest mobile phone market, with nearly as many current mobile subscribers as the entire U.S. population.
Getting to know the i519
The Samsung SCH-i519 offers an impressive range of high-end PDA and smartphone features, including sophisticated voice-control capabilities. It currently sells for about $750.
The i519 has a 240×320 pixel full-color TFT reflection-reduction LCD. The device is extremely thin, with the standard 1050mAh battery, measuring 5.2 x 2.8 x 0.6 inches (132 x 71 x 15.4 mm). It weighs about 6.5 ounces (183 grams). It is based on the same processor as the latest model in Sharp's Zaurus PDA line: an Intel XScale-PXA255 rev. 6 processor running at 400MHz. It boots from 64MB of Flash ROM, and has 64MB of RAM. Memory can be expanded through an SD/MMC card port (though this may use batteries significantly faster, depending on the card).
The i519 is the first embedded Linux device to run Voice Signal's Voice Activated Phonebook (VAP) application, which lets users launch any installed application by voice, using commands such as "Open Browser" or "Open Instant Messenger." VAP supports both Mandarin Chinese and English, and also offers speaker-independent name dialing and name look-up, as well as text-to-speech output.
Separate English and Chinese models are available, but both models support both languages to some extent — only the interfaces appear to be different.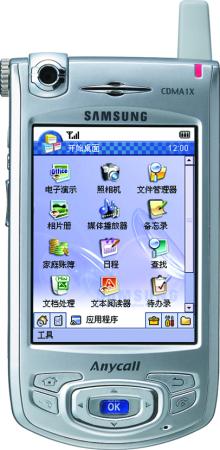 The i519's Chinese version interface
(Click for larger view)
Operational features
Text-entry modes for the English version include an onscreen-keyboard, FSIM mode, GridIM mode, and Numpad mode. Chinese text-entry (on English version) is Pinyin mode, which uses the Roman alphabet to write the pronunciation of Chinese characters.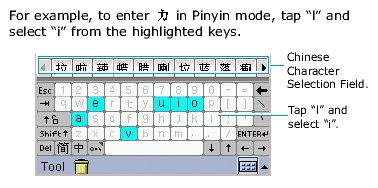 i519 English version supports Chinese input using Pinyin mode
Synchronizing and beaming are supported through PopSync software, supplied with the device on CD-ROM. The device connects to a PC using an optional USB data cable, and relies on a USB device driver on the PC side.
Of high geek-factor value is the inclusion of "Remocon," an application that can control and operate supported infrared office, entertainment, and home automation equipment.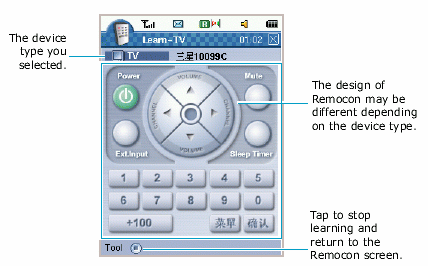 Remocon enables the i519 to serve as a remote control
The user interface features standardized dialog boxes across all applications for new item, open item, edit item, delete item, mark private, and categorize item.
Applications include:
Addressbook — can copy any/all addresses to/from R-UID card, for use on another phone
Messaging — Instant Messenger supports ICQ, MSN
Web browser — supports WAP and WWW through U-Info service. Configurable page caching.
Short Messaging Service (SMS) text messaging
Email messages can be composed offline and sent on PC sync
Email messages can be sent/received if email servers are configured.
Camera — 320×240 or 640×480 resolution, image rotate, self-timer
Photo album with slideshow
Media player with playlist — play MPEG1/2 and MP3, typically stored on SD memory card
Memo — includes draw program, beam to another phone via irDa
Mini-Word — MS Word editor/viewer
Mini-Sheet — Excel spreadsheet editor/viewer
Office Viewer — for PowerPoint and other MS formats
Basic, Scientific, and Financial Calculators
Unit converter for angles, area, computer, force, length, pressure, radioactivity, speed-angular, speed-linear, temperature, volume, weight
Remocon remote control — control and operate infrared supported office, entertainment, and home automation equipment
Java — download programs via Internet, PC, irDA, or USB
"Fruits Cocktail" and other games
Accessories
The unit comes with a desktop holder/charger that can charge the battery inside the device and/or the battery alone. Also included are a travel charger, leather case, screen cleaner, earpiece/microphone, quick guide, sync software CD, battery and stylus pens. Optional accessories include PC data link cable, car charger kit, and a waterproof case.
The standard 1050mAh offers 140 hours standby time and 60-100 hours of use. A 2000mAh extended battery is available, and provides 220 hours standby or 80-190 hours of use. Network conditions and the use of expansion peripherals or PDA functions can affect battery times.
Pricing and other info
For current i519 pricing, check this search link.
For more info about Mizi Linux, which powers the i519, be sure to check our our detailed article, with lots of screenshots: MIZI takes on Microsoft with 3G Smartphone Linux.
---

This article was originally published on LinuxDevices.com and has been donated to the open source community by QuinStreet Inc. Please visit LinuxToday.com for up-to-date news and articles about Linux and open source.