May 15, 2002 — by LinuxDevices Staff — from the LinuxDevices Archive — 30 views
A small company named snom (Berlin, Germany) has recently begun offering a VoIP telephone which uses Linux as its internal software platform. The snom 100 VoIP phone supports various open telephony standards including SIP (Session Initiation Protocol) and H.323/H.450, as… well as data protocols like HTTP, TAPI, and LDAP. Software to support the IAX (Inter Asterisk eXchange) VoIP protocol is also available from Linux Support Systems, allowing the snom 100 to run in Asterisk mode. Support for all these protocols makes the device compatible with virtually all standards-based VoIP gateways and gatekeepers, and easy to integrate into existing LAN/WAN environments.
snom claims that the snom 100's IP-based voice quality is indistinguishable from that of "normal" ISDN phones, and in addition that the 128 x 64 pixel graphical LCD display and web-browser interface make calling, remote management, and configuration even easier. In addition to its IP functionality, the snom 100 also supports typical telephone features like call hold, call waiting, call forward/transfer, call divert, caller line identification, etc.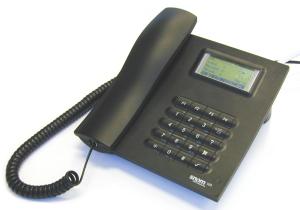 Another important feature of the snom 100 is that its internal software can be upgraded in the future, when needed, to support evolving communication protocol stack requirements as IP telephony standards mature.
Where did the snom 100 come from?
snom technology AG was founded in 1996 and has been making VoIP phones since 1999. Its main founders are Dr. Christian Stredicke and Nicolas-Peter Pohland, computer scientists who met each other during their studies at the Technical University of Berlin. During their university days, Stredicke and Pohland developed an experimental networked phone headset which operated over the university's LAN. The duo characterized their early results as "miserable" — leading them to conclude that widespread use of VoIP technology was a long way off.
In the handful of years between their university days and the founding of snom, much progress had occurred in the technologies needed to make VoIP phones a practical commercial reality:
The World Wide Web exploded in popularity, giving rise to the data networks needed to handle the required bandwidth;

Integrated circuit advancements made it practical to build the necessary hardware;

Open industry standards had been developed for IP-based telephony protocols.
Then, in the summer of 2000, a venture capital subsidiary of a German bank offered to provide the funding snom required to finalize the development of snom's first commercial product. Thus was born the snom 100, a mid-range VoIP phone.
What's inside the snom 100?
The snom 100's embedded computer is based on a 50MHz Motorola MPC855T PowerQUICC Integrated Communications Processor, equipped with 16MB of SDRAM memory. Its Linux-based operating software boots from a Flash memory device. I/O connections include a PC headset port, a handset port, and a 10/100 Ethernet LAN port (see photo of back of device). The unit is powered from 48 VDC (externally supplied).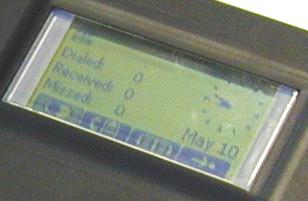 The system's embedded Linux operating system is based on the 2.4.18 kernel, and was developed in-house by snom. snom also created their own drivers and libraries for use of the 128 x 64 pixel graphical LCD, and even wrote their own http server.
Development challenges
During the development project, snom "had a lot of challenges," recalls snom cofounder Nicolas-Peter Pohland. Issues that the team wrestled with included things like "CPU bugs, missing patches, the cross compiling environment, SDRAM timing, Ethernet layout, a dangling interrupt pin, a memory shortage, making low rate codecs work on a CPU only (without a DSP), mass deployment issues, interoperability with other vendors, problems with a memset() implementation (cache line size), and MMU configuration," he adds.
"It was an incredible challenge, but now we feel we have one of the most stable and flexible VoIP phones on the global market place," says Pohland.
Why Linux?
snom considers their use of an embedded Linux software platform to be an important factor in ensuring a high degree of stability and security for their product's operation, as well as an important contributor to the success of the development project.
"We have access to the sources, giving us faster time-to-market and greater control," Pohland says. "It has superior network support, is stable, and it comes without a license fee," he adds. "A VoIP phone is a complex product that will soon be a commodity product — and that does not support an expensive operating system."
snom cofounder Dr. Christian Stredicke points out that much of his company's success in recruiting talented engineers can be attributed to being able to maintain "the fun factor, while developing the perfect telephone. Developing a device based on Linux for a large and expanding market is a gift as well as a challenge for every computer scientist," says Stredicke.
"We have made the changes to the kernel available, and also sell an SDK for the snom 100 — but we cannot support people setting it up for free," comments Pohland. "Once our beta testers are happy, we will put a tar ball on our website."
Pohland believes Embedded Linux will be very successful in the future, especially in a wide range of "network access products" where users aren't even aware that Embedded Linux is present — as is the case with the company's snom 100 VoIP phone.
Availability
The snom100 is available now at a price of $199.00 to VARs and resellers. Snom Technology is represented in the Americas by ABP International Inc.. Further details are here.
In addition to providing ready-to-use VoIP phones, snom also is interested in licensing their VoIP phone technology to manufacturers who want to out-source a customized Linux-based hardware/software design that can fit within their own specialized housings.
---

This article was originally published on LinuxDevices.com and has been donated to the open source community by QuinStreet Inc. Please visit LinuxToday.com for up-to-date news and articles about Linux and open source.