Feb 3, 2009 — by Eric Brown — from the LinuxDevices Archive — 24 views

Timesys is offering a support subscription for Freescale Semiconductor's PowerPC-based MPC8313E communications processor and associated RDB (reference design board), pictured at left. The "LinuxLink" subscription for the MPC8313E helps developers exploit chip features such as gigabit Ethernet, High-Speed USB 2.0, and… power management, says the company.
(Click for larger view of the Freescale MPC8313E-RDB (reference design board))
The Freescale MPC8313E subscription is one of the first new subscriptions to be offered in the version 3.0 upgrade to Timesys's LinuxLink embedded Linux development subscription service announced last month. LinuxLink 3.0 offers a new build engine, web-services-based automation, and a new interface and Toolkit. It also formally implements the "Factory" and "ReadyKit" programs that were launched last year, says Timesys.
Using the LinuxLink Factory, subscribers can choose between either the Freescale-enabled 2.6.23 kernel, or the new mainline 2.6.28 Linux kernel. Each Factory-built Linux platform includes a GNU-based cross toolchain, hundreds of application-specific root filesystem (RFS) package sources, and commonly used open source development tools, including GDB, OProfile, and Mpatrol, says Timesys. Subscribers also receive technical support and targeted documentation, says the company.
The MPC8313E
Released in late 2006, the MPC8313E is an inexpensive PowerQUICC II network processor (NPU) with integrated hardware security engine (HSE), dual gigabit Ethernet interfaces, and USB 2.0. The MPC8313E's e300 PowerPC core is said to deliver 700 MIPS (millions of instructions per second) at its max clock of 333MHz. The core has 16KB each of L1 data and instruction cache, and an MMU (memory management unit). The MPC8313E targets residential gateways, 802.11n access points, piracy-protected media servers, line cards, intelligent NICs, and network storage devices, says Freescale.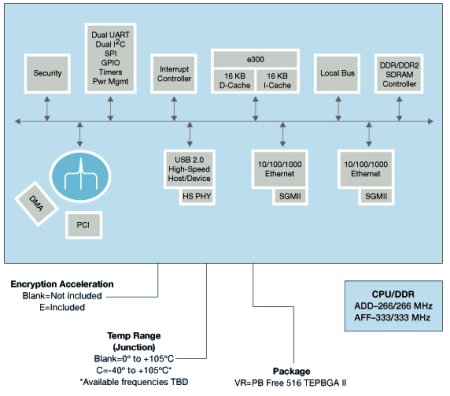 MPC8313E function block diagram
(Click to enlarge)
Freescale MPC8313E-RDB
The Freescale MPC8313E-RDB reference design board, pictured at top, offers the processor along with 128MB DDR2 SDRAM, 8MB flash single-chip memory, and 32MB NAND flash. Features are said to include a five-port gigabit Ethernet switch, a USB port, a PCI slot, a MiniPCI slot, and an SD memory card slot.
The RDB board comes with a Linux board support package (BSP) preinstalled, including a boot loader (u-boot) and a "generic Power Architecture technology system based on the Linux kernel," says Freesacle. The u-boot and Linux kernel reside in on-board flash memory. The BSP generation is said to take advantage of the Linux Target Image Builder (LTIB) suite of tools.
Stated Gregory Quiggle, VP of Sales and Marketing at Timesys, "The Freescale MPC8313E RDB provides a powerful suite of communication features, making it an ideal platform to prototype and evaluate networking applications on embedded Linux."
In other recent MPC83xx news, hardware tools vendor Ronetix recently announced that its Linux-friendly PEEDI JTAG/BDM emulator and flash programmer had received a firmware upgrade to support the chip line, which also includes the more powerful MPC8630E and MPC8349E processors. (Both of those processors are already supported by LinuxLink subscriptions, says Timesys.)
Free webinar targets Bluetooth on Atmel SoC
In other Timesys news, the company will be hosting a free webinar this Thursday, on "Building a small footprint Linux platform with Bluetooth for the Atmel AT91SAM9260 using LinuxLink 3.0." Scheduled for 11:30AM EST, Feb. 5, the webinar will show how to use LinuxLink 3.0 and the Factory Web wizard to configure, build, and deploy a small footprint platform for the ARM9-based Atmel AT91SAM9260 processor, including support for Busybox and a BlueZ Bluetooth keyboard, says the company. More information on the webinar, which "will contain no marketing pitch," according to Timesys, should be here.
Availability
Timesys is providing a limited time offer of free LinuxLink Factory access to configure, build, and evaluate embedded Linux on the Freescale MPC8313E. More information on this "Factory TestDrive" should be here. Developers should enter promotion code PR8313 when completing the registration form, says Timesys.
---

This article was originally published on LinuxDevices.com and has been donated to the open source community by QuinStreet Inc. Please visit LinuxToday.com for up-to-date news and articles about Linux and open source.