May 6, 2011 — by LinuxDevices Staff — from the LinuxDevices Archive — views
Is an Android smartphone worth $300 plus a two-year contract? In the case of the Samsung Droid Charge, which offers Verizon 4G bandwidth, a beautiful 4.3-inch Super AMOLED display, and an eight-megapixel camera, the answer is just maybe, says this eWEEK review.
Samsung's Droid Charge is a delicious, data-crunching smartphone that accelerates application use, thanks to Verizon Wireless' 4G Long Term Evolution (LTE) network.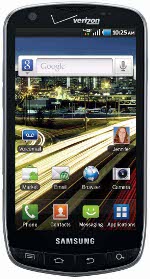 I've been testing this Android 2.2-based smartphone (pictured) with a 1GHz processor for a full week; I took it with me to Orlando, Fla., where I'd wager it was one of the fastest smartphones seen at Research in Motion's BlackBerry World developer show. That is, of course, unless there were any HTC ThunderBolts, which also scream on Verizon's 4G network.
Consumers can't get the Droid Charge just yet. Verizon prematurely promised a delivery date of April 28, which is when I received my review unit. Rumor had it that the Droid Charge was delayed due to the carrier's one-day, 4G network outage, though Verizon declined to confirm this. They're not sure when they're going to roll it out.
Nevertheless, the Droid Charge came with a pleasant surprise. I work from home in Fairfield County, Conn. When I reviewed the ThunderBolt in March, I tested it in New York City because Connecticut was not one of the 45 markets Verizon is currently serving with its 4G LTE network. I'm happy to say that Verizon is currently testing its 4G LTE network in Connecticut. Since I removed the Charge from its box April 28, I've consistently received three bars of 4G LTE service.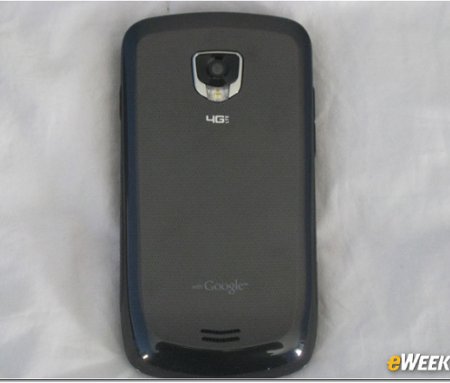 Rear view of Droid Charge
I checked with Verizon spokesman Jeffrey Nelson, who told me: "We always test before we launch." There was also a smiley face after his quote. So there you have it, folks: Verizon's 4G LTE is here in Connecticut.
How good is it so far? After a full week of testing in Connecticut, including five days in Trumbull, Fairfield, Bridgeport, and Stratford, I am happy to report consistent download speeds of 4- to 11Mbps and upload speeds of 3- to 5Mbps. So that's the news scoop.
Now about the phone, which for me personally is the best Android smartphone I've put in my hand to date: I'm enamored of the hardware design and its 4G LTE performance. I appreciate the black and sleek polished look and feel of Samsung's Galaxy S smartphones, such as the Fascinate, Vibrant, and Captivate, but the Droid Charge with its 4.3-inch Super AMOLED Plus (super active-matrix organic LED plus) touchscreen and mirror-gray plastic back gets the grand prize from me thus far.
The phone is muscular and powerful. I wager that, at five ounces, the handset is the perfect weight for many people, particularly measured against the ThunderBolt, which weighs 6.23 ounces, due to a bulky battery. The Charge's five inches of length and sub-half-inch thick dimensions were perfectly proportioned.
One knock is that, at 2.66 inches wide, the phone is too wide and may be uncomfortable for people with smaller hands. This is where the longer design of the Motorola Droid X and HTC Evo 4G smartphones come in handy.
4G LTE is the real deal
Verizon's speedy network accelerated application performance and downloads. YouTube videos fired up within a couple seconds, and Android Market applications such as Twitter for Android (3 seconds), Facebook for Android (6 seconds), and Angry Birds (15 seconds) downloaded super fast. This fulfills the promise of 4G LTE in my opinion.
Call quality was fine, if unexceptional. I also used Google's Voice Search, and the microphone picked up my commands just fine. Samsung's Android user interface boasted seven customizable home screens, allowing me to add and subtract widgets and applications with ease.
Texting and emailing were okay. I'm not a fan of the virtual keyboard Samsung uses for its Android 2.2 handsets, which challenges typing with small and narrow keys. After six months of texting on my Droid X, typing with the Samsung keys required practice. One nice feature, however, is a toggle button to let the user switch from a QWERTY keyboard to the 3 by 4 keyboard mode, as well as an integrated Swype button for gesture input (see image below).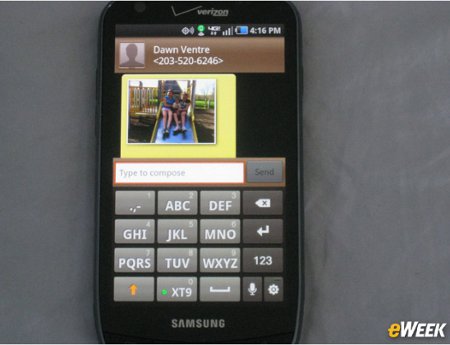 Virtual 3 by 4 keyboard mode on Droid Charge
Pictures and video I took with the Charge's eight-megapixel camera were crisp, though I still prefer the camera user interfaces on both Motorola and HTC's Android cameras.
The 1.3-megapixel, front-facing camera allows for video-chat applications. However, there is still no native chat application for these Android 2.2 devices because Google hasn't enabled its Google Talk voice and video chat application to work on releases prior to Android 2.3.
Even RIM's PlayBook just received a nice, native video chat application, and the tablet's only been on the market two weeks. But I digress.
The Charge also features Verizon's mobile hotspot capability, connecting up to 10 Wi-Fi-enabled devices over 4G and five devices via the 3G network. In a try-before-you-buy experiment, this functionality will be available for free for a limited time, a departure from Verizon's typical $20 per month fee for up to 1GB for the broadband-tethering service.
Of course, one of the main concerns with any 4G phone these days is battery life. The Droid Charge includes a 1600mAh battery, with which Samsung claims 280 hours of standby time and 11 hours of use time. In truth, the Droid Charge's battery is stronger than the 1400mAh ThunderBolt battery, which, despite being heavier, would drain down so quickly it was a sin to sell the device without a backup battery.
I enjoyed much more use time with the Charge, but if you use the phone a lot, it will burn out a lot quicker than Verizon lets on. I averaged about four hours — and less when streaming a lot of video.
Here's my main knock on the phone: its price. It's a whopping $300 with a two-year deal, with no $100 rebate offered, as per Verizon's usual practice. Verizon wouldn't tell my why this is and what's special about the Charge that warranted the high-end price.
It has to be the network. This could push consumers to the equally speedy ThunderBolt, which also has a gray casing in a similar form factor. If price were no option, I'd pick the Charge on the pure hardware look and feel. Cash-constrained folks may opt for the ThunderBolt — which, though heavier, will offer the same great 4G performance. All things being equal, I recommend that a buyer walk into a Verizon store and get both in hand.
An eWEEK slide show of the Droid Charge may be found here.
Clint Boulton is a writer for eWEEK.
---
This article was originally published on LinuxDevices.com and has been donated to the open source community by QuinStreet Inc. Please visit LinuxToday.com for up-to-date news and articles about Linux and open source.