May 22, 2008 — by Eric Brown — from the LinuxDevices Archive — 12 views

[Updated: May 23, 2008] — Analog Devices (ADI) is shipping a development board based on its Blackfin digital signal processor (DSP). The ADSP-BF548 EZ-KIT Lite board incorporates a 600MHz ADSP-BF548 Blackfin processor, and ADI offers a downloadable GNU toolchain that includes the uClinux distribution.
(Click for larger view of the ADSP-BF548)
The default kit today uses a proprietary toolchain, known as VDSP++, that is distributed as a Windows-only binary. However, users can download a Linux-compatible GNU toolchain with a C/C++/Fortran compiler, assembler, linker, Das U-Boot bootloader, and uClinux distro. This package "already run numerous Linux applications," says ADI, including SDL (simple direct library) examples, DirectFB, Qt, and mplayer, and it includes "verified" software modules aimed at speeding up the development of common embedded subsystems. Soon, the bundled CD will include the GNU toolchain as well.
"The userspace part of the uClinux distribution and the Linux kernel are all compiled with the GNU toolchain," explained ADI's Robin Getz, in an email. "We support building bare metal applications, the kernel, and the entire uClinux distribution on any POSIX-based host. We support and test on most Linux distributions on any architecture, although we just supply binaries for i386, ia64, and PPC. We also support coLinux (for Windows) and Mac OS X, assuming that the default filesystem has been switched to the POSIX version. I know people have built the toolchain from source on BSD and Solaris, and are also compiling the kernel and the uClinux distribution there as well."
Designed for prototyping "a wide range of applications," the ADSP-BF548 is based on a 600MHz ADSP-BF548 Blackfin DSP. The board includes 64MB SDRAM, 32MB Burst flash, 2GB NAND flash, and 16MB SPI flash. It also comes with a 40GB hard drive and provides interfaces for Ethernet, USB, and SD.
Specs for the ADSP-BF548 EZ-KIT Lite include:
600MHz ADSP-BF548 Blackfin DSP
Memory — 64 MB DDR SDRAM
Flash memory — 32MB Burst flash; 2GB NAND flash; 16MB SPI flash
Storage — 40GB hard drive
A/V — WQVGA LCD display; AC'97 codec
Networking — 10/100 Ethernet
Other interfaces — USB (OTG); SD/MMC; touchscreen/keyboard controller
Additional items in the EZ-KIT include:
Universal 7.5V DC power supply
256MB SD memory card
1GB USB high-speed flash drive
7-foot Ethernet crossover cable
7-foot Ethernet patch cable
4 x six-foot 3.5mm male-to-male audio cables
3.5mm headphones
5-in-1 cable and connectors for USB on-the-go (OTG) applications
Ethernet loopback connector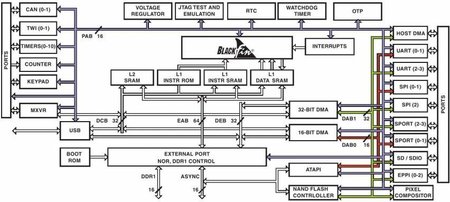 ADI Blackfin BF548 diagram
(Click to enlarge)
The Blackfin was one of the first DSPs to run Linux. Metrowerks wrote the original port in early 2003, and ADI announced a portal for uClinux development on Blackfin back in 2004. The Blackfin is based on the Micro Signal Architecture co-developed by ADI and Intel, which incorporates both DSP and microcontroller functionality in a single core. The processor offers a RISC-like register and instruction model for general purpose functions, as well as single-instruction, multiple-data (SIMD) multimedia capabilities for signal processing.
In 2005, ADI released two uClinux-based development boards, the ADSP-BF533 and the ADSP-BF537. Last July, Linux 2.6.22 was released, adding support for six Blackfin DSPs, and last week, Japanese phone stack vendor Access ported its lightweight NetFront Browser to the Blackfin.
Availability
The ADSP-BF548 EZ-KIT Lite is available now for $1,000 (1,000 pcs.), says ADI. More information may be available here and here. The GNU toolchain with the uClinux distro is said to be available at the Blackfin Linux Project, here.
---

This article was originally published on LinuxDevices.com and has been donated to the open source community by QuinStreet Inc. Please visit LinuxToday.com for up-to-date news and articles about Linux and open source.