May 13, 2008 — by Eric Brown — from the LinuxDevices Archive — 5 views

Japanese phone stack vendor Access has ported its lightweight NetFront Browser (pictured at left) to support Analog Devices' (ADI) Blackfin digital signal processor (DSP). The combined, Linux-compatible technologies are aimed at Internet-enabled devices such as the IP set-top boxes (STBs).
Blackfin is based on the Micro Signal Architecture co-developed by ADI and Intel, which incorporates both DSP and microcontroller functionality in a single core. The Blackfin offers a RISC-like register and instruction model for general purpose functions, as well as single-instruction, multiple-data (SIMD) multimedia capabilities for signal processing, according to ADI.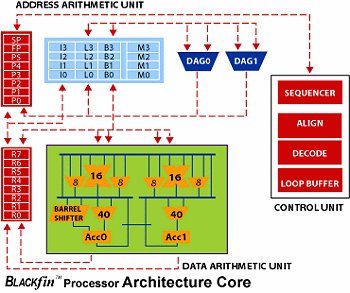 Blackfin architecture
The Blackfin was one of the
first DSPs
to run Linux. Metrowerks wrote the original port in early 2003, and a community BlackFin uClinux portal appeared about a year later.
This article
describes one of the first BlackFin uClinux applications — a project to build a networked audio player.

Blackfin in typical layout
Now available in version 3.5, the
NetFront Browser
has been deployed in over 500 million Internet devices, claims Access. Most commonly found on Japanese mobile phones that work with NTT DoCoMo's Internet-like FOMA ("Freedom of Mobile Access") data service, the browser has also been used in digital TVs, STBs, game consoles, and automobile telematics systems. While small in footprint compared to some embedded browsers, NetFront is said to provide rich content rendering, with support for Web 2.0 technologies like AJAX (asynchronous JavaScript + XML).
NetFront Browser can be configured via plugins to support Adobe PDF, office documents, Flash, and video. Extensions to the browser APIs (application programming interfaces) enable development of messaging clients, RSS news readers, and other dynamic menu applications, according to Access. The NetFront browser also boasts "Rapid-Render" incremental rendering technology aimed at speeding up web-page presentation, and "Smart-Fit Rendering" aimed at minimizing horizontal scrolling on small screens.


NetFront Browser 3.5 on various devices
(Click to enlarge)
Stated Toru Arakawa, CEO of Access, "NetFront Browser embedded on ADI's Blackfin is the ideal solution for OEMs who want to make it possible for their customers to access and interact with content-rich multimedia Internet sites."
In addition to porting NetFront to the Blackfin, Access added ADI to its Access Connect Ecosystem (ACE) Partner program.
NetFront takes on video and home networking
In a separate announcement, Access also demonstrated NetFront IP Connect, a new middleware stack for home gateways that conform to "Next Generation Network" (NGN) specifications. NetFront IP Connect is said to incorporate technologies from Access's U.S. subsidiary, IP Infusion. These technologies include parts of the ZebOS IP routing middleware, as well as Layer 2 and Layer 3 carrier-class routing and switching software. The IP Connect middleware provides carriers and equipment manufacturers with a visual user interface based on XML (Extensible Markup Language), plus an API for cross-platform development, says Access.
NetFront IP Connect is part of a family of Access home-network products that include NetFront Living Connect, a DLNA (Digital Living Network Alliance) compliant middleware suite that enables mobile phones and other embedded devices to interoperate with consumer appliances. Access also offers its NetFront IMS Client Package, which supports SIP (Session Initiation Protocol) for services such as IP telephony.
In February, Access showed off a number of other NetFront-related technologies, including:
NetFront Browser Mobile Flash — integrates Digital Aria's Mobile Flash for optimized YouTube videos
NetFront Transcoder — Due to ship in May, a server solution that can convert and edit desktop-format web sites for mobile devices
NetFront Browser DTV Profile DVB-H Edition — mobile TV variant of DTV Profile that integrates ExpWay's Electronic Service Guide (ESG) for mobile DVB-H and 3G networks
NetFront Browser Widgets — Dynamic widgets available for content including movies, photos, and maps
Availability
The NetFront port to AFI's Blackfin processor is available now, but no informaton was provided on the availability of the NetFront IP Gateway. More on the NetFront Browser should be available here. More information on the Blackfin may be found here, and more on ADI's Blackfin- and uClinux-based Bravo IP-Com Reference Design, including details on NetFront integration, may be available here.
---

This article was originally published on LinuxDevices.com and has been donated to the open source community by QuinStreet Inc. Please visit LinuxToday.com for up-to-date news and articles about Linux and open source.