Feb 8, 2011 — by Eric Brown — from the LinuxDevices Archive — 16 views
Sprint and Kyocera Communications are readying the first dual-touchscreen Android smartphone. Equipped with a 1GHz Snapdragon processor running Android 2.2, the Kyocera Echo offers dual 3.5-inch WVGA touchscreens that can be combined to form a single 4.7-inch display, or can be split — with apps running either independently or in an "optimized" mode with complementary functions.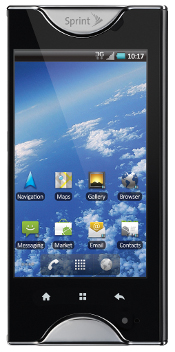 And now for something completely different. We've seen dual-screen e-reader tablets, such as the Entourage Edge, but the Kyocera Echo appears to be the first phone to provide similar functionality.
Available from Sprint this spring for $200 plus contract after rebate, the Kyocera Echo uses a patent-pending hinge to slide two 3.5-inch, 800 x 480 touchscreens together to form a single 4.7-inch, 800 x 960 display. The phone can also fold out the two screens at an clamshell angle, for independent views.
The Kyocera Echo offers seven apps that have been customized to support the design's special modes. The modes include: a power-saving single-screen mode (pictured above right); a tablet mode, enabling a combined, albeit split image; as well as a "Simul-Task" mode for simultaneous, independent displays (see image below).
The latter would enable one to type an email on one screen while browsing the web on the other, or text on one display while watching a video on the other, says Sprint. Supporting apps include messaging, email, web browsing, phone, gallery, contacts, and Kyocera's "VueQue" app for YouTube videos.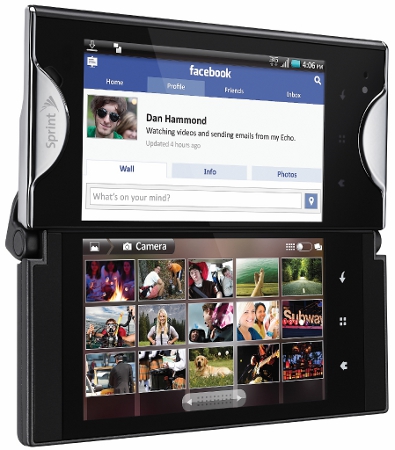 Kyocera Echo in Simul-Task mode


(Click to enlarge)
The seven apps also support an "Optimized Mode" in which the dual displays support a single, optimized app that offers complementary functionality. Examples include simultaneously running different web browsing sessions, or dedicating one screen to a QWERTY keyboard while using the other as the email display, says Sprint.
The viewing gallery, for example, is said to offer full images on one display and thumbnails on the other. With VueQue, users can watch a YouTube video on one display while browsing, queuing, and buffering additional YouTube videos on the other.
Initially, it appears the multi-mode capability will work only on the seven pre-loaded apps mentioned above. The 100,000 or so other Android apps out there, made available via Android Market, play the old-fashioned way on a single screen. However, Kyocera and Sprint will be offering a software development kit (SDK) that enables developers to add similar multi-mode functionality to their own apps.
The degree of multitasking available is somewhat unclear at this point. A hands-on Engadget report posted from the Echo unveiling last night in New York City claimed that rather than run apps simultaneously, the phone merely "quickly switches them in and out of hibernation." Yet an update amended that to say a Sprint exec was later able to demonstrate watching a video while writing an email.
According to a report on the high-profile Echo event by our sister publication eWEEK, the unveiling was preceded by an underwater trick by the illusionist David Blaine.
One question is whether users will feel comfortable with the tablet mode, in which the unified display is split across the middle by the physical break between the screens. At the event, Fared Adib, Sprint vice president of product development, noted that the "seam" between the devices was a challenge, reports eWEEK.
"The big problem has always been creating a seam that doesn't take away from the profile of the product," Adib told the audience. Yet, he was also confident the Kyocera engineers have solved the problem. "You really have to get close to notice it," he added. "Your eye gets very used to it."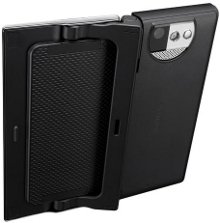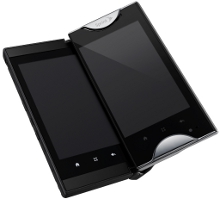 The Echo showing off its patent-pending hinge


(Click on either to enlarge)
Another question is whether the 1GHz Qualcomm Snapdragon processor is up to the task of the quasi-multitasking across so much screen real estate. Still, both
Engadget
and
eWEEK
seemed generally impressed by the performance.
Battery life is another question. The 6.8-ounce phone runs on a 1370mAh battery, but Sprint does not list talk times. Presumably the Echo will run through that pretty quickly when both screens are in play.
Fortunately, the phone ships with a spare 1370mAh battery and portable charger, apparently as part of the standard price. In addition, according to eWEEK, one can charge the phone and the second battery at the same time, or charge the phone from the juice of the second battery.

The Echo measures 0.68 inches wide — definitely thick, but not bad for dual screens
The Echo runs Android 2.2 on the Snapdragon with the help of 512MB RAM and 1GB internal flash, says Sprint. There's also an 8GB microSD card. The Echo operates only on Sprint's 3G network, not its 4G WiMAX service, but it offers 802.11b/g plus optional Wi-Fi tethering.
Bluetooth and GPS are also part of the specs, along with various sensors. The Echo's accelerometers are said to be fully supported in the various modes. The five-megapixel camera provides 720p video recording, but there's no separate front-facing cam.

Features and specifications listed for the Kyocera Echo on Sprint include:
Processor — 1GHz Qualcomm Snapdragon (QSD 8650)
Memory — 512MB RAM; 1GB internal flash; 8GB microSD card in 32GB-ready slot
Displays — 2 x 3.5-inch WVGA (800 x 480) capacitive touchscreens (800 x 960 pixels when combined in tablet mode)
Wireless communications:

3G (EVDO Rev A) with typical 600Kbps to 1.4Mbps downloads; peak 3.1Mbps downloads and 1.8Mbps uploads
802.11 b/g with optional ($30 per month) Wi-Fi tethering for 5 users
Bluetooth 2.1 + EDR
GPS

Camera — 5-Mpixel with flash, autofocus, 2x digital zoom, 720p HD camcorder
Other features — 3.5 mm headset jack; digital compass, accelerometer, proximity sensor, light sensor, Hearing Aid Compatibility Rating (HAC) M4/T4
Software (highlights):

web browser with Flash 10.1, optimized for dual screens
VueQue optimized YouTube player
Exchange ActiveSync, POP, and IMAP email
access to Telenav GPS Navigator, Sprint TV, Sprint Zone
Google services (Search, Maps, Talk, IM, Gmail, YouTube, Calendar with sync)

Battery — 1370mAh; ships with spare 1370mAh battery and portable charger
Dimensions — 4.53 x 2.22 x 0.68 inches (115.0 x 56.5 x 17.2mm)
Weight — 6.8 oz. (193g)
Kyocera's first Android phone was announced in March under the name Zio M6000. In August, no-contract mobile provider Cricket Communications made the same phone available under the name Sanyo Zio. The phone debuted with Android 1.6 running on a Qualcomm MSM7627 processor, and offered a 3.5-inch WVGA display, plus WiFi, aGPS, Bluetooth 2.0, and a 3.2-megapixel camera.
Back in 2001, the Japanese firm, which also sells under the Sanyo brand, manufactured one of the first phones that might be considered a "smartphone," with its Palm-based Kyocera 6035.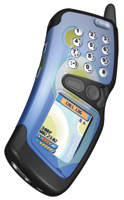 The company definitely has a thing for unusual-looking phones. In 2002, Kyocera introduced the world's first Linux-powered phone with its uniquely shaped Delta 2 (pictured at left).
Stated Sprint CEO Dan Hesse, "Kyocera Echo is the first device that allows us to do a different task on each of two screens while also providing a tablet-like, larger screen experience that easily fits in a pocket when closed."
Stated Eiichi Toriyama, president of Kyocera Communications, "With Kyocera Echo, we are proud to give Sprint an iconic, industry-changing device that delivers an entirely new experience for smartphone users."
Kyocera Echo demonstrated on YouTube


Source: Kyocera
(Click to play)
Availability
The Kyocera Echo will be available this spring for $200 with a new two-year service agreement or eligible upgrade, after a $100 mail-in rebate, in all Sprint retail channels.
More information on the Echo may be found at Kyocera's Echo site, as well as Sprint's Echo fact sheet and Echo pre-reg and demo page.
---
This article was originally published on LinuxDevices.com and has been donated to the open source community by QuinStreet Inc. Please visit LinuxToday.com for up-to-date news and articles about Linux and open source.