Jan 20, 2010 — by Eric Brown — from the LinuxDevices Archive — 1 views
Entourage Systems is taking pre-orders for its dual-display, Android-based "Entourage Edge" e-reader, bundled with DataViz's Documents To Go. In other recent e-reader news, Spring Design's "Alex" will access Borders' e-book store, Samsung announced two e-readers, Amazon announced a new Kindle DX model, and Amazon is broadening its Kindle self-publishing platform.
Today, Entourage Systems announced it is accepting pre-orders for its dual-display Entourage Edge e-reader. Announced in October, the device is expected to start shipping next month. The company announced plans to integrate DataViz's Documents To Go Microsoft Office file viewer two weeks ago at the Consumer Electronics Show (CES) in Las Vegas. (For several other e-reader related announcements that we were unable to get to in the crush of Linux- and Android-related announcements at CES, see our summaries farther below, with links to related stories in our sister publication, eWEEK.)
The Entourage Edge is expected to ship around the same time as two other Android-based e-book reading devices. Spring Design now has a Feb. 22 ship date scheduled for its Alex e-reader (see farther below), and Barnes & Noble is now promising a Feb. 12 shipment for its Nook.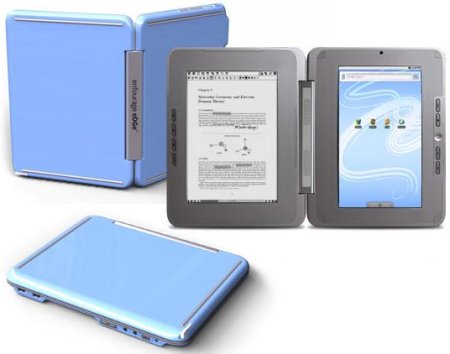 Entourage Edge


(Click to enlarge)
While all three devices sport dual displays, combining
E Ink VixPlex
grayscale displays with Android-based touchscreens, the color displays of the Alex and Nook are quite a bit smaller, and are both integrated on the same panel. In contrast, the 2.5-pound, 8.25 x 10.75 x 1.0-inch Edge opens up to reveal two large netbook-like displays that can be read like a book, folded flat like a tablet, or propped up like a laptop.
The left inside panel of the Edge features a 9.7-inch E Ink e-paper display with 1200 x 825 pixel resolution. The Wacom pen-enabled display is also said to support PDF and EPUB text formats, and enables users to take notes or draw diagrams. The e-paper display faces a 10.1-inch LCD color touchscreen on the right, which boasts 1024 x 600 resolution.

Entourage Edge in its various configurations


(Click to enlarge)

The Edge ships with 4GB of internal memory, as well as an SD card slot, and its dual USB ports can connect to additional storage. Web access is provided via WiFi or an optional 3G radio, and Bluetooth is also supported, including Bluetooth keyboards. Additional features are said to include audio and video recording (For more details on the Edge, including a spec list, please see our previous coverage, here.)
DataViz expands Edge viewing capabilities
The integration of Documents to Go expands the scope of document viewing on the Edge, which unlike the Nook or Alex, will apparently not ship with an e-book store integration deal. DataViz announced an Android version of Documents To Go last April. The Android version provided with the Edge lets users view, create and edit Microsoft Word, Excel, and PowerPoint files, as well as view Adobe PDF files on the device's netbook (i.e. color) display.
Originally launched as a Palm application, Documents to Go is also available on Symbian, BlackBerry, Windows, Windows Mobile, and Macintosh platforms. In February 2008, the file viewing application made the jump to Linux by way of a deal with MontaVista. The application enables files to be transferred via Bluetooth, USB, memory cards, and email attachments, as opposed to the "cloud based" viewers typically offered with Android, which offer Internet-based transfer only, claims DataViz.
Stated Asghar Mostafa, president and CEO of Entourage Systems, "Integrating Documents To Go into our product ensures that our customers have all the necessary tools they need for work, school or entertainment, wherever they are, from a single platform."
Alex buddies up with Borders
At CES earlier this month, Spring Design announced that users of its Alex e-reader will be able to order e-books from a new "Borders eBook" store announced at the same time, said an eWEEK story. Spring Design offered few details about the new Borders store, although the book retailer said that it would offer Borders-branded e-book applications in the store, said the story. The Alex (pictured below, at left), and presumably the Borders eBook store, are set for a Feb. 22 launch.


In November, Spring Designs sued Barnes & Noble, claiming the company copied the design of the Nook (pictured above, at right) from the Android-based Alex. Although Spring Design moved to stop sales of the Nook, the San Jose Division of the United States District Court for the Northern District of California, which is hearing the case,
announced
on Dec. 1 that B&N would be allowed to continue selling the Nook during the legal proceedings, according to an earlier
eWEEK
story.
Samsung's E6 and E101 e-readers
In a separate eWEEK story from CES, it was reported that Samsung showed both a 6-inch e-reader called the E6, and a 10-inch E101 model. Both e-readers allow users to make notes on the screen with a built-in electromagnetic resonance (EMR) stylus pen, said the story. The company apparently did not mention what operating system was being used, although these days, if a company doesn't go out of its way to tout Android readiness for its e-reader, Linux is the likely choice.
Both Samsung models let users make notes and other annotations directly on the screen with a built-in electromagnetic resonance (EMR) stylus pen, said the story. Both the E6 and E101 are said to be equipped with 802.11b/g, Bluetooth, and enough battery power for up to two weeks of use. The E6 will retail for $400, while the E101 will cost $700, and both will be available in early 2010, said the story.
Amazon broadens self-publishing platform
Last Friday, eWEEK reported that Amazon.com will allow authors and publishers around the world to upload and sell books in English, German, and French in the Kindle Store via its self-service Kindle Digital Text Platform, available for its Linux-based Kindle e-reader platform. Additional languages will be added in coming months, says the story. Previously, the program was said to be limited to authors and publishers in the United States.
In an earlier eWEEK story posted from CES, meanwhile, Amazon announced that it plans to ship a new version of the 9.7-inch Kindle DX e-reader. The new version, presumably available in a firmware update, will allow users to download e-books and other content in over 100 countries, and will also offer native PDF support for reading documents. The latter feature was announced in November in a firmware update for the second-generation version of the flagship, 6-inch Kindle e-reader (pictured at right).
The Kindle DX, which will maintain its $490 pricetag, despite recent price-cuts on the mainstream Kindle to $260, received some competition earlier this month from a Hearst Corporation-backed startup formerly known as FirstPaper, called Skiff LLC. The company recently announced a Linux-based Skiff Reader device that is optimized for newspaper and magazine content, delivered via Sprint's 3G network. The Skiff Reader's display is claimed to be the largest (11.5 inches) and highest-resolution (UXGA) among e-readers, and the first to offer LG Displays' stainless-steel foil display technology, touted for greater durability.
According to another eWEEK story, both the Kindle and the e-books that run on it were red-hot over the end-of-year holidays. According to the story, Amazon reported that the Kindle was its most gifted item over the holiday season, and the most gifted item in the history of the company. Meanwhile, on Dec. 25, the company sold more e-books than it did print books, said the story. Analysts were said to have estimated that 2009 sales of all the Kindle devices totaled a half million units.
Availability
The Entourage Edge is available now for pre-orders, here for $490 and will ship in February. As of Feb. 1, the price will rise to $500 to partially reflect the inclusion of Documents To Go, which retails separately for $30. The software will also be included in versions bought for $490 in the meantime, however, says Entourage Systems.
The eWEEK story on the Alex tie-in to the new Border eBook store should be here, and the story on the Samsung e-book readers should be here.
The eWEEK story on Amazon's Kindle self-publishing platform may be found here. The earlier eWEEK story on the Kindle DX with global wireless support should be here, and the story on Amazon's holiday Kindle sales should be here.
---
This article was originally published on LinuxDevices.com and has been donated to the open source community by QuinStreet Inc. Please visit LinuxToday.com for up-to-date news and articles about Linux and open source.