Dec 13, 2000 — by LinuxDevices Staff — from the LinuxDevices Archive — 3 views
Embedded Linux is starting to penetrate embedded computer applications within the U.S. Military — a phenomenon attributed to the operating system's stability, real-time capabilities, and open source license. A leader in this charge is Rymic Systems, Inc. (Huntsville, AL), whose embedded-Linux based rymicNET Internet devices are currently being evaluated for possible use in a number U.S. Army ground-based vehicles. With respect to the Linux logistics of the campaign, Rymic is being aided and abetted by Red Hat, Inc.
What's a rymicNET?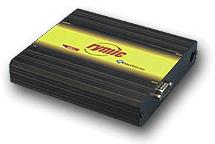 rymicNET is a highly compact (5 x 5 x 2 inches) and ruggedized computer subsystem, designed to withstand the harsh environments of military and industrial mobile applications.
The device is intended to be used for vehicle diagnostics, providing extensive performance data monitoring and predictive failure analysis. Although the initial application focus is that of Army ground-based vehicles, additional uses for the device are likely to include construction equipment, railway cars, truck fleets, medical diagnostics, and remote industrial automation.
What's inside?
The core of the rymicNET's embedded computer is a NETSilicon Net+Arm system-on-chip processor. The Net+Arm integrates a 32-bit ARM7 CPU, 10/100 megabit Ethernet interface, system controllers, an RS232 serial port, and four IEEE 1284 parallel ports. The system's memory resources consist of 32 MB of RAM memory plus 8 MB of Flash storage memory. Additional system expansion is accomplished by means of either PCI or PC Card (PCMCIA) devices.
In addition to its internal embedded computer functions, rymicNET also contains an 8051-based input/output controller, which manages digital and analog inputs and outputs, a USB interface, real-time-clock, system power management control, and a remote-controlled system wakeup feature.
The system's operating system is uClinux, a "small foot-print" version of Linux that supports MMU-less processors such as Netsilicon's Net+Arm. Utility software within the device provides Ethernet-based Internet access, including FTP, HTTP client and server functions, and POP3 and SMTP mail protocols.
Why Linux?
"We've tried more traditional PC operating systems in the past for similar embedded appliances, but they were prone to instability, high power requirements and heat dissipation problems," said Steve May, Rymic president. "uClinux provides us with an inherently stable solution that monitors vehicle performance in real time," continued May. "Because uClinux is open source software, costly per-unit license fees are eliminated."
When Rymic first selected Linux as the embedded OS for the rymicNET, the company leaned on the software development resources of Wirespeed, a neighboring company in Huntsville that had extensive experience in embedded operating systems and software development. Wirespeed, which was increasingly focusing on Embedded Linux and, in particular, uClinux, was subsequently acquired by Red Hat. Following Red Hat's acquisition of Wirespeed, the relationship between Rymix and Red Hat's new Huntsville subsidiary continued.
Raise your hand if you love Linux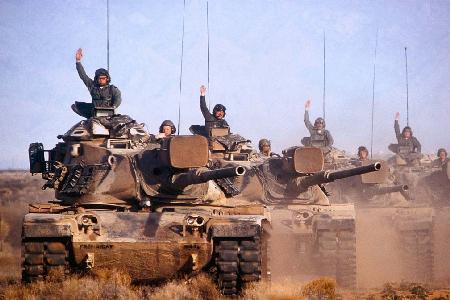 rymicNET will shortly begin its initial tests at Fort Riley, Kansas. Prospective Army applications include the Bradley fighting vehicle, heavy expanded mobility tactical trucks, and humvees.
Pat Stevens, deputy product manager of the U.S. Army Diagnostic Involvement Program, says "the Rymic Internet device could be installed on 3,000 to 50,000 Army trucks, service and fighting vehicles."

This article was originally published on LinuxDevices.com and has been donated to the open source community by QuinStreet Inc. Please visit LinuxToday.com for up-to-date news and articles about Linux and open source.