Sep 16, 2011 — by LinuxDevices Staff — from the LinuxDevices Archive — 5 views
Samsung's Galaxy S II, Epic 4G Touch is a mouthful to say and a handful to hold, but the 1.2GHz dual-core processor and Sprint's 4G WiMAX network make it worth the $200 on contract, says this review. Battery life suffers on 4G, but from the 4.5-inch Super AMOLED Plus display to the responsive cameras, there's a lot to like.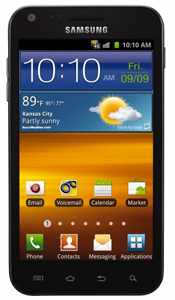 It's easy to rattle off superlatives about the first Samsung Galaxy S II device launched in the United States, which officially goes by the moniker Samsung Galaxy S II, Epic 4G Touch (pictured). One of several expected U.S. versions of the Galaxy S II design, which has been a best-seller overseas, the device went on sale Sept. 16 for $200 on contract, on Sprint's 4G network.
The Epic 4G Touch is a remarkable blend of powerful application processing, super-sized on a big, crisply clear display. The phone fills the role of Sprint's Galaxy S-based Samsung Epic 4G , with the "Touch" name added to show that the previous QWERTY keyboard is no longer part of the package.
Running Google's freshest Android 2.3.4 ("Gingerbread") operating system capably on Sprint's 4G WiMAX network, the Epic 4G Touch is fueled by Samsung's new Exynos 1.2GHz dual-core processor. The phone ships with 1GB of RAM and 16GB of memory, expandable to 32GB with a microSD card, according to Sprint.
A "Super" display, but over-wide body
The 4.52-inch, 800 x 480 Super AMOLED Plus display is bold, crisp, and clear, inside and outside, in light and dark. The bigger screens mean bigger icons and links to tap, which is great for bigger, less-than-nimble fingers.
That display also happens to betray the phone's biggest disadvantage. While the 4.5-ounce weight and 5.1-inch length are comfortable enough, and the thin 0.38 inch profile is welcoming, the 2.7-inch width is decidedly uncomfortable. This is especially true for people with smaller hands.

The 2.7-inch width of the Epic 4G Touch may be a bear, but the 0.38-inch thickness helps to compensate

People don't want a phone they can't grip with ease. So my advice is to go into a Sprint store and play with this phone. Grab it, heft it, squeeze it. Then love it or leave it.
Regardless, if you're a person who likes fast app processing and multimedia consumption, as well as clear, crisp calls, you'll be hard pressed to find fault with this phone. The eight-megapixel camera and video camera are excellent. I snapped multiple pictures with minimal latency, unlike on Motorola's Android handset cameras, which still struggle trying to keep pace with action shots. The camera also shoots 1080p video.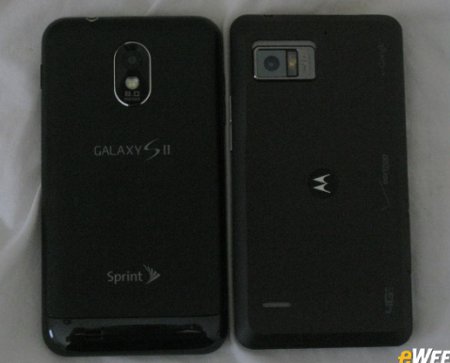 Rear views of the Epic 4G Touch (left) next to the Motorola Droid Bionic (right)
The two-megapixel front-facing camera allows for nice self-portraits and video chats with Qik and other video-conferencing apps, if that's your thing. Other features include Bluetooth 3.0, 802.11n, and a mobile Wi-Fi hotspot.
Fast off the blocks
Between the dual-core processor and 4G service, the Epic 4G Touch makes for a speedy user experience. Applications ranging from Google+ for Android to Facebook for Android to ry Birds downloaded in seconds. YouTube launches and begins playing video in seconds. Netflix also performed admirably on the handset.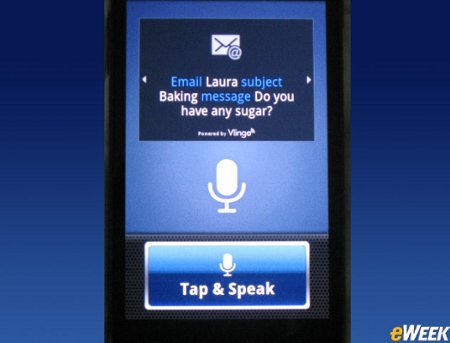 Vlingo speech recognition on the Epic 4G Touch

Voice input, which I normal regard warily, is actually enjoyable to use on the Epic 4G Touch. The phone comes preloaded with Vlingo's speech recognition software (pictured above), allowing users to speak commands into their phone to email, text, call, search, and do other, normal phone tasks.
Aren't comfortable with Vlingo? Samsung also included Google Voice Commands, as well as the typical Google Voice Search integrated in the search bar on the virtual keyboard. These apps work well enough, but speech recognition remains a work-in-progress across the industry.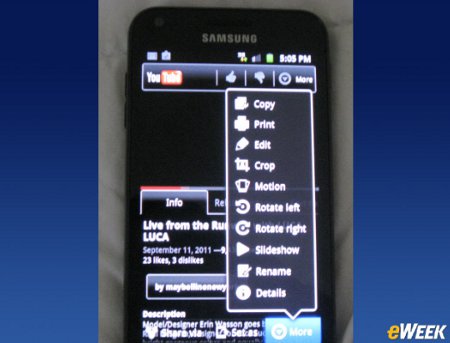 TouchWiz screen capture editing options
(Click to enlarge)

Samsung's latest TouchWiz interface has some neat perks, including widget customization and the ability to drag and drop those widgets on any of the seven homescreens. You can take screen captures simply by pressing the home and power buttons at the same time, then rotate, rename, and edit the heck out of the screenshot anyway you want (see image above).
Then you can share the capture via Gmail, text messages, Google+, and other sources. It's a fun feature that works well.
4G buries yet another battery
The Epic 4G Touch's battery is a hefty 1800mAh power supply, which got me through 12 hours on 3G but only four hours of heavy use on 4G. That could be the second biggest problem with the phone after its big size.
But I won't penalize Samsung for this because it's pretty much the same experience I've had on all 4G phones. These include Sprint's Samsung Nexus S 4G and Motorola Photon 4G, as well as the HTC Thunderbolt 4G, Samsung Droid Charge, and most recently, the Motorola Droid Bionic, on Verizon Wireless.
4G absolutely destroys battery life. Bring a spare battery or at least your charger with you everywhere.
For $200 on contract, the Epic 4G Touch is a bargain compared to the $300 Motorola Droid Bionic, though that device gets the edge when it comes to Verizon's 4G LTE (Long Term Evolution) network. The United States' first Galaxy S II phone is a blast to use. I would definitely recommend it for big-handed people with a lust for power, speed, and performance in a lightweight package.
Availability
The Samsung Epic 4G Touch is available now for $200 with a two year contract, says Sprint. More information may be found in this Epic 4G Touch fact sheet, as well as Sprint's Epic 4G product page, which offers links to sales.
More images and review notes may be found in this Epic 4G Touch eWEEK slide show.
Clint Boulton is a writer for eWEEK.
---
This article was originally published on LinuxDevices.com and has been donated to the open source community by QuinStreet Inc. Please visit LinuxToday.com for up-to-date news and articles about Linux and open source.