May 22, 2009 — by Jonathan Angel — from the LinuxDevices Archive — 8 views

Eurotech announced six different development kits for customers wanting to create products based on Intel's Z5xx processors. The "Atom Development Systems," mostly mounted on Plexiglas carriers with foldout LCD displays and onboard storage, are available with Linux images.
Eurotech's development kits all include Plexiglas carriers, power supplies, and 8.4- or 10.4-inch touchscreen displays with 800 x 600 resolution. All also offer onboard storage and breakout boards or carrier boards that provide a variety of real-world ports.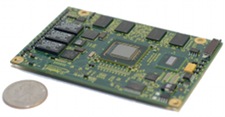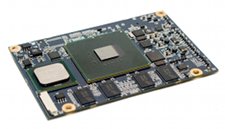 Eurotech's Catalyst (left) and Catalyst XL (right)
The kits all use Intel Atom
Z510 or Z530
processors, together with the inevitable SCH US15W combination northbridge/southbridge, and all have one of three previously released Eurotech products at their heart:
The Catalyst (above left), a COM (computer on module) that made its debut in April 2008, using Intel Z5xx processors and a proprietary 3.9 x 2.8 inch form factor

The Catalyst XL (above right) a revamp of the Catalyst that is designed to accommodate Intel's larger, extended-temperature Z5xxPT CPU and SCH US15WPT companion chip

The Proteus (below), a 4.5 x 4.3-inch SBC (single board computer) that includes dual PC Express Mini card slots, plus possible Bluetooth, ZigBee, and GPS modules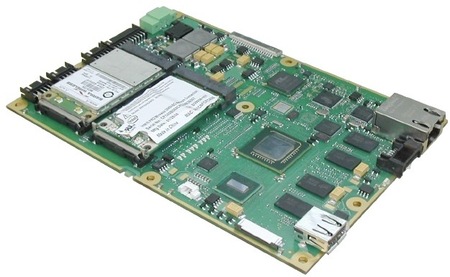 Eurotech's Proteus
(click to enlarge)
In addition, two of the Catalyst-based development kits mix other previously released ingredients into the stew. These are the following:
The Catalyst EC, a EPIC-format (6.5 x 4.5 inch) carrier board that the Catalyst fits onto, and that includes a variety of real-world ports

The Isis, an SBC that accepts the Catalyst, fitting it neatly in between PC/104 and PC/104-Plus expansion connectors
Eurotech explains this product profusion by explaining that two of its development kits accept the Catalyst or Catalyst XL directly, and are intended for OEMs who ultimately plan to build their own custom carrier boards. Two additional development kits accept the Catalyst or Catalyst XL well, but employ the EPIC-format Catalyst EC as a carrier. A fifth kit, accepting the Catalyst but not the Catalyst XL, uses the Isis as an intermediary, targeting customers who want to build out their eventual products in a PC/104 form factor. Finally, a sixth kit uses the all-in-one Proteus, aimed at customers who plan to use the SBC's I/O, GPS, and other options.
Catalyst development kits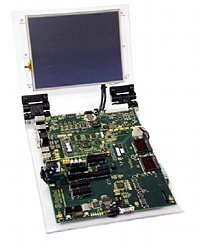 Eurotech's two Catalyst-based development kits come with either the Catalyst or Catalyst XL, plus a 10.4-inch touchscreen display with 800 x 600 resolution, and an 80GB PATA hard disk drive. The Plexiglas-mouted carrier board (pictured at right) measures an expansive 11.6 x 9.6 inches, giving it room to hold the modules and disk storage, and also providing six expansion slots: a direct-connect PCIe card slot, two standard PCI Express x1 slots, two Mini-PCI Express card slots with one supporting external SIM Card, and two SDIO slots.
According to Eurotech, the Catalyst development kits also include seven USB ports, six serial ports (two RS232, two RS422, two RS485), I2C and LPC buses, plus IDE/ATA and IrDA interfaces. Additionally, the company says, the kits have 12VDC power inputs, analog audio I/O and S/PDIF outputs, plus support for both LVDS and SDVO displays. Which of these interfaces is supplied via real-world ports and which via headers wasn't detailed, however.
Catalyst EC development kits
Eurotech's Catalyst EC development kits again come with either the Catalyst or Catalyst XL, using the EPIC-format Catalyst EC as a carrier. The kit is once again mounted on a Plexiglas carrier, with a 10.4-inch touchscreen display (below left), though this time out it can also be purchased "naked" (below right) for whose who want to cut costs by using a standard VGA monitor for development.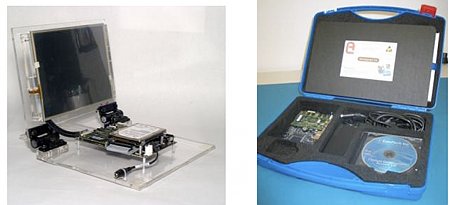 Eurotech's Catalyst EC dev kit comes with (left) or without (right) a touchscreen display
(Click to enlarge)
The EC development kits include an 80GB PATA hard disk drive, an IDE interface, plus both VGA and LVDS display outputs. The carrier board includes PS/2 keyboard and mouse support, four USB 2.0 host ports, six serial ports (two RS232, two RS232/422/485, one LVTTL, and one LVTTL to Mini-PCIe). Also on board is a Mini-PCI Express card slot, an SDIO slot, and a 12VDC power input, Eurotech says.
Isis development kit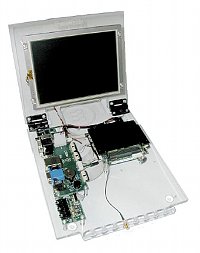 As mentioned earlier in this story, Eurotech's Isis development kit puts the Catalyst at its heart, adding a carrier with PC/104 and PC/104-Plus expansion connectors. This time out, because of the integration already provided by the Isis, there's much more unused space on the kit's Plexiglas carrier, as pictured at right.
The Isis development kit has an 8.9-inch touchscreen display, plus a 2GB or 4GB SSD (solid state drive) The kit's breakout board (visible at left in the image) includes four USB 2.0 ports, a VGA interface, PS/2 keyboard and mouse connectors, a 10/100 Ethernet port with RJ45 connector, two serial ports (one RS232/422/485), and 3.5mm connectors for mic in and line out, according to Eurotech.
Notable features of the Isis kit include its Atmel TPM (trusted platform module) and ITrax300 GPS receiver. Expansion, meanwhile, is provided not only by the PC/104 and PC/104-Plus expansion connectors, but also by a PCI Express Mini Card socket, an SDIO socket, I2C, and SMBus, says Eurotech.
Proteus development kit
Last, but not least, is the Proteus development kit (left), which includes a Plexiglas base, the Proteus SBC, four separate breakout boards, and an 8.4-inch touchscreen display. This kit is optionally available with an Itrax300 GPS receiver, a BlueGiga WT11 Bluetooth module, or a Eurotech nanoZigBee module.
Eurotech says the Proteus development kit comes with 2GB or 4GB SSDs, a single RS232 serial port, an SATA port, audio connectors (mic in, line in, line out), two USB 2.0 ports, and eight GPIOs accessible via screw terminals. Also cited are a gigabit Ethernet port, a microSD slot, and two PCI Express Mini card sockets. Again, the Proteus dev kit comes with an Atmel TPM, the company adds.
Availability
Eurotech says the Atom Development Kits listed above are now available with Linux, Windows Embedded Standard, Windows XP Embedded, or Windows CE, with prices ranging from $1,000 to $2,000. More information may be found on the company's website, here.
---

This article was originally published on LinuxDevices.com and has been donated to the open source community by QuinStreet Inc. Please visit LinuxToday.com for up-to-date news and articles about Linux and open source.