Mar 16, 2009 — by LinuxDevices Staff — from the LinuxDevices Archive — 3 views
Eurotech announced a COM (computer-on-module) using Intel's new automotive Atom, the Z5xxx PT. Available with a PC/104 carrier board, the Catalyst XL operates fanlessly from -40 to 85 deg. C (-40 to 185 deg. F), and has a five-Watt TDP, says Eurotech.
(Click here for a larger view of Eurotech's Catalyst XL)
Eurotech's Catalyst XL and Isis XL carrier board target in-vehicle systems, infotainment, and other applications. The boards are an interesting revamp of two previously released products:
The Catalyst, which made its debut last April, is a COM that uses Intel Z5xx processors and a proprietary 3.9 x 2.8 inch form factor.
The Isis, meanwhile, is an SBC that accepts the Catalyst, fitting it neatly in between PC/104 and PC/104-Plus expansion connectors.
The new Catalyst XL and Isis XL appear to provide exactly the same architecture and functionality as these earlier products, but now do so over an operating range of -40 to 85 deg. C (-40 to 185 deg. F), still without a cooling fan. Eurotech achieved this feat by redesigning the products to accommodate Intel's new Z5xxPT Atom CPU and SCH US15WPT companion chip.
As the chipmaker explained when it announced these parts earlier this month, the new "PT" Atom and its companion chip are architecturally identical to their Z5xx forebears, with the same 1.1 or 1.6GHz clock speeds, same amount of second-level cache, and the same 2.2 Watt TDPs. But, the new Atoms include integrated heat spreaders, making them more suitable to "thermally constrained fanless applications," and "ideal for designs without small space restrictions," according to Intel.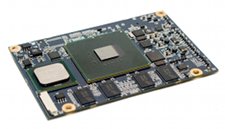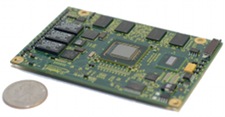 Eurotech's new Catalyst XL (left) and original Catalyst (right)
The original Atom X5xx came in a 13 x 13mm package, and the original SCH US15W measured 22 x 22mm. Larger by design, the new X5xxPT takes up 22 x 22mm, while the SCH US15WPT takes up 37.5 x 37.5mm. To garner the advantage of an extended operating range, therefore, Eurotech had to revamp its Catalyst module to make room, as the photos above dramatize.
Apart from the reallocation of board real estate, the new Catalyst XL is apparently functionally identical to the original Catalyst. Eurotech does note that while the Catalyst came with 512MB or 1GB of soldered-on DDR2 memory, the Catalyst XL will also be available with 2GB of RAM. According to Eurotech, the Catalyst XL offers clock speeds "up to 1.3GHz," though which specific Z5xxPT part the module employs was not specified.
As for the Isis XL, this device appears to be identical to the version released before, apart from being rated for the -40 to 85 deg. C operating range.
Greg Nicoloso, CEO of Eurotech USA, said, "Eurotech's engineering team was able to deliver the same form factor, even though the processor package is larger."
The Catalyst and Catalyst XL
As mentioned above, the Catalyst (and now the Catalyst XL) uses a proprietary 3.9 x 2.8 inch form factor. Like other development systems of its type, the device is designed so manufacturers can begin their hardware development by plugging the module into a generic carrier board. The carrier board supplies as many standard PC-style interfaces as possible. At a later stage, notes Eurotech, a simplified, task-specific carrier board can be designed.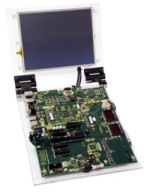 Eurotech's carrier board folds, laptop-style, for portability, and features a 10.4-inch touchscreen display with 800 x 600 resolution. Also on the board (right) is an 80GB hard drive, while expansion possibilities include three standard one-lane PCI Express slots, plus two Mini PCI slots.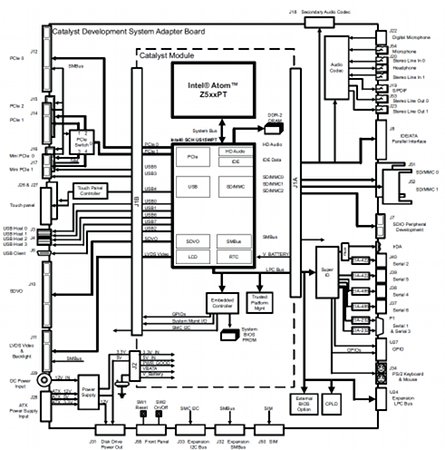 A block diagram of the Catalyst XL module and development system
(Click to enlarge)
Interfaces on the module itself, as shown on the block diagram above (clockwise from the top), include:
HD audio

IDE

SD

SMBus

LPC (low pin count) bus

LVDS video

SDVO (serial digital video out)

8 x USB 2.0
As the block diagram further shows, the carrier board extends these interfaces, providing as wide a range of capabilities as possible. For example, HD audio is relayed to a six-channel audio codec on the board, which delivers two 3.5mm stereo line inputs, two stereo line inputs, analog and digital microphone inputs, and an S/PDIF digital audio output. Similarly, the LPC bus is used to provide six serial ports, plus PS/2 keyboard and mouse connectors.
The board can accept power from an ATX-style power supply, but also has a separate 12VDC power input, plus 5VDC and 12VDC power outputs for peripherals. Eurotech says the Catalyst module's power consumption averages between two and three Watts, and is never higher than five Watts. However, power consumption for the overall system including carrier board was not specified.
Features and specifications released by Eurotech for the Catalyst XL development system include:
Processor — Intel Z5xxPT Atom, available in clock speeds up to 1.3 GHz

Memory — 512MB, 1GB, or 2GB of RAM

Storage — 80GB HDD

Display — 10.4 inch touchscreen display with 800 x 600 resolution

Networking — can be added via Mini PCI slots

Other I/O:

7 x USB 2.0

6 x serial (2 x RS232, 2 x RS422, 2 x RS485)

1 x IDE/PATA

I2C bus

IrDA interface

SDIO development interface

LPC bus

2 x stereo line inputs

2 x stereo line outputs

Analog and digital microphone inputs

S/PDIF output

Expansion:

3 x 1-lane PCI Express slots

2 x Mini PCI slots

2 x SD slots

Dimensions:

Module — 3.9 x 2.6 inches

Carrier board — 11.6 x 9.6 inches

Overall system (carrier board, folding display) — 18 x 11 inches

Operating temperature (module) — -40 to 85 deg. C
The Isis and Isis XL
With its Isis, and now the Isis XL, Eurotech takes the Catalyst module and turns it into an SBC. The module is placed onto a board where, as pictured below, it nestles in between PC/104 and PC/104-Plus expansion connectors. The resulting contraption offers both 32-bit PCI and 16-bit ISA connections to the outside world, while complying, more or less, with the 3.8 x 3.6 inch PC/104 form factor.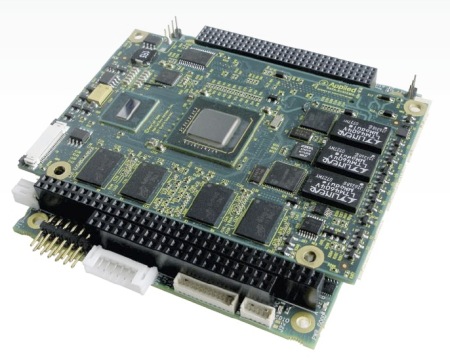 Eurotech's Isis SBC, pictured here with the original Catalyst module
(Click to enlarge)
In addition to the expansion connectors, the carrier also includes both
PCI Express Mini Card
and SDIO sockets. Further, it also accepts an optional iTrax300 20-channel GPS receiver, with full position/velocity/time functionality, says Eurotech.
The SBC includes VGA and LVDS display interfaces, 10/100 Ethernet, IDE support, and eight USB ports. It also has three serial ports, two of them user-accessible, and one dedicated to the optional GPS receiver. Finally, the Isis also includes an Atmel TPM (trusted platform module) device, says Eurotech.
Features and specifications cited by the company for the Isis XL include:
Processor — Intel Atom ZxxPT clocked at up to 1.3Ghz

Memory — up to 2GB of DDR2 RAM, and 2GB or 4GB of flash storage

Networking — 10/100 Ethernet

Other I/O:

VGA

LVDS

HD audio I/O

8 x USB 2.0

IDE (parallel ATA)

3 x 16C550-compatible serial (one dedicated to optional GPS)

GPIO

I2C/SMBus

Expansion:

PC/104-Plus

PC/104

PCI Express Mini Card

SDIO

Operating temperature — -40 to +85 deg. C

Dimensions:

Carrier board: 3.8 x 3.5 inches (96 x 90mm)
CPU module: 3.9 x 2.8 inch (100 x 67mm)
According to Eurotech, the Catalyst XL and Isis XL will be available during the second quarter of 2009, and run Linux, Windows XP Embedded, Windows CE, and Windows Vista. More information may be found on the company's website, here and here.
---

This article was originally published on LinuxDevices.com and has been donated to the open source community by QuinStreet Inc. Please visit LinuxToday.com for up-to-date news and articles about Linux and open source.