Apr 28, 2010 — by LinuxDevices Staff — from the LinuxDevices Archive — 14 views
Diamond Systems announced a SUMIT-ISM adapter board and a digital I/O module compatible with the recently minted FeaturePak expansion standard. The SUMIT/FP adapter lets FeaturePak modules work with systems providing SUMIT-ISM expansion, while the FP-GPIO96 offers 96 buffered digital I/O lines, the company says.
Announced last month, the FeaturePak expansion standard employs a low-cost MXM (mobile PCI Express module) connector and expansion modules "three-fifths the size of a credit card." It's said the modules are intended mainly for SBCs (single board computer), COMs (computer on modules), and other embedded products, but could come to future netbooks and notebooks as well.
According to Diamond Systems — which originated FeaturePak but has attracted support for it from Arbor, Cogent, Congatec, Connect Tech, Douglas, Hectronic, and IXXAT — the standard defines application-oriented I/O modules measuring 2.55 x 1.70 inches. As pictured below, FeaturePak modules are designed to snap into low-cost, low-profile sockets on host devices, the company adds.
Diamond's newly announced SUMIT/FP adapter (below) allows the use of FeaturePak modules in systems that provide SUMIT-ISM expansion stack locations, the company says. The adapter is said to route a PCI Express x1 lane, USB, SMBus, and power/ground from a SUMIT-ISM module's SUMIT-A bus connector to the FeaturePak socket. Providing pass-through connectors for SUMIT-ISM's SUMIT-B bus and PC/104 (ISA), the device also "provides a pair of 50-pin I/O headers for convenient access to all FeaturePak I/O, the company adds.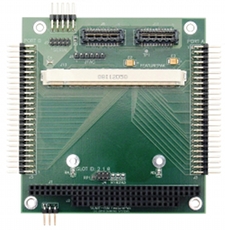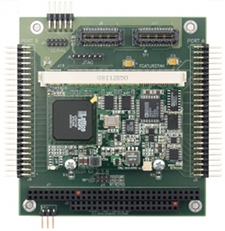 Diamond's SUMIT/FP adapter without (left) and with (right) a FeaturePak module on board
(Click either to enlarge)
Meanwhile, Diamond says, its new FP-GPIO96 (below left) is a FeaturePak module integrating 96 buffered, programmable digital I/O lines with byte-wide and bit-wide port direction control, eight 32-bit counter/timers, four 24-bit pulse-width modulation circuits, and a watchdog timer with system reset capability. The FP-GPIO96 ships with the standard "personality" diagrammed below right, but alternate personalities may be downloaded from the Diamond website at no charge and programmed into the board's onboard FPGA, according to the company.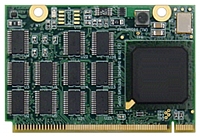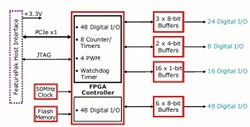 Diamond's FP-GPIO96 (left) and its standard personality (right)
(Click either to enlarge)
Background on FeaturePak
According to FeaturePak.org, a website created by Diamond to promote the new standard, FeaturePak sockets and modules will be applicable to a wide variety of embedded products, including:
Standalone single-board computers (SBCs) in standard form-factors such as EBX, EPIC, 3.5-inch, Mini-ITX, and Nano-ITX
Application baseboards for COM Express, Qseven, and other COMs (computer on modules)
Stackable expansion modules such as the PC/104 Consortium's PCIe/104 and the SFF-SIG's SUMIT-ISM
Backplane expansion boards such as standard PCI Express cards
Industrial slot-boards such as PICMG's CompactPCI Express
Fully custom embedded computer boards
Given that FeaturePak is small enough to fit into notebook computers, it's also possible the standard will break out into the wider computing market. After all, FeaturePak, including PCI Express, USB, and I2C signaling, offers a superset of the capabilities presently found in Mini PCI Express, which is already a popular addition to netbooks.
Diamond says FeaturePak uses the same low-cost MXM (mobile PCI Express module) connector — originally designed for notebook graphics modules — as the Qseven COM specification. Utilization of the 230-position "golden finger" interface is different, however, and includes the following three groups, according to the company:
Host interface — includes two PCI Express x1 links, two USB (1.1 or 2.0) channels, one serial port (TX, RX, RTS, CTS), SMBus, reset, JTAG, auxiliary signals, a slot ID, +3.3V, +12V, and ground.
Primary I/O signal group — includes 50 I/O signals, +5V, and ground. Within this group, 34 signal pairs are implemented with enhanced isolation for use in applications such as high precision analog, Ethernet, and opto-isolated I/O.
Secondary I/O signal group — includes 50 general purpose I/O signals, +5V, and ground.
In a March interview with LinuxDevices.com, Rick Lehrbaum, strategic development specialist for Diamond Systems, said that while, in theory, FeaturePak could itself become a COM format, that's not the standard's intent. After all, he noted, Qseven already uses the same connector and could yet shrink to a similar size.
But, Lehrbaum added, it's certainly possible FeaturePak modules will host their own processors, enabling distributed processing under the guidance of a host's CPU. (Note: Lehrbaum created the PC/104 spec while he was CTO of SBC vendor Ampro, and later went on to found both LinuxDevices.com and its sister publication WindowsForDevices.com , though he now has no formal connection with either site.)
Initial products
Four FeaturePak-related products were announced concurrently with the new standard. Diamond itself fielded the Magellan, a COM Express form-factor boardset, plus the FP-DAQ1616 data acquisition I/O module pictured below left. The latter device offers sixteen 16-bit A/D inputs, sixteen 16-bit A/D outputs, and seven eight-bit digital I/O ports, among other features, the company says.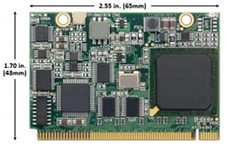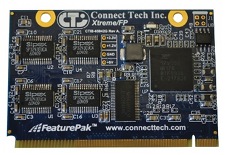 Diamond Systems' FP-DAQ1616 (left) and Connect Tech's XtremeFP
(Click either to enlarge)
Connect Tech, meanwhile, announced two products, including the XtremeFP (above right), a FeaturePak that includes four high-speed RS232 ports and 26 digital I/Os. The company's PCI Express to FeaturePak adapter board, meanwhile, lets users install a FeaturePak module into any PCI Express slot, the company says.
Background on SUMIT-ISM
SUMIT-ISM, initially dubbed Express104, was devised by the SFF-SIG (Small Form Factor Special Interest Group) in 2008. The term refers to two different things: first, the use of two 52-pin SUMIT expansion connectors, and second, the use of an ISM (industry standard module) form factor.
SUMIT is designed to support legacy low-speed peripherals, up to four USB 2.0 interfaces, and up to six PCI Express lanes. The SUMIT connectors were expected to be featured on a wide variety of form factors, but initially made their debut on pico-ITXe boards, such as Via's Epia-P710.
ISM, meanwhile, refers to a 3.8 x 3.6 (96 x 90mm) form factor matching that of the venerable PC/104 standard. Defined by the SFF-SIG, like SUMIT itself, ISM employs backward-compatible dimensions, I/O zones, and mounting holes.
Put these ingredients together, and you have SUMIT-ISM, which features a PC/104-compatible board outline, but replaces the old 120-pin PCI-104 connector with the 104-pin SUMIT A/B pair of connectors. If ISA backward compatibility is desired, SUMIT-ISM boards can still include the requisite bridge circuitry and a 104-pin PC/104 connector, too.
Availability
The SUMIT/FP adapter will be available in 60 days for $190, Diamond Systems says. A product page for the device may be found here.
The FP-GPIO96 module will be available in 60 days for $150. A product page for the device may be found here.
Extensive information on FeaturePak may be found at the FeaturePak.org website, here. Background on SUMIT-ISM may be downloaded in PDF format, here.
Data sheets in PDF format for Diamond Systems' Magellan and FP-DAQ1616, plus Connect Tech's XtremeFP and PCI Express to FeaturePak adapter board, may be found here, here, here, and here, respectively.
---
This article was originally published on LinuxDevices.com and has been donated to the open source community by QuinStreet Inc. Please visit LinuxToday.com for up-to-date news and articles about Linux and open source.