Mar 9, 2011 — by Eric Brown — from the LinuxDevices Archive — 3 views
The Fedora project released an alpha version of Fedora Linux 15 ("Lovelock"), debuting GNOME 3.0 and its new GNOME Shell UI layer. Fedora 15 also features KDE 4.6, LibreOffice, a cloud-oriented BoxGrinder appliance builder, and the availability of SystemD as the default configuration system.
Due to ship in final form in May, Fedora 15 follows November's Fedora 14, which added Amazon EC2 support, faster boot-times, quicker JPEG downloads, improved debugging, a MeeGo for Netbooks UI stack, and a new "Spice" virtualization desktop framework.
Fedora is aligned with the commercial Red Hat Enterprise Linux (RHEL) release, and while technology goes both ways — such as the RHEL 6 underpinnings available in Fedora 15 — Fedora is largely seen as an upstream, exploratory sandbox for Red Hat. It is also a popular Linux distro in its own right, especially among the technically minded.
GNOME 3 debuts
Many will be interested in taking the alpha risk just to see GNOME 3 in action in context with a full-fledged Linux distribution. Preview versions of GNOME 3's updated GNOME Shell UI layer have been available, but this is the first full availability of the long-awaited upgrade to the desktop environment. GNOME 3 will be formally released on April 6, upgrading from the current version 2.32.
Additional GNOME 3 changes include a greater foundation in D-Bus inter-process communication (IPC) technology, with a related distancing from "CORBA-based technologies such as GConf, Bonobo, and at-spi," says the project.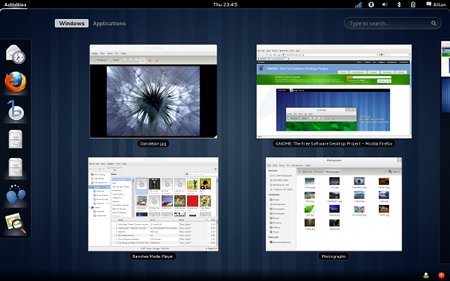 GNOME 3
(Click to enlarge)
GNOME 3 will also support a "fallback mode" in which "we run gnome-panel, metacity and notification-daemon instead of GNOME Shell," says the project. The fallback, which retains the new look and feel, is handled automatically by the system when it detects insufficient graphics capabilities.
While GNOME gets the glory this time around, Fedora 15 also ships with the rival KDE 4.6 desktop. KDE 4.6 offers new features such as the removal of HAL (hardware abstraction layer) components. Instead it features "udisks/upower Solid and Power Management backends," says the project. Other new KDE 4.6 features are said to include a Systemd password agent, improved Bluetooth support, and switching of the default phonon backend to Gstreamer.
Systemd advances to center stage
The Systemd configuration management technology was available as a technology preview in Fedora 14, but now replaces Upstart and SystemV init as the default initialization system. Systemd is claimed to speed boot-time as well as to provide on-demand loading and unloading of services. Touted Systemd features include system state snapshotting, as well as the ability to track processes, daemons, and sockets.
In the Lovelock alpha, a dozen desktop daemons have been converted to use Systemd service files, while a small number of programs have been patched to take advantage of it, says the Fedora project. Systemd is said to be compatible with legacy SysV init scripts.
BoxGrinder
For those Fedora users with their heads in the cloud, one of the more interesting additions is BoxGrinder, touted as "an easy to use command line tool to create appliances (virtual images) from simple plaintext application files." BoxGrinder is available for platforms including KVM, Xen, VMware, and EC2, says the project.
Destined to eventually appear on RHEL, BoxGrinder is somewhat similar to Novell's SUSE Studio, according to a Lovelock story on Internetnews.com. BoxGrinder is designed with modern cloud platforms in mind, and is intended to enable developers to build an application platform image that is easily replicated on different platforms, says the story.

LibreOffice, firewalls, and a "Tryton" biz tool
Additional features available in the Fedora 15 alpha are said to include:
LibreOffice — This highly regarded fork of OpenOffice.org is being adopted by Ubuntu and Novell too. LibreOffice (pictured) features novelties like wider document format support, SVG import into Draw and Writer, enhanced presentation support, and an improved "save as" feature.
Xfce 4.8 — The upgraded filesystem offers enhancements including support for Xfce menu merging, support for graphical menu editors like alacarte, improved filtering for task list windows, and improved multi-head support, says the project.
Tryton — This "three-tiers," high-level business application platform, licensed under GPL-3, is written in Python and uses PostgreSQL as its database engine. Tryton is said to offer integrated accounting, invoicing, sale management, purchase management, analytic accounting, and inventory management.
RPM 4.9 — New features for this package manager include a pluggable dependency generator, built-in filtering of generated dependencies, additional package ordering hinting mechanisms, and performance improvements.
Sugar 0.92 — This latest Sugar Learning Environment 0.92 K12 educational platform from SugarLabs.org includes an "enhanced activity set to provide an stable demo environment for Sugar as well as an environment for developers," says the Fedora project.
Dynamic firewall — This optional firewall daemon provides dynamic firewall management based on D-Bus.
DNSSEC for workstations — The NetworkManager now uses the BIND nameserver as a DNSSEC resolver.
Ecryptfs in Authconfig — Authconfig now offers improved support for eCryptfs, a stacked cryptographic filesystem.
Indic Typing Booster — Indic is a predictive input method "for ibus and scim," says the Fedora project.
LZMA for live images — LZMA is said to enable more packages to be shipped on the live image, allows the space constrained images to be better, and offers faster downloads for the smaller images, says the project.
LessFS — This data deduplication project aims to reduce disk usage where filesystem blocks are identical — particularly useful for reducing disk backups and minimizing virtual machine storage.
New package suite groups, featuring robotics — The Graphics suite group has been renamed to the Design group, and the Robotics SIG has created the Robotics Package Suite, providing a robotic simulation environment.
Availability
The alpha version of Fedora 15 is now available for free download. More information may be found in the Fedora 15 alpha release notes.
Lovelock is an alpha release, and therefore comes with the usual requests for bug reports, as well as caveats. In this case: "It is not likely to eat your data or parts of your computer, but you should be aware that it could."
---
This article was originally published on LinuxDevices.com and has been donated to the open source community by QuinStreet Inc. Please visit LinuxToday.com for up-to-date news and articles about Linux and open source.