Sep 28, 2010 — by Eric Brown — from the LinuxDevices Archive — 1 views
The Fedora project announced the Beta release of "Fedora 14 "Laughlin," featuring faster JPEG downloads and the MeeGo 1.0 netbook environment. Other new features in the Fedora 14 Beta include improved debugging and IPMI server management, and the debut of the "Spice" virtualization desktop framework and "Systemd" management technology for faster start-ups.
Developed by a Fedora Project community of more than 20,000 collaborators, the open source Fedora is a techie-focused upstream contributor to Red Hat Enterprise Linux (RHEL). Think of it as sort of a crystal ball looking at future enhancements to RHEL, as well as Linux distributions in general.
The previous Fedora 13, released in final form in May, added features including automatic print-driver installation, the Btrfs filesystem, enhanced 3D driver support, revamped Python bindings, and the Zarafa groupware package. The final version of Fedora 14, meanwhile, is said to be due in early November.
Fedora 14 offers several touted performance improvements, including a new Libjpeg-turbo feature that is claimed to nearly halve the time to load and save JPEG images on most modern computers.
The release also debuts a technology preview of Systemd, which is claimed to speed boot-time as well as to provide on-demand loading and unloading of services. Touted Systemd features include system state snapshotting, as well as the ability to track processes, daemons, and sockets. Systemd is expected to replace Upstart and SystemV init as the default initialization system in Fedora 15, due next spring.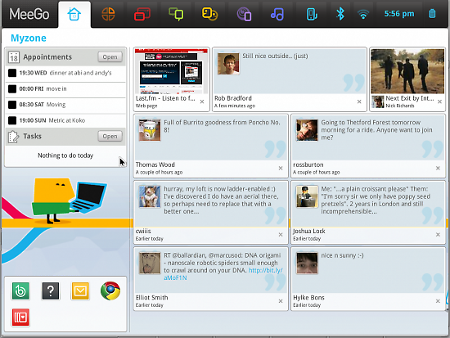 MeeGo v1 for Netbooks Myzone main screen
Fedora is one of the first Linux distros to offer the
MeeGo v1 for Netbooks
user experience (UX), pictured above. Many more distributions are expected to
follow suit
, although Ubuntu is notably not among them. In addition, Fedora adds Sugar Labs'
Sugar
K12 educational desktop environment, which originally debuted on OLPC's XO-1 netbook.
Spice accelerates virtual multimedia
Fedora also delivers some new enterprise features, including the debut of the Spice (Simple Protocol for Independent Computing Environments) framework for providing a virtual desktop infrastructure. Created by the developers of KVM virtualization technology, Spice accelerates 2D graphics, audio playing and recording, encryption, and other tasks while working in a virtualized environment, says the Fedora Project.
Spice is used for client-server communication, adding a QXL display device to the QEMU emulator, says the project. Spice is also said to provide drivers for this device for both X and Windows. The framework is expected to be extended and integrated in future releases.
In addition, Fedora 14 features enhanced IPMI (Intelligent Platform Management Interface) capabilities for managing servers. Extended utilities support remote or powered-off IPMI management of servers, with the new Ipmiutil utility adding SOL (Serial-over-LAN) and identity LED management functionality, says the Fedora Project.
D programming, an updated Python, and Perl on a Parrot
True to its techie roots, Fedora 14 offers several goodies for programmers. The distro now supports the "D" systems programming language, which is said to be statically typed and compiled directly to machine code. The D language is said to combine the power and performance of C and C++ with the productivity of Ruby and Python.
Speaking of Python, Fedora 14 moves up to version 2.7, which is said to offer fixes for GObject introspection and SWIG problems. A GNUstep GUI framework based on the Objective-C programming is also supplied. GNUstep is said to be a reimplementation of the NextStep environment. Fedora also implements Rakudo Star, said to be an early implementation of Perl 6 based on the Parrot virtual machine.
Finally, improved debugging and integration with existing tools is said to enhance Fedora as a RAD (rapid application development) platform. For example, the Gdb-heap package shows a breakdown of how a process is using dynamic memory, says the project.
Availability
The Fedora 14 Beta is available now for free download, with the usual caveats about working with potentially buggy Beta software. (Considering that this is the cutting edge, pedal-to-the-metal Fedora we're talking about, that probably goes double.) As usual, feedback on the release is welcome, especially in regard to bugs.
The final release is due in early November, says the Fedora Project.
More information on Fedora 14 Beta features may be found here, and the download page may be found here.
An announcement on LWN.net may be found here, and an announcement from Fedora sponsor Red Hat should be here.
---
This article was originally published on LinuxDevices.com and has been donated to the open source community by QuinStreet Inc. Please visit LinuxToday.com for up-to-date news and articles about Linux and open source.