Jul 26, 2010 — by Eric Brown — from the LinuxDevices Archive — 1 views
LiMo Foundation and GNOME Foundation announced a partnership to collaborate on further extending GNOME's open source tools to LiMo (Linux Mobile) compliant devices. In addition, LiMo Foundation has joined GNOME Foundation's Advisory Board, and GNOME will become an Industry Liaison Partner for LiMo, says the partners.
The formal partnership builds upon "the significant use of GNOME Mobile software components within Release 2 and Release 3 of the LiMo Platform," say the partners. The LiMo Platform already incorporates open source Linux components from GNOME Mobile projects including Glib, GTK+, D-Bus, GStreamer, and BlueZ, add LiMo and GNOME.

The announcement injects a bit of life into the floundering LiMo Foundation, an industry group of mobile carriers and technology firms that launched in 2007with the aim of providing a common middleware stack for Linux mobile phones. Motorola abandoned LiMo in favor of Android, and one of the most promising new LiMo-compliant phones, the First Else smartphone (pictured at right) from Else Mobile, was recently canceled.
Althou

gh LiMo still adds new members, and continues to develop the LiMo stack — for example, releasing the LiMo-sponsored BONDI Web SDK for interoperable web widgets in June — the Android phenomenon appears to have stifled the group's momentum. Aside from Vodafone with its Samsung-manufactured Vodafone 360 H1 (pictured at left) and 360 M1, and NTT DoCoMo, which offers dozens of LiMo-compliant feature-phones from NEC and Panasonic in Japan, the very carriers who launched the spec have yet to follow through on promises to support it.
GNOME and GNOME Mobile
The non-profit GNOME Foundation is primarily known for its GNOME deskop Linux environment, which is upgraded twice a year. GNOME dominates Linux desktop distributions along with KDE, and is also available on Unix distributions. (In fact, some opine that there's no such thing as Linux fragmentation, since the key components of the lion's share of Linux distros are mostly based on either GNOME or KDE software.)
The GNOME desktop is currently up to GNOME 2.30.1, as seen in the recent OpenSUSE 11.3 distro. This latest GNOME release provides an option to install a preview version of GNOME 3.0 and its new GNOME Shell interface.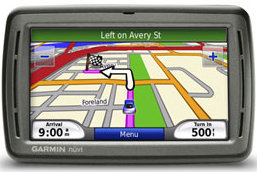 Yet, GNOME also plays a role in the embedded space. In 2007, the GNOME Foundation released a GNOME Mobile distribution as part of its GNOME Mobile & Embedded Initiative (GMAE). GNOME Mobile has been used in the Garmin Nuvi 8xx line of navigation devices (pictured at right), among other embedded products.
The underlying GMAE platform (see diagram below) is a subset of the GNOME desktop stack that, like GNOME, is licensed under the GNU LGPL (Lesser General Public License). It comprises C, C++, and Python APIs (application programming interfaces), and includes GTK+ (Gimp ToolKit), GStreamer support, Telepathy instant messaging and presence, the BlueZ Bluetooth stack, E-D-S contacts and calendaring, and Avahi network service discovery, among other components. As noted above, a number of these components are already embedded in the LiMo middleware stack.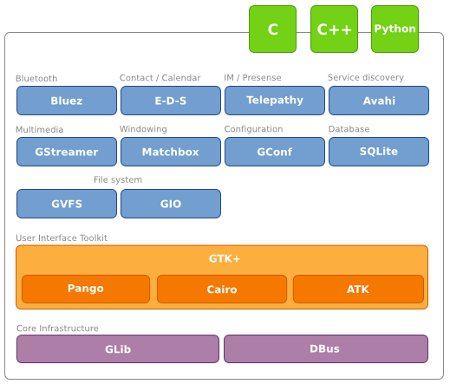 Latest architecture diagram for GNOME Mobile & Embedded Initiative (GMAE) platform


(Click to enlarge)
GMAE has been used in products including the
OLPC XO-1
netbook, the Nokia
N800/N810
Internet Tablets, and the now-defunct, open source
Openmoko
phone.
Stated Stormy Peters, executive director of GNOME Foundation, "We are excited to work with commercial partners like the LiMo Foundation to ensure that GNOME Mobile technologies are available on mobile and connected devices incorporating the LiMo Platform."
Stated Morgan Gillis, executive director of LiMo Foundation, "This close alignment between LiMo and GNOME provides important support for this commitment and will take in an expanding ecosystem of products and services developed by GNOME developers in conjunction with the members of LiMo Foundation."
Further information
More information on GNOME may be found at the GNOME.org site, here, and more on the LiMo Foundation may be found its website, here.
---
This article was originally published on LinuxDevices.com and has been donated to the open source community by QuinStreet Inc. Please visit LinuxToday.com for up-to-date news and articles about Linux and open source.