Oct 14, 2009 — by Eric Brown — from the LinuxDevices Archive — 14 views
Acer and Amazon announced pre-sales for the first Android-powered netbook running on an Intel Atom. Acer's Aspire One AOD250-1613 netbook offers a 10.1-inch display, gesture-enabled touchpad, and a dual-boot system in which Android handles 18-second boot-ups, enabling users to seamlessly switch between Android and Windows, says the company.
Announced in June as an unnamed Android netbook, Acer's AOD250-1613 is not only one of the first Android-powered netbooks, but as far as we know, the first to run on an x86 platform. Amazon has starting accepting pre-orders of $350 for the netbook, and in a separate announcement, Acer said the device would ship in November.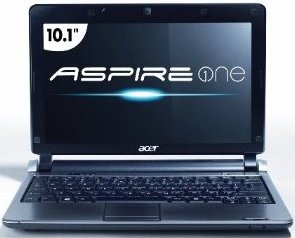 Acer's AOD250-1613
The AOD250-1613 appears to be a slight variation on Acer's Windows XP-based
Aspire One D250
models, which all offer 10.1-inch displays — holding down the middle tier of the Aspire One netbook line.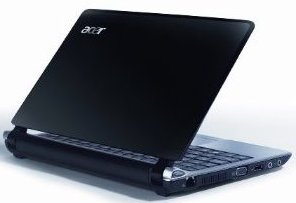 Rear view of the AOD250-1613
Whereas the other D250 models use the typical Intel Atom N270, the AOD-250-1613 is listed as offering the newer
N280
, which is similar to the N270, but offers better memory management and a slight speed boost to 1.66GHz. According to the Amazon description, the N280 is "designed especially for mobile devices using an innovative design structure and hafnium-infused circuitry to reduce electrical current leakage in transistors to conserve energy."
Amazon lists the AOD250-1613 as offering 1024MB DDR2 SDRAM, as well as a multi-card memory reader and a 160GB SATA hard disk drive (HDD). The 10.1-inch WSVGA Acer CrystalBrite LED display offers 1024 x 600 resolution, although the recently released Android 1.6 just added support for QVGA (320 x 240) and WVGA (800 x 480) resolutions, and has not yet moved up to WSVGA, so this is likely a capability available only in Windows mode.
The display appears to lack touch support, which would have been totally awesome, but at least it offers a multi-touch gesture-enabled touchpad beneath the 89-percent standard keyboard. Touch and gesture support on the pad includes scrolling, zooming in and out, pinching, and flipping pages, says the company.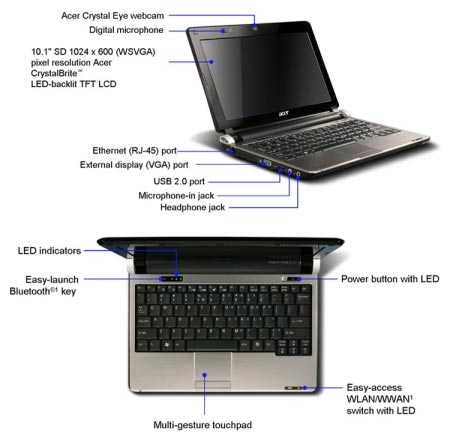 AOD250-1613 detail


(Click to enlarge)
Other features include a 10/100Mbps Ethernet port, 802.11b/g WiFi, Bluetooth 2.1, and three USB 2.0 ports, says Amazon. A webcam is also supplied, along with a microphone, mic input, speakers, and a headphone jack. There is no mention of 3G cellular support, which is odd, considering the Android install, but presumably this could be supplied via a USB add-on. (Now if Acer would only add a full touchscreen and a convertible design that allowed the screen to fold back into a tablet, one could walk around with the world's largest Android smartphone.)
The netbook measures 10.2 x 8.0 x 1.0 inches, weighs 2.8 pounds, and offers a six-cell, 5800 mAh Li-ion battery that is touted as offering nine hours of battery life. It is not clear whether the use of Windows during that stretch reduces battery life.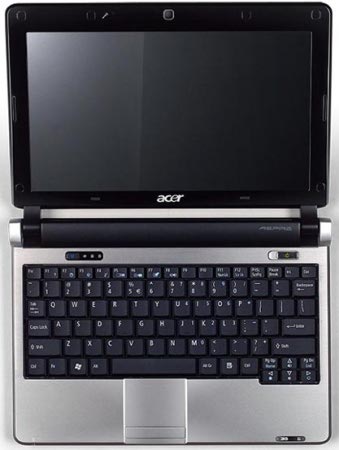 AOD250-1613 keyboard with gesture-enabled touchpad
(Click to enlarge)
The AOD250-1613 supplies both Android and Windows XP Home, says Amazon, although in a separate announcement Acer instead mentions Windows 7 instead of XP (see farther below). According to Acer, the dual-boot system is designed to work like a particularly fluid fast-boot system, in which Android handles boot-up duties, claimed to take only 18 seconds.
Android is also recommended by the company for "web browsing, emails and social interaction," suggesting that users will want to switch to Windows for productivity applications. Users can switch to Windows and back in a single click, and "all Internet connections established on Android platform remain up and running even if you reboot the netbook or suspend the session," claims the company. Meanwhile, shut-downs are said to take only three seconds.
Specifications listed for the Acer AOD250-1613 include:
Processor — 1.66GHz Intel Atom N280 with Intel Graphics Media Accelerator 950
Memory — 1GB DDR2 RAM (533MHz); expandable to 2GB
Storage — 160GB HDD (5400 RPM)
Display — 10.1-inch, 1024 x 600 LED-backlit "CrystalBrite" display; VGA out
Networking — 10/100Mbps Ethernet
WiFi — 802.11b/g
Bluetooth — Bluetooth 2.1
USB — 3 x USB 2.0 ports
Audio:

Dolby 5.1-channel audio
Stereo speakers
Headphone jack
Mic-in jack
Microphone

Camera — Crystal Eye webcam with Acer PrimaLite technology
Keyboard/controls:

84-key keyboard, 89 percent of standard size
12 x function keys
WLAN and Bluetooth switches
Multi-gesture touchpad

Battery — 6-cell, 5800 mAh Li-ion battery; up to 9 hours battery life
Dimensions — 10.2 x 8.0 x 1.0 inches
Weight — 2.8 pounds
Operating system — Dual-boot system with Android, and Windows XP (SP3) or Windows 7
While Amazon lists the system as offering Windows XP Home, the Acer announcement mentions Windows 7. Neither Amazon or Acer lists the version of Android used, which is likely the new Android 1.6 ("Donut"). According to the latest rumors, Android 2.0 may not emerge in final form until well after the new year.
The companies are also vague on available Android applications, saying only that built-in email, web browsing, and digital media applications are available, and that users can load any Android app. The name "Google" does not appear in any of the marketing materials, suggesting that this may well be a bare-bones install of Android.
A story in ITPro reporting on an Acer press conference in London today, quoted Acer's senior corporate vice president Jim Wong as once again mentioning Windows 7 instead of XP, and stating that the netbook would be available in November. He also said the system would not cost any more than similar AOD250 models, and that Acer would consider an Android-only model if the market demands it.
According to Acer, the company has captured 36 per cent of the netbook market, with Asus in second place with 18 per cent, HP in third position with 11 per cent, and Samsung trailing narrowly in fourth place, says the story.
Can Android fly on netbooks?
In its brief June announcement on the Android netbook, Acer said that it expected that "the majority of Acer netbooks will also offer Android in the future," along with Windows. Other announced and rumored Android netbooks have been based on ARM processors. The only shipping Android netbook we know of is the Skytone Alpha 680, which runs on an ARM11-based Freescale i.MX31.
Additional low-end netbooks called "smartbooks", based on ARM-based Qualcomm Snapdragon and Freescale i.MX515 system-on-chips (SoCs) are expected to arrive this fall, and some of these may also run Android, in addition to other Linux distributions. Acer also announced a Snapdragon-based Android smartphone today, called the Acer Liquid.
At the same June Computex show where Acer originally announced its first Android netbook, netbook rival Asus briefly demonstrated a Snapdragon-based smartbook running Android, but then pulled the demo, stating that Android was not ready for netbooks. Dell has also been rumored to be working on an Android netbook.
Since the first Android netbooks were announced and rumored this spring, Google announced Chrome OS, stating that the Linux-based operating system, due next year, would be the primary platform for netbooks instead of Android. The Chrome OS announcement, along with widespread questions about Android 1.5's performance on netbooks, appears to have blunted the Android netbook rush, but not halted it completely.
Judging from Acer's first Android netbook, Android may well find its way on netbooks as a particularly robust fast-boot environment paired with Windows 7. Here, it competes with other Linux-based players including MontaVista's MontaBello (Dell's Latitude ON), Phoenix Technologies' HyperSpace, and Xandros' Presto.
Availability
The Acer AOD250-1613 is available for pre-sale on Amazon, here, for $350, and according to Acer, the netbook will ship in November. More information on Acer's Aspire One D250 netbooks, and eventually, one would expect, the AOD250-1613, should be here.
The ITPro story on the Acer press conference should be here.
---
This article was originally published on LinuxDevices.com and has been donated to the open source community by QuinStreet Inc. Please visit LinuxToday.com for up-to-date news and articles about Linux and open source.