Feb 2, 2009 — by LinuxDevices Staff — from the LinuxDevices Archive — views

Asus is taking pre-orders for a netbook based on Intel's second-generation netbook platform, the secret-shrouded N280/GN40 chipset. Early product specs confirm that the second wave of netbooks are likely to offer faster graphics and lower power use, along with room for much, much larger batteries.
(Click here for a larger view of the Asus PC 1000HE)


Asus's original Eee PC
(Click image for further information)
Asus is the company that arguably touched off the netbook craze with its original Eee PC, originally launched in July 2007. The little Eee PCs started out with Intel Celeron processors, but switched last June to Intel's 1.6GHz Atom N270.
Now, according to Asus's website and a promotional Facebook group, the company is set to ship a netbook based on Intel's next-generation Atom N280, reportedly codenamed "Pineview." Thus far, Intel has made next-to-no information on this CPU public, beyond referencing a GN40 companion chip and a miniscule 0.06GHz increase in clock speed compared to the N270. However, it's widely believed that Pineview — like Intel's forthcoming "Moorestown" platform — will integrate northbridge functionality. The N280's IGP (integrated graphics processor) will clock at 200MHz, and may be capable of HD video playback. For more details, see later in this story.
Asus touts the N280 in its new Eee PC 1000HE netbook as providing "better performance at only 2.5 Watts of power." Taking no chances, the company has equipped the device with a massive 8700mAh battery, which is claimed to allow "up to 9.5 hours of run time."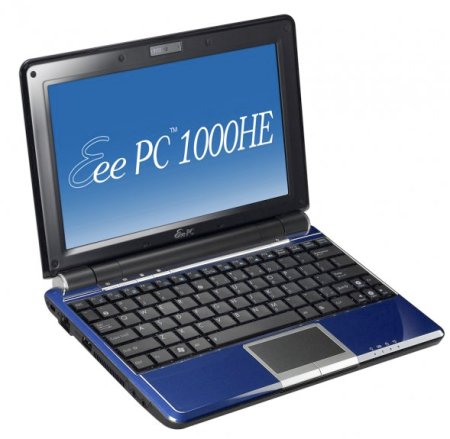 Asus's 3.2-pound PC 1000HE packs a 8700mAh battery
(Click to enlarge)
Despite its power, the battery "sits flush with the chassis," claims Asus. Indeed, photos of the device (above) reveal a tidy footprint, and with a cited weight of 3.2 pounds, the PC 1000HE isn't significantly heftier than the netbook norm, either.
Asus says the netbook will provide "fast bootup and shutdown times." The device will also sport a new "chiclet" keyboard design, as pictured, plus a "multitouch keypad [that] allows two-fingered zooming and scrolling," according to the company.
Asus says the PC 1000HE includes a 160GB hard disk drive and a 10-inch display with LED backlighting. The device also offers 802.11n wireless networking and Bluetooth, according to the company.



The PC 1000HE offers three USB ports on its left and right sides
(Click either to enlarge)
Though further technical details weren't revealed, it's clear from the released photos of the PC 1000HE's left and right sides (above) that it will offer three USB ports, a VGA output, an Ethernet port, and either a memory card reader or an ExpressCard slot. The device also appears to include a webcam, like most other netbooks.
Which OS for the Asus: XP, Linux, Moblin, Android?
Asus has not revealed whether the PC 1000HE will be offered with both Linux and Windows XP, like its predecessors. Earlier EEE PCs used a version of Xandros Linux built with Intel's Moblin toolset (Xandros claimed a 25 percent increase in battery life with the switch to Moblin last summer). More recently, Intel last week released an alpha of Moblin V2.
Another possibility may be Android. A netbook version has been rumored to be under development by Google, and VentureBeat recently reported that a "reliable source" has informed them that Intel is "preparing for the mass production of Google Android-based netbooks." Meanwhile, The Girvan Institute has stated that it will present a conference on Android development for the Intel Atom, as part of its "Mobile Internet Developers Conference" series this year.
The Atom N280
With the "Pineview" N280, Intel is apparently set to integrate northbridge functionality onto the CPU itself, though it has said little officially. Last month, we found a document on the chipmaker's website that confirmed the N280's name, clock speed, and use of the GN40 companion chip, but revealed little else. Now, that document has been taken down, leaving Asus and other netbook manufacturers as the only source of information leaks.
On its own, the N280's miniscule clock speed increase compared to the N270 will do little to cheer those who were hoping for faster netbook performance. However, both Asus and Digitimes claim the N280 will ramp DDR2 memory speed up to 667MHz, compared to the N270's 533MHz. Additionally, some northbridge processing, such as graphics, could benefit from the move to smaller process technology. The effective "front-side bus" speed between CPU and northbridge components should also increase significantly, because on-chip interconnects are typically much faster than off-. However, highly integrated designs sometimes use the main CPU for on-chip peripheral processing functions, resulting in a performance wash or even a slow-down.
According to a story published last month in the Taiwanese publication Digitimes, Pineview's integrated CPU+northbridge design will substantially reduce the amount of motherboard real estate required by the Atom, from a total of 2174mm square for the N270/945GSE combo, to just 773mm square for the N280/GN40 combo. Although Pineview's graphics core will still be Intel's GMA 950, the GPU's core frequencies will be increased from 133MHz to 200MHz, Digitimes claims.
As most readers will now be well aware, Intel first released its Atom processors — targeting low-cost devices that previously used its Celeron — in April of last year. The initial Z5xx series of Atoms, also known as "Silverthorne," featured a 13mm x 13mm package, clock speeds from 800MHz to 1.86GHz, and a northbridge/southbridge companion chip known as the SCH US15W (aka "Poulsbo").
The second series of Atoms, announced in June 2008, includes the N270 and 230, aka "Diamondville." Architecturally identical to the Z5xx series, they come in 22mm x 22mm packages designed to be more affordable. Hence, they rely on separate northbridge and southbridge chips — Intel's 945GSE is commonly paired with the N270; the 945GC with its desktop cousin, the 230.
Further information
According to Asus, the PC 1000HE will be available "soon" for approximately $400. More information may be found on the manufacturer's website, here, and on a related Facebook group, here.
To read the Digitimes report referred to in this story, see the publication's website, here.
---

This article was originally published on LinuxDevices.com and has been donated to the open source community by QuinStreet Inc. Please visit LinuxToday.com for up-to-date news and articles about Linux and open source.