Dec 7, 2007 — by LinuxDevices Staff — from the LinuxDevices Archive — views
Weeks after Google revealed aspirations of creating a defacto standard operating system for mobile phones, via Android and the Open Handset Alliance, a lesser known, broad-based consortium has published what it hopes can… serve as an actual standard for Linux-based phones.
The Linux Phone Standards (LiPS) Forum was founded in 2005, and quickly doubled its membership. Unlike industry groups such as the OHA and LiMo (Linux Mobile Foundation), which are writing actual code for cross-licensing among members, LiPS has taken on the ambitious goal of defining real standards. LiPS Executive Director Bill Weinberg explains, "Our goal is to create a freestanding, actual specification that exists as a real standard, and is not beholden to any one implementation."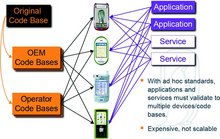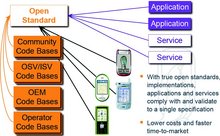 Ad hoc vs. standardized models
(Source: LiPS. Click either to enlarge)
In theory, standard APIs for Linux-based mobile phones, if widely adopted, could enable operators to roll out services faster, while enabling handset manufacturers to produce compatible new phones faster. Other beneficiaries could be ISVs (independent software vendors), mobile phone software stack providers, and of course, phone consumers, who after buying a new phone could re-install purchased applications and continue with existing services. Additional LiPS views on real vs. de facto standards can be found in a whitepaper comparing LiPS to Android, here.
Weinberg admits that the challenge is in moving from paper standards to real implementations and then to widespread adoption. One turning point could come if operators were to mandate specification compliance. Weinberg said, "The most powerful adoption will come from operators, such as [existing LiPS members] France Telecom, Telecom Italia, and British Telecom. They want to roll out their services on LiPS's API enabler specification."
Such mandates would quickly lead to increasingly compliant mobile phone software stacks from providers such as Access, Purple Labs, and Celunite, all LiPS members, as well as other ODMs (original design manufacturers) and even low-level kernel suppliers like MontaVista. This, in turn, would lead to LiPS-compliant applications that could require less effort to port from one Linux-based mobile phone environment to the next.
Spokespeople for industry alliances like the OHA and LiMO like to point out that actual implementations tend to come first in the market, followed later by standards. Standards bodies like LiPS, meanwhile, point to a growing list of technologies where early standardization arguably resulted in ubiquity. In a statement, LiPS Forum President Haila Wang said, "LiPS is following the clear path blazed by GSM, TCP/IP, WiFi, and other standards that enable communications among device types and brands, over multiple operator networks, and across regional markets."
Now that the spec is out, what's the next step toward world domination for LiPS? Speaking from China, where he hosted a LiPS board meeting at which a quorum was reached, Weinberg said, "One of the next steps is to complete our RFP for a hardware reference platform. I'll be speaking with mobile hardware providers here and in Taiwan over the next several weeks. We're also recruiting members, especially among hardware vendors."
And, having completed its commitments for 2007, LiPS Forum is setting its sights on additional specification work in 2008, it said. Planned for release are "the Application Framework, advanced Services APIs, Device Management APIs, and additional Enabler APIs (e.g., for multimedia)."
LiPS Specification 1.0
The first LiPS Forum Specification defines standardized APIs for:
Calendar
Messaging
Presence
Reference model
Telephony services
UI Services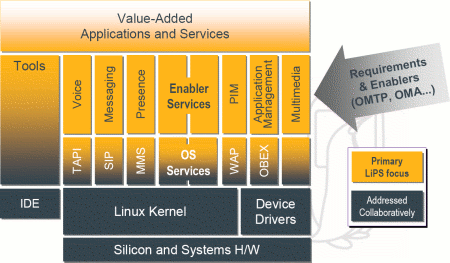 LiPS Release 1.0 architecture
(Click to enlarge)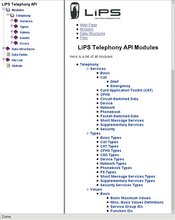 LiPS TAPI Spec
(Click to enlarge)
Generated by Doxygen, the spec is available as a large collection of easy-to-read HTML files enhanced with PNG graphics, as shown in the screenshot at right. There are also PDF-format overviews of each API set.
LiPS claims that its spec is complete enough to "enable mobile industry players to achieve basic interoperability for applications and services deployed on Linux-based phones."
In a statement, Wang commented, "The completion of the LiPS 1.0 Specification illustrates the power of cooperation among industry leaders. LiPS Forum owes a debt of gratitude to Architecture Working Group members, and especially to chair Guilhem Ensuque of Open-Plug."
Availability
The completed open specifications are publicly available now on the LiPS web site, here.
---

This article was originally published on LinuxDevices.com and has been donated to the open source community by QuinStreet Inc. Please visit LinuxToday.com for up-to-date news and articles about Linux and open source.