Jun 11, 2007 — by LinuxDevices Staff — from the LinuxDevices Archive — views

After nineteen months of work, the Linux Phone Standards (LiPS) Forum has started publishing its first open, royalty-free specification, aimed at reducing fragmentation among Linux implementations for mobile phones. Additionally, LiPS has hired industry veteran William Weinberg as general manager, focusing on business development.
LiPS is the more open of two big industry groups working to solve the problem of fragmented Linux implementations on mobile phones. The other, the LiMo Foundation, publishes specifications licensable only within its membership. LiMo, incidentally, arguably includes a set of wireless carriers and handset vendors that, to date, have achieved the most success with Linux: NTT DoCoMo, Vodafone, Motorola, NEC, Panasonic, and Samsung.
LiPS, meanwhile, is driven by Orange / France Telecom, with input from Telecom Mobile Italia. Both carriers operate globally, yet probably represent a fairly small percentage of mobile phone subscribers, worldwide. Weinberg commented, "The input behind our standards is coming both from Linux phone implementers and in particular, actual consumers [i.e., carriers]. It's a step-wise process. It will build momentum as the specification becomes more rich."
The immediate beneficiaries of the LiPS spec appear to be Linux stack vendors, because phones running LiPS-certified software should be readily deployable on multiple wireless carriers, with little additional verification and testing by the mobile operators themselves. Linux stack vendors involved in LiPS include Access, Trolltech, Mizi Research, a la Mobile, and Celunite.
Also potentially benefiting from LiPS specs are mobile handset design houses, many of which maintain their own Linux stacks. Those involved in LiPS at this point include Grundig spin-out Purple Labs, and Asian phone integrators Cellon, Huawei, Longcheer, and ZTE.
According to Weinberg, "Linux phones today are a 'push' play. Vendors push them into the market, where they compete on design, battery life, and so on. LiPS-certified phones will have 'pull.' Carriers will want them."
Finally, some ISVs (independent software vendors) and silicon vendors have also gotten involved with LiPS, in part because the group's standards could eventually enable source-code level application portability across LiPS-compliant phone hardware platforms. However, that goal will not be achieved near term. Weinberg noted, "The initial release lays the groundwork for operators and carriers at the service delivery level. We're looking to deliver enablers for applications in 2008."
Also planned for 2008 are service APIs (application programming interfaces) based on IMS (IP multimedia subsystems), device management APIs based on Open Mobile Alliance DM (device management) standards, and "additional enabler APIs" — for example, for multimedia.
Meanwhile, the components of LiPS Release 1 that were published today include:
LiPS reference model
Address book
Voice call enabler
User interface services:

Widget sets
Key navigation
Text input method APIs (based on GTK)
Elements of LiPS Release 1.0 to be finalized by year's end include specifications related to telephony, messaging, calendar, IM, presence, and "additional UI services API specifications," according to the Forum.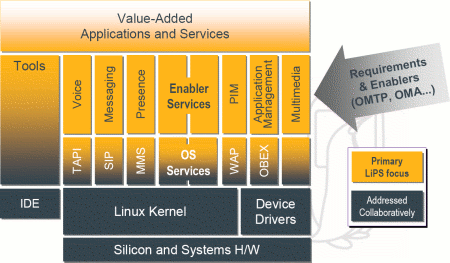 LiPS Release 1.0 architecture
(Click to enlarge)
The LiPS specification is "unburdened" by licensing obligations, Weinberg said, but does allow members to engage in
RAND
(reasonable and non-discriminatory) cross-licensing. This policy specifies that, if member organizations receive patents in the course of developing the spec, they agree to license the patents to other members according in a non-discriminatory way, and for reasonable terms. Weinberg added, "The IP rules are in place for cross-licensing."
Interestingly, Weinberg formerly served as the OSDL's representative to the Mobile Linux Initiative (MLI), a group working to ensure that the Linux kernel itself meets operator requirements. Weinberg left the OSDL when it merged with the Free Standards Group to form the Linux Foundation — apparently resulting in a reduced focus on the embedded market and increased emphasis on enterprise-oriented activities. Weinberg said he still believes that "an enterprise-focused organization" such as the Linux Foundation is "the right place to work out kernel issues," adding that he planned to attend an MLI meeting later this month.
Weinberg's role at LiPS will be part-time, he said. Besides his business development activities at LiPS, he plans to continue operating his Linux Pundit consultancy. Weinberg was on the founding team of embedded Linux OS and tools provider MontaVista, and has worked in the embedded industry for many years.
LiPS was founded by 11 companies in November of 2005, and last July reported doubling its membership within the first eight months. Today, LiPS members include…
Operators:

Orange / France Telecom
Telecom Italia Mobile

Silicon Suppliers:

ARM Ltd
Freescale Semiconductor
NXP
Spreadtrum
Texas Instruments

OEMs & Design Houses:

Cellon
Huawei
Longcheer
Purple Labs
ZTE

Software Vendors:

A la Mobile
ACCESS
Celunite
Esmertec
Kernel Concepts
MIZI Research
MontaVista Software
Movial
Open-Plug
TrollTech
VirtualLogix
In a statement, LiPS Forum president Haila Wang said, "This first set of specifications represents real-world requirements as well as hard work on the part of key mobile ecosystem participants. Ongoing elaboration and adoption of the LiPS standards specifications will sustain the impressive growth of mobile Linux deployment, enhancing interoperability among devices and software, and streamlining time-to-market and rollout for Linux-based devices and services."
Andreas Constantinou, senior analyst with VisionMobile, stated, "LiPS belongs to a new class of industry forums whose standards development model is closer to open source principles, i.e. standardization through public specifications and reference code implementations, rather than just paper-based. LiPS release 1.0 will be important in helping Linux implementations converge, especially around telephony, PIM, and UI services, where fragmentation is stalling otherwise unanimous manufacturer momentum behind mobile Linux."
The initial LiPS 1.0 spec should be available from the LiPS Forum website, or from LinuxPundit.com.
---

This article was originally published on LinuxDevices.com and has been donated to the open source community by QuinStreet Inc. Please visit LinuxToday.com for up-to-date news and articles about Linux and open source.