Sep 29, 2011 — by Eric Brown — from the LinuxDevices Archive — 4 views
ZTE is preparing two Android tablets, including a seven-inch "T98" model built on Nvidia's five-core Nvidia Tegra 3 processor, code-named "Kal-El." Meanwhile, Asus announced a rugged, Tegra 2-based seven-inch Asus Tough-ETBW11AA model with Android 3.2 and 1280 x 800 resolution on Japanese carrier KDDI, and the Motorola Xoom finally got its LTE 4G upgrade on Verizon.

Could it be that the more compact seven-inch form-factor — not the much heralded 10.1-inch design — is the true iPad killer of Android tablet vendors dreams? We're not thinking only of Amazon's fairly modest, e-reader-like, 1024 x 600 Kindle Fire (pictured), which will likely be a best-seller at $200, but more robust tablets that are coming on market this fall.
These feature the same Android 3.2 ("Honeycomb") builds, dual-core processors, and high-resolution 1280 x 800 displays of the highfalutin, 10.1-inch tablets, but feature greater portability. They are also likely to offer lower prices and longer battery life.
Somewhat lost in the Kindle Fire hoopla this week, Toshiba announced the Thrive 7" Tablet, which matches the above specs, and is the first announced seven-inch tablet to offer 1280 x 800 resolution. Now, two more seven-inch tablets have been tipped with the same specs — the ZTE T98 and the Asus Tough-ETBW11AA — but the T98 offers not two, but five processing cores.
ZTE T98 and Light Tab 3S
According to an IDG News Service account, Chinese manufacturing giant Zhongxing Telecommunication Equipment (ZTE) is preparing to release two high-end Android 3.2 ("Honeycomb") tablets for international release this fall: a seven-inch T98 tablet and a 10.1-inch Light Tab 3S.
Normally, we'd start with the 10.1-incher, but the premiere tablet here appears to be the seven-inch T98 — one of the first tablets to offer Nvidia's Tegra 3 ("Kal El") processor.
On Sept 20, Nvidia disclosed that its previously announced, quad-core "Kal-El" processor, expected by most observers to ship as the Tegra 3, actually sports a fifth, hitherto-secret Cortex-A9 core. This fifth "companion" core is built using a special low-power silicon process.
The Tegra 3's fifth core is identical to the other four Cortex-A9 cores, but is clocked to a maximum of 500MHz instead of up to 1.5GHz. More importantly, it's designed to execute tasks at low frequency for active standby mode, including music and even video playback, according to Nvidia. The result is said to be a lesser drain on overall battery life.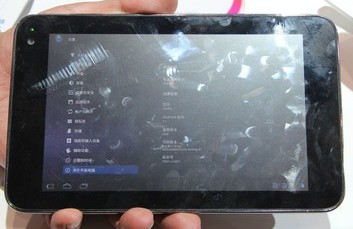 ZTE's T98
Source: Zol.com.cn
At the Microsoft BUILD conference earlier this month, Nvidia demonstrated a mystery tablet running an early version of Windows 8 on Kal-El. It appears, however, that ZTE's Android 3.2-ready T98 (above) could be the first Kal-El tablet. And surprisingly, ZTE is debuting the technology in a smaller seven-inch format rather than a 10-inch tablet.
The T98 follows in the footsteps of ZTE's seven-inch Android 2.1 ZTE Light tablet announced last October. While that model offered 800 x 480 resolution, the T98 moves up to 1280 x 800 pixels, says IDG News.
A story on Zol.com.cn confirms that figure, adding that the T98 will clock the Kal-El processor at 1.5GHz, provide 1GB of RAM and 16GB of storage, and include both five-megapixel and two-megapixel cameras. The device will have a 4000mAh battery and include a cellular modem for accessing 3G service via China Mobile, the publication adds.
According to the IDG News Service, ZTE will also ship a Light Tab 3S Android 3.2 tablet. The tablet offers a dual-core 1.2GHz processor and a 10-inch, 1280 x 800-pixel screen, says the story.
Interestingly, the other listed specs for this larger model are also diminished compared to the T98. The Light Tab 3S offers 1GB of RAM, but just 4GB of built-in storage, and the five-megapixel camera is paired with a 1.3-megapixel front-facing webcam.
The Light Tab 3S will sell in the U.S. and European markets by the end of the year, says the story. ZTE did not, however, list a timetable or destination for the T98.
Asus Tough-ETBW11AA
Asus is preparing its own seven-inch Android 3.2 tablet with 1280 x 800 resolution, but this one is heading at least initially for Japan. The Asus Tough-ETBW11AA stands out from the crowd with its ruggedization features, including splash-, dust-, and drop resistance, according to an Impress Watch story [translated] picked up by Tom's Guide.
Both stories point to a press release from Japanese carrier KDDI [translated], which in turn refers to a fall 2011 product lineup [translated] on its "Au" 4G cellular network. The tablet is set to ship in Japan in November or December.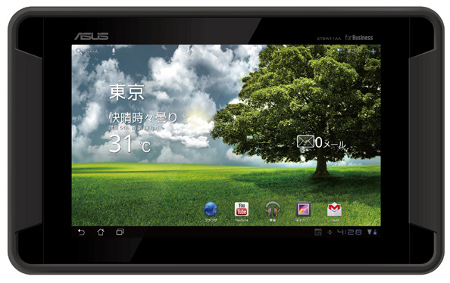 Asus Tough-ETBW11AA
(Click to enlarge)
Aimed at businesses, with an apparent focus on field service, the Asus Tough-ETBW11AA offers IPX4-grade splash resistance that covers both immersion (IPX7) and submersion (IPX8) compliance, according to
Impress Watch
. The Tough-ETBW11AA is also said to provide IP5X-grade dust resistance.
With bumpers around the screen and a ribbed back, the tablet can withstand a 2.5-foot drop onto concrete, claims Asus. All these ruggedization features expand the dimensions to 8.46 x 5.19 inches, and increase the thickness to between 0.78 and 0.87 inches.
The Tough-ETBW11AA is equipped with a dual-core Tegra 2 processor, 16GB of internal storage, and a microSD slot, says the story. Ready to roll on both 4G WiMAX and CDMA/EVDO Rev.A networks, the Asus tablet is also said to provide 802.11 b/g/n, Bluetooth, and GPS wireless services. Other features are said to include a 7400mAh battery and a five-megapixel camera.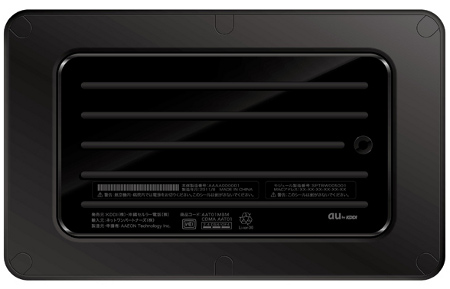 Ribbing on the back of the Tough-ETBW11AA helps fend off drops
Asus has delivered several Android tablets, including the Asus Transformer, which features a keyboard accessory, and the new
Asus Slider
, which offers a slide-out keyboard built in to the tablet itself. In addition to these 10.1-inch Honeycomb tablets, a previously announced seven-inch Eee Pad MeMo tablet has been reportedly delayed until 2012.
The company is also readying a 10.1-inch Padfonemodel that features a detachable smartphone. Due later this year, the Padfone is rumored to be equipped with the next "Ice Cream Sandwich" build, which should be announced in October.
Xoom finally gets its 4G LTE on
The 4G LTE version of the Motorola Xoom tablet was approved by the FCC back in July and seemed imminent. Therefore, it surprised us to find out that those brave, pioneering Xoom owners, who suffered through Android 3.0 before receiving their 3.2 upgrade in July, are just now getting the LTE bump.

Verizon Wireless and Motorola Mobility announced that the Motorola Xoom 4G LTE upgrade will be available for existing Xoom tablet customers beginning Sept. 29, according to a report in our sister publication eWEEK.
A pre-configured Xoom 4G LTE model will be available in Verizon Wireless stores and online beginning Oct. 13 for $500 with a new two-year contract, says the story. Xoom owners can visit the Verizon Wireless website for instructions on the upgrade process, which involves sending off the tablet for a retrofit process expected to take six business days, according to eWEEK.
The 4G LTE upgrade is free of charge, and customers do not need to change their current data plan when upgrading to 4G LTE, according to Verizon.
Despite its generally bad reputation as the buggy tablet that wilted in the face of the iPad 2, the Xoom has enjoyed decent sales, and now that most of the bugs have been squashed, has won high scores in recent Consumer Reports rankings.
Meanwhile, a similarly 10.1-inch Xoom 2 is on the way with a faster processor and longer-lasting battery, according to reports. The Xoom 2 will apparently be joined with an ereader-like 8.2-inch Xoom model.
---
This article was originally published on LinuxDevices.com and has been donated to the open source community by QuinStreet Inc. Please visit LinuxToday.com for up-to-date news and articles about Linux and open source.