Sep 20, 2011 — by LinuxDevices Staff — from the LinuxDevices Archive — 3 views
Nvidia has revealed that its upcoming "Kal-El" processor will include a fifth, hitherto-secret CPU core. All cores are ARM Cortex A9-based, but the fifth "Companion core" runs only up to 500MHz, and is optimized for saving power when running background tasks, the company says.
Nvidia introduced and demonstrated its "Project Kal-El" — expected by most observers to be known as the Tegra 3 when it ships — last February. At the time, the processor was touted as the world's first quad-core mobile processor, including four ARM-based CPU cores plus a twelve-core GeForce GPU (graphics processing unit).
But now, via a Sept. 20 blog posting and accompanying white paper [PDF link], Nvidia has disclosed that Kal-El will actually sport five ARM Cortex-A9 cores, not four. "Not previously disclosed publicly, … the fifth CPU core (the "Companion" core) [is] built using a special low-power silicon process that executes tasks at low frequency for active standby mode, music playback, and even video playback," the company says.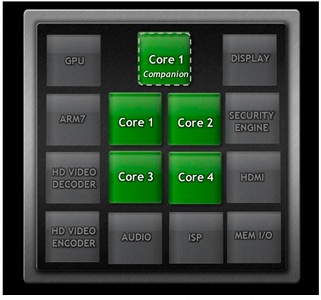 Kal-El's Companion core
Source: Nvidia
(Click to enlarge)
According to Nvidia, "active standby" is when a device is not being interacted with by its owner, but is still performing such tasks as email and social media, live wallpapers, active widgets, and more. As the company says in its white paper, "Users generally do not care how fast the background tasks are processed, only that they happen and do not consume much battery life."
Kal-El's fifth Companion core is identical to the other four, except that it has been built using low power process technology. This offers lower power leakage than the fast processor technology used for the other cores, but unlike them, is inefficient at higher frequencies. Therefore, Nvidia explains, the Companion core runs only from 0 to 500MHz, as opposed to the "0 to max GHz" delivered by the others.
According to Nvidia, its patented vSMP (variable symmetric multiprocssing) technology can "intelligently manage workload distribution between the main cores and the Companion core based on application and operating system requirements." This is handled by Dynamic Voltage and Frequency Scaling (DVFS) and CPU hot-plug management software written by Nvidia, and does not require any other special modifications to an operating system, the company claims.
Neither the blog posting nor the white paper mentioned how seamlessly the five Kal-El cores might or might not work with the upcoming, ARM-based version of Windows 8, though Nvidia showed off a Kal-El tablet running Windows (below) at Microsoft's recent BUILD conference. The chipmaker does say Android 3.x (Honeycomb) has built-in support for multi-processing and is capable of leveraging the performance of multiple CPU cores.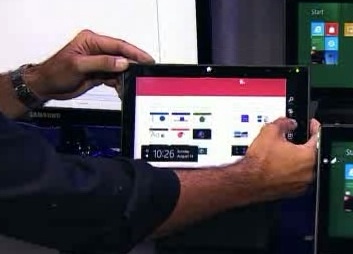 Nvidia showed off a Kal-El tablet running Windows 8 at Microsoft's BUILD conference
Source: Nvidia

However, Nvidia adds, Android assumes that all available CPU cores are of equal performance capability, and schedules tasks based on this assumption. Therefore, Kal-El implements both hardware-based and low-level software-based management of its five cores, according to the company.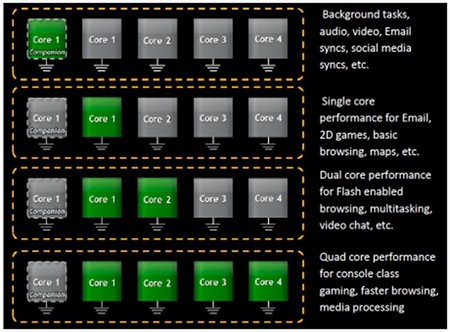 Kal-El core management based on workload
Source: Nvidia
(Click to enlarge)
As shown above, Kal-El will be able to run only with the Companion core for background tasks. Once a user is interacting with a device, however, the Companion core is turned off and one, two, or four of the main cores are invoked instead.
Comparing the Kal-El to its existing Tegra 2 processor, Nvidia claims the former will use less power in every case. For example, Kal-El will use 14 percent less power in MP3 playback, 61 percent less power for HD video playback, and 34 percent less power in gaming, the company says.


Kal-El power savings compared to competitors
Source: Nvidia
(Click to enlarge)
Nvidia also published figures (above) comparing the Kal-El to TI's dual-core OMAP4 and Qualcomm's 8660. When clocked down to 480MHz, the Kal-El will provide about the same Coremark performance as these competitors, while consuming almost one-third of the power, the company claims. Meanwhile, it's said, a 1GHz clock speed results in nearly twice the Coremark performance of the others, along with lower power consumption than either.
Background
Nvidia announced its quad-core system on chip (SoC) — codenamed Kal-El — in February, and demonstrated it at the Computex show in late May. More energy-efficient than the Tegra 2, Kal-El will feature a twelve-core GeForce GPU (graphics processing unit), and will enable mobile devices to provide 1440p (2560 x 1440 pixel) resolution, the company promised at the time.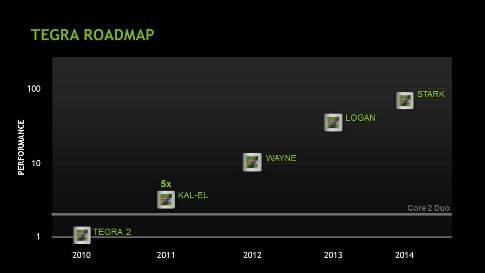 Nvidia's Tegra roadmap

Nvidia provided a Tegra 3 update via a financial presentation Sept. 6, during which the company touted not only its traditional graphics business, but also its growing mobile computing technology. (For its fiscal year 2013 — which begins Jan. 30, 2012 — Nvidia expects revenues of $4.7 billion to $5 billion, more than the $4.45 billion expected by analysts.)

Quoted by The Wall Street Journal and other sources, CEO Jen-Hsun Huang (pictured) conceded that the Tegra 3 is shipping a little later than originally expected. But, he promised, the first devices using the mobile chip will be available in the third or fourth quarter in time for the holiday season.
Apparently, initial Tegra 3 devices will be running Android. But the Tegra 3 will be in Windows 8 tablet computers by the end of next year, Huang is said to have promised.
Huang also reportedly told the Journal that at this point, the only real competition Nvidia has in the mobile chip space is Qualcomm. "Aside from the two of us, there's really not too many people actively on the dance floor," he was quoted as saying. "It's mostly us and Qualcomm competing for most of the slots."
Qualcomm announced its plans to offer a quad-core Snapdragon back in February featuring new "Krait" cores, and more details about a quad-core, 2.5GHz MSM8974 Snapdragon emerged in July. The SoCs will also integrate a quad-core Adreno 320 GPU that performs 15 times faster than the original Adreno, according to Qualcomm in February.
The MSM8974, however, is not set to sample until early 2012, putting it significantly behind Nvidia. In much the same way, the dual-core Qualcomm Snapdragon is only now beginning to supplant the Tegra 2 in Honeycomb tablets such as the new HTC Jetstream.
Both the Tegra 3 and Qualcomm's Krait-based processors are Cortex-A9 implementations. (Actually, Qualcomm calls its cores compatible with Cortex-A9, but says they are even more powerful.).
Texas Instruments has already announced OMAP5 SoCs based on ARM's next-generation, multicore Cortex-A15 architecture. ST-Ericsson followed up by announcing an ARM Cortex-A15 Nova A9600. Initial models on the TI and ST-Ericsson SoCs will be limited to two cores, however.
The Cortex-A15 architecture features an out-of-order superscalar pipeline that can dispatch up to three instructions per cycle, according to ARM. In addition, it provides an improved instruction set, hardware support for virtualization, and the ability to utilize up to 1TB of memory.

A Tegra 3 demo
Source: Nvidia
(click to play)

Eric Brown contributed background to this story.
---
This article was originally published on LinuxDevices.com and has been donated to the open source community by QuinStreet Inc. Please visit LinuxToday.com for up-to-date news and articles about Linux and open source.