Mar 30, 2004 — by LinuxDevices Staff — from the LinuxDevices Archive — 24 views

As though in answer to LinuxDevices.com's suggestion of a need for an intermediate-sized embedded single-board computer (SBC) form-factor midway between target="new">PC/104 and EBX, five prominent SBC manufacturers — VersaLogic, WinSystems, Ampro, Micro/sys, and Octagon — are jointly unveiling a proposed new industry standard this week at the Embedded Systems Conference in San Francisco. Dubbed "EPIC" — an acronym for "Embedded Platform for Industrial Computing" — the new form-factor sits smack in the middle between the size of the popular PC/104 and EBX embedded SBC standards.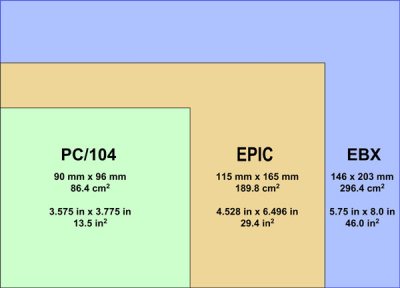 EPIC sits midway in size between PC/104 and EBX
EPIC's creators claim the new embedded SBC form-factor is well suited to a broad range of next-generation, feature-rich applications in industrial, medical, military, transportation, and commercial markets. The form-factor offers more space than PC/104, its originators point out, making it possible to fit faster CPUs and/or more I/O on an SBC than would be possible with the smaller PC/104 format — and yet requiring significantly less space than the larger EBX format. And, like PC/104 and EBX, EPIC expands modularly by means of self-stacking PC/104 and PC/104-Plus expansion modules.
The EPIC spec allows I/O connections to be implemented as either pin-headers or PC-style ("real world") connectors. The standard provides specific I/O zones to implement functions such as Ethernet, serial ports, digital and analog I/O, video, wireless, and various application-specific interfaces.
The following drawing illustrates the basic layout of the EPIC form-factor (click the drawing to add dimensions):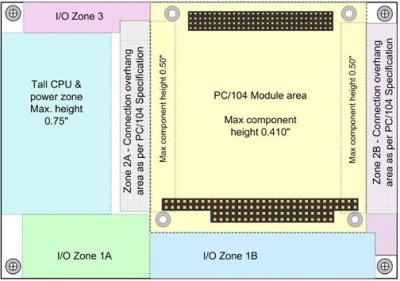 EPIC spec defines mounting holes, PC/104 expansion, and certain I/O and component areas
(Click above image to add dimensions)
Previous attempts to fill the PC/104-EBX gap
A number of other SBC formats have been introduced in recent years that also sit in the "gap" between the sizes of PC/104 and EBX. The most prominent of these is the so-called "half-biscuit" 5.7 x 4 inch format (shown below), developed by Advantech and copied by various SBC makers in Taiwan and elsewhere. However, the half-biscuit format was never formally standardized, with the result that there has been scant dimensional, mounting hole, or bus expansion compatibility among the numerous half-biscuit sized SBC implementations from multiple vendors.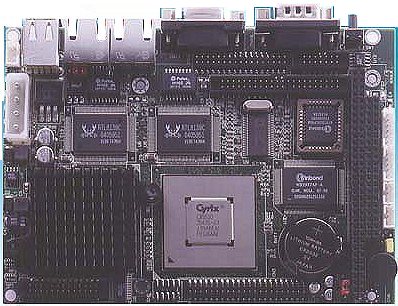 Advantech's half-biscuit: similar to and slightly smaller than EPIC, but never standardized
Three other SBC form-factors residing in the gap between PC/104 and EBX include JumpTEC's ETX (3.7 x 4.4 in.), Ampro's Encore (3.9 x 5.7 in.), and VITA's PrPMC (2.9 x 6.0 in.) — but all these are intended to plug into various carrier boards for use in a system, so none are suitable as standalone SBCs.

Additionally, Kontron recently announced plans for an upgrade to its ETX format based on PCI Express, called ETXexpress (shown in photo on right — click to enlarge). Kontron claims to have support from Intel and Radisys for the would-be standard. Although a specification for ETXexpress has not been published at this point, the ETXexpress website lists the following "preliminary" features for the modules: PCI Express x1 lanes; PCI Express Card support; PCI 32 bit, 133MHz; serial ATA and parallel ATA; USB 2.0; high resolution LCD and analog video; digital sound (AC 97); gigabit Ethernet; max. 40W thermal design power; 5GHz capable interface connectors (2×160 pin); 6 mounting holes for highly rugged designs; 120×85 mm board size. However, like it's ETX predecessor, ETXexpress must be plugged into a carrier board for use — so it is not suitable for use as a standalone SBC.
Boarding the bus
VersaLogic, WinSystems, Ampro, Micro/sys, and Octagon have jointly created a website from which the new EPIC specification can be downloaded at no charge. However, although the standard is completely open, the EPIC name and logo are currently jointly owned by the five EPIC creators, and may not be used without licensing arrangements, the companies say.
EPIC's creators say they have considered future technologies in the design of the EPIC form-factor. For example, they claim that EPIC can be adapted to emerging bus technologies such as PCI Express while maintaining the current footprint and mounting hole placement, and without sacrificing I/O capacity.
EPIC SBCs emerge
Several EPIC SBCs will be unveiled or announced at this week's Embedded Systems Conference, and still others are under development. They include . . .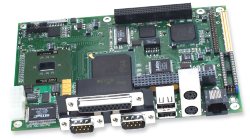 VersaLogic — the EPIC-1 features a low power, ULV (Ultra Low Voltage) Celeron processor along with PC core functions and onboard digital and analog I/O. The product is currently in the "early alpha" stage of development, with working prototypes undergoing extensive qualification testing back at the factory, company sources say.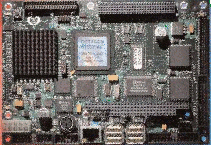 Octagon — the XE-800 is based on a low-power 300MHz AMD Geode GX1 processor and includes PC core functions along with a CRT/LCD display controller, 10/100 Base-T Ethernet, six USB ports (four 2.0 compliant, and two 1.1 compliant), two serial ports, 48 digital I/O lines, and CompactFlash expansion. Additionally, the XE-800 supports a -40 to +80 deg. C extended operating temperature range, and has all of its I/O connectors vertically oriented.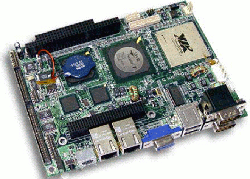 Ampro — Ampro's first "ReadyBoard" EPIC form-factor SBC, is based on a 300MHz-1GHz Via Eden Processor and includes PC core functions along with a CRT/LCD video controller, 4 serial ports, dual Ethernet, and a CompactFlash socket. Ampro says it is also developing a higher-end EPIC SBC, the ReadyBoard 750, based on a Pentium III processor and with a similar set of features.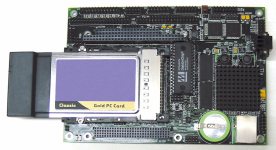 Micro/sys — the SBC-4495 is based on a low-power 133MHz STPC Atlas processor and implements a full set of core PC functions, plus a CRT/LCD display controller, four serial ports, 100 megabit Ethernet, eight 14-bit A-to-D and eight 14-bit D-to-A channels, an onboard GPS receiver, and onboard sockets for both CompactFlash and CardBus cards.
WinSystems — WinSystems says it is working on a full-featured EPIC form-factor SBC, similar in capabilities to its larger EBX boards but shrunken down to the smaller EPIC format. (Photo not available at this time.)
Further info
For further information, visit the EPIC website, as well as those of VersaLogic, WinSystems, Ampro, Micro/sys, and Octagon.
---

This article was originally published on LinuxDevices.com and has been donated to the open source community by QuinStreet Inc. Please visit LinuxToday.com for up-to-date news and articles about Linux and open source.