Jan 4, 2011 — by LinuxDevices Staff — from the LinuxDevices Archive — views
AMD has formally announced its "Fusion" line of processors, which incorporate multi-core x86 CPUs and DirectX 11-capable GPUs (graphics processing units) on a single die. Now available on netbooks, notebooks, and desktops — including new offerings from HP and Toshiba — the chips will be featured in embedded devices and tablets later in the first quarter, the company says.
AMD first discussed its new x86 microarchitectures during a Stanford University conference last year — and has since leaked information to technical reviewers — but did not choose to do any public-facing marketing of its Fusion line until today. As of the Consumer Electronics Show, however, the chipmaker's marketing machine has lurched into overdrive.
AMD has — rather gratuitously, we think — coined the term APU (accelerated processing unit) to denote its particular on-chip combination of CPU and GPU. And Rick Bergman, senior vice president and general manager of the company's products group, is quoted as saying, "We believe that AMD Fusion processors are, quite simply, the greatest advancement in processing since the introduction of the x86 architecture more than forty years ago."
Bergman further stated, "In one major step, we enable users to experience HD everywhere as well as personal supercomputing capabilities in notebooks that can deliver all-day battery life. It's a new category, a new approach, and opens up exciting new experiences for consumers."
All hype aside, AMD's Fusion chips are the fruit of the company's 2006 acquisition of ATI, and do appear to provide significantly better graphics than Intel's just-released Sandy Bridge devices. Incorporating the same "UVD3 video acceleration block" as the new AMD Radeon HD6800 GPUs, the AMD chips are said to be DirectX 11-capable, whereas Intel's new chips can only manage DirectX 10.
AMD further claims that high-end Fusion chips will bring "supercomputer-like performance to everyday computing tasks," since software developers will be able to take the parallel processing power of a GPU for granted. Companies said to be working on software leveraging Fusion capabilities include Adobe, Arcsoft, Codemasters, Corel, Cyberlink, DivX, EA, Earthsim, Firaxis, Gazillion, Microsoft, Nuvixa, Roxio, Sega, Turbine, Viewdle, and Vivu.
The Fusion in more detail
AMD's Fusion devices all incorporate the x86 CPU core codenamed "Bobcat." Illustrated below, this features an out-of-order execution engine — which breaks data apart and allows for instructions to run in parallel — plus clock and power gating that can extend battery life, according to the company.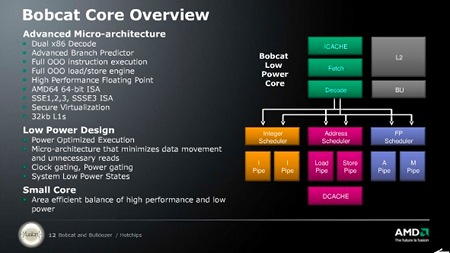 AMD's Bobcat
(Click to enlarge)
According to AMD, its "2011 mainstream platform" — to be available by the middle of this year — will feature the A-series "Llano" processor, including up to four Bobcat cores. This will deliver performance of more than 500 gigaflops, says the chipmaker.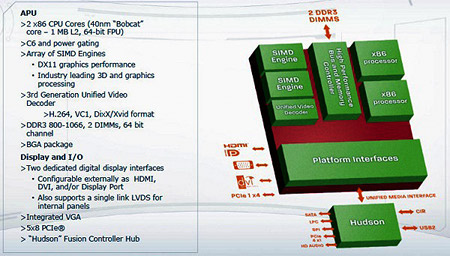 AMD's 2011 low poser platform
(Click to enlarge)
Initially available, however, is the "2011 low power platform," formerly codenamed "Brazos." As depicted above, this combines an E-series (formerly "Zacate") or C-series (formerly "Ontario") processor with the "Husdon" controller hub, a southbridge based on the previously released SB800.
| | | | | | |
| --- | --- | --- | --- | --- | --- |
| Model | CPU Cores | CPU Clock Speed | Number of GPU Cores | GPU clock Speed | TDP |
| AMD E-350 | 2 | 1.6GHz | 80 | 500MHz | 18W |
| AMD E-240 | 1 | 1.5GHz | 80 | 500MHz | 18W |
| AMD C-50 | 2 | 1.0GHz | 80 | 280MHz | 9W |
| AMD C-30 | 1 | 1.2GHz | 80 | 280MHz | 9W |
AMD's E-series and C-series processors
AMD says the E-series CPUs are intended for mainstream notebooks, all-in-one computers, and small form factor desktops. The C-series CPUs, meanwhile, are designed for "HD netbooks and other emerging form factors," and presumably will also be the first Fusion processors to feature in embedded devices.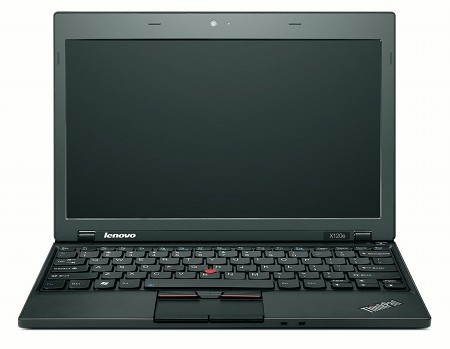 Lenovo's ThinkPad X120e
(Click to enlarge)
E-series Fusion processors have already surfaced in two netbooks: the Lenovo ThinkPad X120e pictured above and the MSI U270. Other newly announced design wins are HP's Pavilion dm1, an 11.6-inch netbook (or, if you prefer, "ultraportable") and Toshiba's Satellite C655D, a 15.6-inch notebook.
We haven't yet seen any reviews of the above devices, but benchmarks of AMD's E-series CPUs surfaced last November courtesy of five different tech blogs: AnandTech, HotHardware, LegitReviews, PC Perspective, and The Tech Report. The bloggers reported having been invited to AMD's Austin campus earlier the same month, when they were allowed to benchmark both "Ontario" and "Zacate."
According to all five testers, a Zacate-equipped Brazos system was less power-hungry than an Intel Atom D525-equipped system featuring an Ion 2 GPU. It also outperformed such a system, reaching the speed of Intel's entry-level CULV and CULV 2010 processors, they added. (For full details of the benchmarks and links to the relevant websites, see our earlier coverage.)
---
This article was originally published on LinuxDevices.com and has been donated to the open source community by QuinStreet Inc. Please visit LinuxToday.com for up-to-date news and articles about Linux and open source.