Jan 21, 2011 — by LinuxDevices Staff — from the LinuxDevices Archive — views
Announcing financial results, AMD said its yearly profits and revenues for 2010 were both better than those from the year before. While the chipmaker may be giving more attention to the trendy tablet space, it will continue to focus on current plans, particularly with its Fusion initiative, according to interim CEO Thomas Seifert.
A week after Dirk Meyer's resignation as CEO of AMD, the company's position going forward is essentially to stay the course in the short term, while creating expansion plans farther down the road.
Executives at AMD, speaking during a conference call with analysts and journalists Jan. 20 to announce fourth-quarter and full-year financial results, said that the immediate goal is to deliver on promises around the company's Fusion offerings, including the upcoming launch this summer of its "Llano" product line.
That will follow the release earlier this month at the 2011 Consumer Electronics Show of AMD's "Brazos" chips for lightweight laptops and netbooks, and e-Brazos variants for embedded devices. (See later in this story for details.)

AMD's Fusion initiative brings high-end graphics capabilities and x86 CPUs onto a single piece of silicon. AMD calls the chips APUs (accelerated processing units). Thomas Seifert (right), AMD's CFO and interim CEO, called Fusion "arguably the most significant advancement in processor architecture in decades."
For the quarter, AMD saw revenues come in at $1.65 billion, flat from the same period last year. Income was $413 million, a significant drop over the $1.29 billion of the fourth-quarter 2009, though that was bolstered by a $1.25 billion payment from Intel to settle legal disputes between the two companies.
For the full year, AMD generated $848 million in profit on $6.49 billion in revenue, both increases over 2009 figures.
Seifert said the work done in 2010 has set the company up for a strong 2011. "I've never been more confident in this company and its capacity to succeed," he said.
Despite numbers that exceeded analyst expectations, issues that were raised by Meyer's resignation permeated the analyst call. The company's board of directors reportedly was unhappy with Meyer's reluctance to move the company into the booming smartphone and tablet markets, and was concerned about the direction of AMD's server business.
Seifert said Meyer, who was given $12 million upon his resignation, had done a good job setting up the company for success, adding that AMD will build on current plans while "accelerating" efforts into new areas. However, he said there would be no wholesale shift.
"To reduce it to just a tablet statement would be wrong and was certainly not the case, and it's certainly not an indication that we are going to let the focus shift away from what the priorities are in terms of delivering what we promised," Seifert said.
However, tablets are an area that AMD is interested into expanding into, he said. While the company may not have processors designed specifically for ultramobile devices, Seifert said that as AMD continues to drive up the performance and energy efficiency of its processors while shrinking the size, it will open up new markets.
For now, AMD executives said they are seeing good demand from OEMs for their Fusion APUs, and expect the PC market to grow 10 to 11 percent in 2011. They expect revenue for the first quarter to come in flat to a little down.
Background
AMD's Fusion devices all incorporate the x86 CPU core codenamed "Bobcat." Illustrated below, this features an out-of-order execution engine — which breaks data apart and allows for instructions to run in parallel — plus clock and power gating that can extend battery life, according to the company.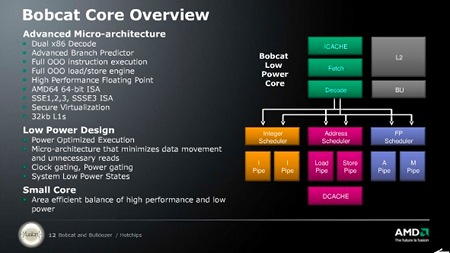 AMD's Bobcat
(Click to enlarge)
According to AMD, its "2011 mainstream platform" — to be available by the middle of this year — will feature the A-series "Llano" processor, including up to four Bobcat cores. This will deliver performance of more than 500 gigaflops, says the chipmaker.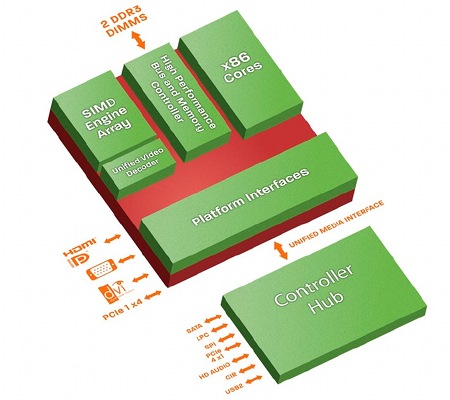 AMD's 2011 low power platform
(Click to enlarge)
The first implementation of Bobcat, however, is the "2011 low power platform" (formerly codenamed "Brazos" for the mobile version and "e-Brazos" in the embedded version) pictured above. When it announced the four mobile APUs listed below, AMD said the E-series chips would be for mainstream notebooks, all-in-one computers, and small form factor desktops, while the C-series would be for "HD netbooks and other emerging form factors."
| | | | | | |
| --- | --- | --- | --- | --- | --- |
| Model | CPU Cores | CPU Clock Speed | Number of GPU Cores | GPU clock Speed | TDP |
| AMD E-350 | 2 | 1.6GHz | 80 | 500MHz | 18W |
| AMD E-240 | 1 | 1.5GHz | 80 | 500MHz | 18W |
| AMD C-50 | 2 | 1.0GHz | 80 | 280MHz | 9W |
| AMD C-30 | 1 | 1.2GHz | 80 | 280MHz | 9W |

AMD's E-series and C-series processors
Earlier this week, AMD unveiled five G-series APUs specifically for embedded devices. As detailed in the table below, they're pretty similar to the E-series and C-series, though there's a new "halfway house" 1.4GHz option.
| | | | | |
| --- | --- | --- | --- | --- |
| Model | Clock speed | Cores | Graphics | TDP max |
| T56N | 1.6GHz | 2 | HD6310 | 18W |
| T48N | 1.4GHz | 2 | HD6310 | 18W |
| T40N | 1.0GHz | 2 | HD6250 | 9W |
| T52R | 1.5GHz | 1 | HD6310 | 18W |
| T44R | 1.2GHz | 1 | HD6250 | 9W |

AMD's embedded G-series processors
All the G-series devices feature 64KB of L1 cache, plus 512KB of L2 cache per processor core, according to AMD. They're designed to work with DDR3 memory, except for the T40N, which instead employs LVDDR3, the company adds.
According to AMD, each G-series device offers 4×1 or 1×4 PCI Express lanes on the APU, six SATA ports (6Gbps), 14 USB 2.0 ports, HD audio, plus SPI, LPC, and SMBus interfaces. One of two pin-compatible, "Hudson" I/O controllers may be employed, the company adds: either the A50M (also used by the E-series and C-series) or the new, embedded-specific A55E.
AMD says the A55E provides added functionality including a gigabit Ethernet MAC, RAID (0/1/5/10) support with FIS (frame information structure)-based switching, and a 32-bit PCI interface. The A55E also is said to use PCI Express Gen 2 for its UMI (unified media interface) connection to the G-series APU, presumably offering a dollop of extra speed thereby.
Further information
More information about AMD's financial results may be found on its investor relations web page.
Further information on AMD's G-series processors, including details of a mini-ITX development board from AMD known as the DB-FT1, may be found on the company's G-series product page.
Jefferey Burt is a writer for eWEEK. Jonathan Angel contributed additional reporting to this story.
---
This article was originally published on LinuxDevices.com and has been donated to the open source community by QuinStreet Inc. Please visit LinuxToday.com for up-to-date news and articles about Linux and open source.