Jan 15, 2009 — by Eric Brown — from the LinuxDevices Archive — 4 views

Skyhook Wireless has ported its SDK (software development kit) for "hybrid" geo-positioning to the Google-sponsored, Linux-based Android mobile-device stack. The company claims its "XPS" kit can provide "iPhone-quality" fixes within a second or two — much faster than Android's firmware… running on the TMobile/HTC G1.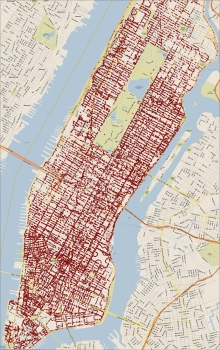 Skyhook's database
of WiFi access points
in New York City
Skyhook pioneered the concept of fixing the user's position relative to a database of WiFi access points, launching its WPS service in 2005. WPS was ported to Linux in October 2007, and Skyhook claims that Apple added the technology to its iPhone via a firmware revision last year. The system is said to work indoors or out, and can fix location to within 10-20 meters in under a second, the company claims.
Skyhook's "hybrid" XPS SDK builds on WPS, while also leveraging newly bolstered GPS receiver support, and cellular tower triangulation technology claimed to calculate "reliable" location results to users in "all" environments. The new XPS SDK for Android and other platforms supports all three geo-location technologies, it says.
Android's location gap
Despite the proliferation of location-aware Android applications, such as the "party-location" app Wertago (pictured below), geo-location firmware currently available for Android leaves much to be desired, says Skyhook. The first Android phone, HTC's G1, offers all the required hybrid technology — GPS, cellular, and WiFi — but Android users in indoor, urban locations must often wait two to three minutes for a location fix, and location accuracy can be unreliable, claims the company.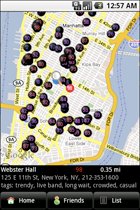 Wertago, one of many Android Developer Challenge winners that depend on geo-location
To meet the requirements of mobile devices running Android, Skyhook says it trimmed 25 percent from the new SDK's footprint, though exact requirements were not stated. Along with Android support, the new SDK adds specific enhancements for Windows Mobile and Symbian, as well as a cross-platform feature said to automatically enable WiFi in order to reduce user interaction time with the location feature, while also saving on battery life, claims Skyhook.
Mozilla taps into Skyhook for Geode
The technology underlying Skyhook's SDK was adopted by Mozilla for its Geode extensions, which will be integral to future Firefox releases. Geode is also based on the World Wide Web Consortium's Geolocation API, according to Mozilla. The extension permits websites to request a user's location, at which point a popup bar asks how much information to give that site: exact location, neighborhood, city, or nothing at all.
Stated Ted Morgan, CEO of Skyhook Wireless, "By enhancing our Wi-Fi Positioning functionality with cell tower triangulation and GPS support, Skyhook gives developers the opportunity to provide fast and accurate location results."
Availability
Developers can license the Skyhook SDK on a per unit/user basis, and ad revenue share models are also available with Skyhook's advertising partners, says the company. The Skyhook SDK is available for download now, here, for the following platforms: Linux 2.6 (x86, gcc 4.1, glibc 2.6), Maemo 4.0 (ARM), Android, Windows Vista (32 bit), Windows XP (32 bit), Windows Mobile 5 & 6.x Smartphone (ARM), Windows Mobile 5 & 6.x PocketPC (ARM) for cellphones, Windows Mobile 5 & 6.x PocketPC (ARM) for PDAs, Windows CE 5.0 (ARM), Symbian S60 FP2, Symbian / UIQ (Sony Ericsson), Mac OS X 10.4 (universal) & 10.5.
---

This article was originally published on LinuxDevices.com and has been donated to the open source community by QuinStreet Inc. Please visit LinuxToday.com for up-to-date news and articles about Linux and open source.