Oct 8, 2008 — by LinuxDevices Staff — from the LinuxDevices Archive — 2 views

Mozilla Labs is offering a "Milestone 8" Linux release of the long-awaited mobile version of its Firefox web browser. The "Fennec" browser will be released in final form in a few weeks, sporting iPhone-like "kinetic" scrolling, a Mac-like "expose" feature for tabs, and optional geolocation.
(Click here for a larger view of Mozilla's "Fennec")
Fennec, which will run via x86 and ARM processors on both Linux and Windows Mobile devices, has been under development since last year. Aimed at "bringing a true web experience to mobile phones and other non-PC devices," the browser will include a "bridge" that lets users migrate cookies, bookmarks, history, form-fill data, and other information from their desktop browsers to their mobiles, according to Mozilla.
Mozilla says Fennec shares a core "Gecko" rendering engine with Firefox, its popular desktop sibling, and — even more important — will be generally compatible with the desktop browser's extensions architecture. Claimed to have more than 200 million users, Firefox has become a popular ecosystem for extensions, which can add features such as tabbed sidebars, content filtering, or automatic synchronization of bookmarks across multiple devices.
In an interview with the San Jose Mercury News at the end of last month, Mozilla CEO John Lilly was quoted as saying, "The first thing is to bring Firefox to mobile devices. We're working on that and we'll see some alphas in a few weeks."
Now, Mozilla developer Mark Finkle writes in his blog, "Work on Windows Mobile has heated up quite a bit. We should be getting some Fennec builds for Windows Mobile soon."
Mobile-specific extensions
Yesterday, Mozilla — which released the final version of Firefox 3 for desktop computers in June — announced a geolocation extension for the browser that targets mobile devices. The "Geode" extension will enable web developers to serve up content tailored to users' locations, says Mozilla.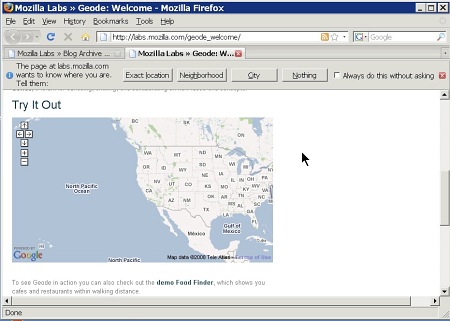 Mozilla's Geode prepares to track down WindowsForDevices' location
(Click to enlarge)
Geode, which will be integral to future Firefox releases, is based on the World Wide Web Consortium's
Geolocation API
, according to Mozilla. The extension permits websites to request a user's location, at which point a popup bar (shown above) will ask how much information to give that site: your exact location, your neighborhood, your city, or nothing at all.
The experimental version of Geode, released yesterday, uses the "Loki" technology from Skyhook, which claims to have mapped millions of WiFi access points worldwide. Unlike normal GPS-based methods which can take upwards of 45 seconds to provide a lock, WiFi geolocation works both indoors and out with an accuracy of between 10 to 20 meters, normally within a second.
To test this, our sister publication, WindowsForDevices, installed the Geode extension into a copy of Firefox 3, running on a Windows XP laptop. Subsequently, by instantaneously looking up the WiFi access point's MAC (media access control) address in Skyhook's database, Mozilla's demo webpage was able to narrow down the correct residential Palo Alto location to within a couple of houses.
While noting that Skyhook does not store or use any personal identifying information, Mozilla says that the geolocation in Firefox will ultimately feature "pluggable and user-selectable methods." These will include not only Skyhook technology, but also a device's GPS hardware, "providing users with as many choices and privacy options as possible," the company says.
Background
Mozilla has tinkered openly with Fennec throughout 2008, seeking feedback from developers and others. In January, for example, it first released prototype user interfaces. In April, it released more mockups and touted substantial improvements in speed for its test builds. And in June, it posted an online demo, source code, and a video preview (see below).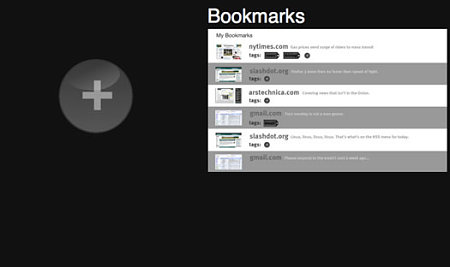 Mozilla's Fennec opens to a mostly blank page
As shown above, the browser opens to a blank workspace, with bookmarks on the right, and a plus sign on the left that can be used to open a new tab. Clicking on the list of bookmarks zooms the browser to the relevant page.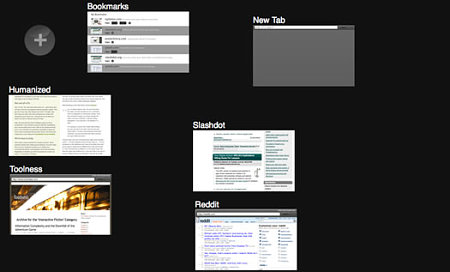 Fennec places a new tab in its overall spatial workspace
Creating a new tab is done by clicking on the plus sign, at which point the browser finds an open spot for the page in its overall workspace (see above). This zoomed-out "spatial" view is reminiscent of the Expose function in Apple's OS X operating system. Unlike Expose, however, it allows pages to be fixed to any desired position by the user, according to Mozilla.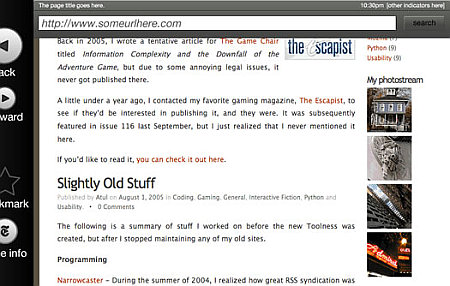 Fennec's controls appear when a page is nosed to the right
As for standard controls such as back and forward buttons and a URL bar, these fade in (see above) when a page is dragged slightly to the right. Regardless of the size of a web page, this can always be done rapidly, claims Mozilla, because Fennec will include a physics engine with "kinetic" scrolling.


A video preview of Mozilla's "Fennec"
Source: Mozilla Labs
(click to play)
Further information
Fennec is currently downloadable in a "Milestone 8" build for Linux that is targeted at Nokia's N8x0 tablet. Windows Mobile availability and final Linux availability may still be a few weeks away, Further information, including screenshots and information on how to obtain a copy, may be found here.
More on the Geode extension for Firefox should be here.
The San Jose Mercury News interview with Mozilla CEO John Lilly may be found here.
---

This article was originally published on LinuxDevices.com and has been donated to the open source community by QuinStreet Inc. Please visit LinuxToday.com for up-to-date news and articles about Linux and open source.