Jun 22, 2011 — by Eric Brown — from the LinuxDevices Archive — 8 views
In a case that could threaten open source GPL licensing in Germany, a Berlin court began hearing a lawsuit from German DSL router vendor AVM against web-filtering software firm Cybits. AVM charges that by modifying Linux kernel code in router firmware, Cybits is infringing on copyright, while Cybits' defense claims GPL licensing permits it to alter the code.
On June 21, the District Court of Berlin began hearing a lawsuit from AVM against Cybits that "may have enormous consequences for the way that software is developed and distributed," according to an announcement on the open source advocacy website GPL-violations.org by Linux kernel developer Harald Welte.
Picked up by IDG News Service, the Welte blog posting details how AVM Computersysteme Vertriebs GmbH — which makes routers, including the Fritz!Box line (see farther below) — is suing fellow German firm Cybits AG, a producer of family web-filtering software.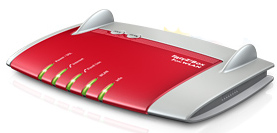 AVM's Fritz!Box Fon WLAN 7390
AVM is suing to prevent Cybits from changing any parts of the firmware used in AVM's routers, including the Linux kernel, according to Welte. AVM is alleging that Cybits has infringed its copyright because it sells software that removes AVM's altered modules from the Linux kernel embedded in AVM routers.
Cybits counters that not only does it need to remove some alterations to the kernel made by AVM in order for its filtering program to work, it has every right to do so under GPL licensing.
The Linux kernel is licensed under the GNU General Public License, version 2 (GNU GPL), which as Welte notes, is a free and open source software license "permitting everyone to use, study, share, and improve works which use it."

Open-source advocates like Welte (pictured) say that if AVM win its case, it could prove to be a significant threat to GPL. "The Free Software Foundation Europe (FSFE) and gpl-violations.org consider AVM's action as a broad attack against the principles of Free Software, and thus against the thousands of individuals and companies developing, improving and distributing Free Software."
The Court of Appeals of Berlin rejected a preliminary injunction to stop Cybits from altering its kernel in September 2010. In that case, Welte intervened to explain the fine points of GPL licensing. Now, however, the court has permitted a full hearing, presumably based on a stronger argument from AVM.
If successful, AVM could set a precedent for device manufacturers, enabling them to veto software from third parties on their products, according to Welte. This would give them an unfair advantage over competitors who are in compliance with GPL. A successful suit could also "threaten the cooperative software development model, which has been successfully used by many companies worldwide for three decades," adds Welte.
Welte goes on to quote Matthias Kirschner of the Free Software Foundation Europe as saying, "If AVM is successful in court it will be disastrous for the global market for embedded devices, which includes mobile phones, network hardware and other Linux-based products."
Till Jaeger, co-founder of the Institute for Legal Aspects of Free & Open Source Software, is quoted as saying, "Ironically, by preventing others from enacting the rights granted by the GNU GPL, AVM itself is in violation of the license terms. Therefore they have no right to distribute the software."
According to IDG News Service, calls to AVM's press office were not answered, and the Berlin court has not said when it will rule or whether it will call for further hearings.
AVM's Fritz!Box
AVM makes a number of routers and gateways for the home market, most of them under its Fritz!Box brand. (They have never been covered here in part because the company does not readily advertise the embedded Linux nature of its products.)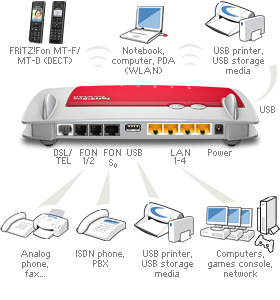 Fritz!Box Fon WLAN 7390, port detail
Its latest Fritz!Box is the
Fritz!Box Fon WLAN 7390
(pictured directly above and near the top), which offers integrated VDSL/ADSL2+ modem and 802.11n. The router includes a DECT base station for connecting up to six cordless telephones, and offers connections for analog terminal equipment, ISDN telephones, and PBXs, says AVM.
GPL violations and victories
For some reason, router companies seem to be notably bad at open source compliance. You'd think they'd get the picture, considering that router giants as big as Cisco have been forced to settle in open source lawsuits (most of which have claimed the companies did not post open source code to the public).
What's unusual in the case of AVM is that it is the manufacturer suing rather than being sued. GPL-violations.org has made no claim that AVM is withholding code. However, by claiming it has rights that it does not appear to have under GPL, the company may be in violation of the licensing agreement.
Welte's GPL-violations.org was one of the first successful advocacy groups for open source in the courts — or at least the German courts. In 2006 it won a major victory against D-Link, yet another router company, over a GPL case.
In 2008, GPL-Violations.org published a guide to identifying GPL violations in embedded code, and that same year Software Freedom Law Center (SFLC), known for its successful prosecution of GPL scofflaws on behalf of BusyBox, published a GPL compliance guide to help embedded developers find their way through the licensing maze.
In Dec. 2009, OpenLogic launched an Open Source Fulfillment Center service that helps companies ensure compliance with GPL licenses. In August of last year, the Linux Foundation announced a program to help companies comply with open source licenses. The Open Compliance Program includes training, consulting, a self-assessment checklist, a standard format to report software licensing information, and tools for dependency checking, BoM analysis, and code clean-up.
---
This article was originally published on LinuxDevices.com and has been donated to the open source community by QuinStreet Inc. Please visit LinuxToday.com for up-to-date news and articles about Linux and open source.