May 28, 2008 — by Eric Brown — from the LinuxDevices Archive — 11 views

[Updated May 29] — A community website devoted to sharing information about Linux-based NAS (network attached storage) servers has added a "GPL" page to collect vendor distributions of GPL-licensed source code. In assembling the page, NAS-central.org ran across one alleged violator, says site co-founder Markus Toth.
Toth founded NAS-central.org along with Rod Whitby and others, with the aim of building a resource for hobbyists interested in hacking Linux-based NAS devices. The site currently features a list of NAS hacking communities and a Guide to hacking NAS servers based on Marvell's Orion SoCs.
Now, inspired in part by Open-EZX founder Harald Welte's Gpl-violations.org site, Toth has added a Gpl.nas-central.org resource aimed at serving as a central repository for distributions of GPL-licensed software released by NAS vendors. In the process of building that page, Toth said he had difficulty getting cooperation from NAS vendor Hammer. "They refused several times," he reports.
Hammer time
Hammer Storage, a division of Bell Microproducts, sells a MyShare NAS appliance (pictured at top and below) that runs Linux on a Marvell Orion processor and offers two internal SATA II drives, for capacities up to 2 terabytes. Based in part on a LinuxDevices story on the appliance, Toth (aka mindbender) contacted Hammer last November, asking for the source code. At first, the Hammer tech support representative wrote back that the source code wasn't available, according to Toth's email log. On the second request, the rep indicated that the company was researching the problem to decide if it wanted to comply.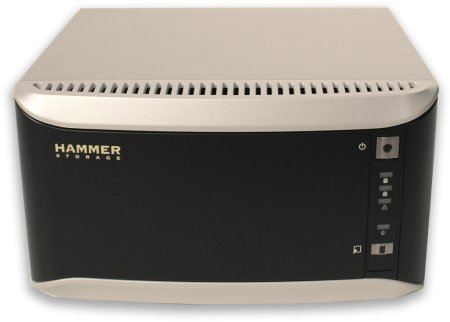 Hammer's MyShare
In response to a clarification request from LinuxDevices, a Hammer spokesperson had this to say: "According to the Hammer execs, they have been working for the past few months to get the code, which comes from their supplier. They will post it just as soon as they have it."
While lawsuits regarding GPL violations have been fairly common in Europe, the first such U.S. lawsuit was filed only last year by the SFLC (Software Freedom Law Center). The suit, filed on behalf of BusyBox developers against Monsoon Multimedia, was quickly settled out of court. This was followed up by several more SFLC suits on behalf of BusyBox targeting Xterasys and High-Gain Antennas in one case and Verizon Communications in another. Both suits were settled out of court in March, according to the SFLC. European GPL tests include victories against NAS vendor D-Link in 2006 and VoIP provider Skype in 2007 for alleged GPL source code violations.
Toth describes himself as a "leader of the Buffalo hacking community" who used to run Buffalo LinkStation wikis before starting Gpl.nas-central.org with Whitby.
Availability
Toth's repository of NAS source code and GPL compliance report is available at his Gpl.nas-central.org site, here. The site's NAS community page may be found here, and the Orion customization guide should be here.
Toth's email log with Hammer may be found here, and his instructions for disassembling the MyShare firmware should be here.
Another resource of interest to NAS hobbyists is Tim Ellis's Foonas.org project, a separate effort to create a universal automated installer for NAS-devices.
---

This article was originally published on LinuxDevices.com and has been donated to the open source community by QuinStreet Inc. Please visit LinuxToday.com for up-to-date news and articles about Linux and open source.