Oct 26, 2009 — by Eric Brown — from the LinuxDevices Archive — 2 views
Qualcomm has established a subsidiary to develop software for mobile open source platforms. The Qualcomm Innovation Center, Inc. (QUIC) will optimize open source software with Qualcomm technology, using platforms including Linux, Webkit, Android, Chrome, and Symbian, which last week achieved a major milestone in migrating to open source.
The "separate wholly-owned subsidiary" is being led by Rob Chandhok, SVP of software strategy for Qualcomm CDMA Technologies, and now president of QuIC. The subsidiary will be staffed by engineers dedicated to hardware-optimizing the performance of mobile operating systems and software, says Qualcomm.
QUIC's goals are said to include "leveraging the unique attributes of advanced mobile devices and optimization via tight hardware integration." The development subsidiary will cover everything from smartphones to mobile computing devices, says the wireless semiconductor and technology firm.
Qualcomm chipsets continue to dominate the Android handset market, with all the HTC models offering Qualcomm chipsets, but other system-on-chip (SoC) platforms have recently made headway. Samsung has recently announced a number of Android phones running on its own processors, such as the Samsung Moment's S4C6410 SoC. Motorola's new Verizon-destined Droid, meanwhile, is said to run the Texas Instruments OMAP3430.
The ARM Cortex-A8-based OMAP3430 is also the choice of many of the recent non-Android Linux smartphones, including the Palm Pre, and the upcoming Nokia N900, which Nokia now says has been delayed until next month. The OMAP3430 is also being used on the LiMo-ready Access/Emblaze Else and Vodafone's 360 H1 LiMo phone. Despite the presence of the TI chip, the latter is built by Samsung.
To fight back against these incursions, Qualcomm is now pushing a new chipset — the Snapdragon family of processors. Indeed, Snapdragon is likely to be the primary focus for QUIC.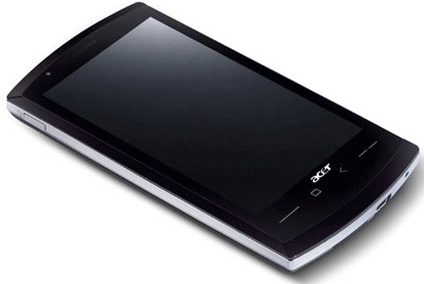 Acer's Snapdragon-powered Acer Liquid
Earlier this month, Acer announced that its Android-based
Acer Liquid
(pictured above) is being built around a Snapdragon. HTC, meanwhile, has incorporated the Snapdragon in is new Windows Mobile-based HD2 phone, and there are rumors that a similar Android model called the
HTC Dragon
is on the way.
Likely to offer superior performance to either of the current-generation Samsung or TI smartphone chips, the Snapdragon is available in dual-core QSD8250/8650 chipsets clocked at up to 1GHz, which include a "universal modem" claimed to support "all 2G and 3G mobile broadband standards." The chipsets are built around an ARM-based 1GHz "Scorpion" microprocessor with 128-bit SIMD (single instruction multiple data) capability, plus a 600MHz low-power, "low-leakage" DSP.
Qualcomm's Snapdragon-based "smartbooks"
In addition to pushing the Snapdragon for its handset semiconductor business, Qualcomm made a big splash at the Computex Taipei show in Taiwan in June, promoting the chipset for small netbooks and tablets it calls smartbooks. More than 15 manufacturers are developing more than 30 Snapdragon-based products, the company said at the time, with many of the products expected in time for the holiday shopping season. The devices will run a variety of operating systems, including Linux, the Linux-based Android, Windows Mobile, and possibly Windows CE.
Also at Computex, Qualcomm also announced a Snapdragon QSD8650A chipset manufactured with 45-nanometer technology. Clocked at 1.3GHz, the SoC is said to be 30 percent faster than the company's existing, smartphone-oriented 1GHz QSD8250 Snapdragon. The new chip is also touted as consuming less than 10 milliwatts in standby mode. The QSD8650A won't begin sampling until this fall, so the first round of smartbooks will likely run on existing Snapdragon SoCs.
Symbian Foundation releases open source microkernel
Android — and to a lesser extent, other Linux platforms — is likely to be a key focus for QUIC, but Qualcomm is also apparently reaching out to Symbian as well. Relatively few Qualcomm chipsets have appeared in Symbian devices, as Qualcomm and Nokia have feuded in the past over 3G patent licenses. Earlier this year, however, the San Diego-based company joined the Symbian Foundation, and introduced a Mobile Station Modem (MSM) 7227 chipset for feature phones that is compatible with Symbian.
In June 2008, Nokia acquired Symbian and launched the Symbian Foundation with a vow to make the platform open source. Last week, the Symbian Foundation announced a major milestone on the road to porting the Symbian platform to open source when it released the platform microkernel (EKA2) and supporting development kit under the Eclipse Public License (EPL). The kernel release is nine months ahead of schedule, says the Foundation.
Earlier this year, the group was said to have released Symbian security code under EPL. To date, 16 of 134 platform packages have been released into open source, says the Foundation.
QUIC's Chandhok will address the Symbian open source community in London on Oct. 28 at SEE 2009 (Symbian Exchange and Exposition), which is hosted by the Symbian Foundation.
Stated Chandhok, "Open source and community-driven software development is becoming increasingly important to the wireless industry. QuIC is committed to meaningful participation in these development efforts. To fulfill this commitment and to provide focus to this effort, Qualcomm has transferred experienced software engineers to QuIC. These engineers will focus on such important open source initiatives as Linux and Webkit, and on open source operating systems such as Symbian, Android and Chrome."
More information on Qualcomm Innovation Center, Inc. (QUIC) may be found here.
---
This article was originally published on LinuxDevices.com and has been donated to the open source community by QuinStreet Inc. Please visit LinuxToday.com for up-to-date news and articles about Linux and open source.