May 18, 2010 — by Eric Brown — from the LinuxDevices Archive — 3 views
General Motors (GM) announced that version 2.0 of the Android version of its OnStar Mobile app for the Chevrolet Volt will feature Google Maps integration. The voice-enabled feature, which shows a Volt's location on Google Maps, may only be the first step in Android integration with OnStar, say reports.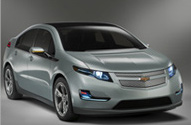 The update for the Android version of GM's OnStar Mobile app adds greater integration between Google Maps and the OnStar driver roadside assistance service and navigation system option available with GM cars. Version 2.0 of the Android app will be initially available only for the upcoming Chevrolet Volt plug-in hybrid electric car (pictured above right), GM says.
Neither the app nor the Volt itself will be available until this fall, at which point the car will debut with the version 1.0 software, announced in January at CES. (A demo version of version 1.0 may be found currently on the Android Market.)
Version 2.0 of the app will add a navigation tab that shows the current location of the owner's Volt pinpointed on Google Maps, as well as their location relative to it, says GM. Google voice search can be used to both search for a destination via Android or discover the destination relative to the Volt's current location, says the company.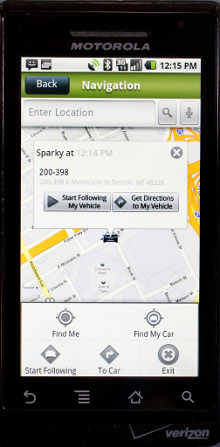 Version 2.0 of Android version of OnStar Mobile app for the Chevy Volt
(Click on either to enlarge)
The destination can then be sent from the Android phone to the Volt's OnStar turn-by-turn direction system. Optionally, voice-guided directions to the owner's vehicle are available from the Android phone's current location, using Google Maps Navigation, says GM.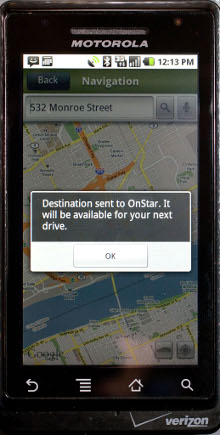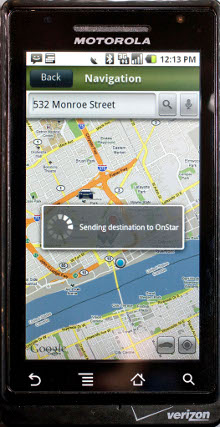 Google Maps integration with Onstar Mobile on Chevy Volt
(Click on either to enlarge)
Features planned for version 2.0 of the OnStar Mobile app for the Chevrolet Volt are said to include:
Charge status display — plugged in or not — and voltage
Option to charge now or schedule later charge timing
Display percentage of battery charge level, electric, and total ranges
Ability to manually set grid-friendly charge mode for off-peak times when electricity rates are lowest
Send text or email notifications for charge reminders, interruptions, and full charge
Display miles per gallon, electric only miles, and odometer readings
Shows miles per gallon, EV miles, and miles driven for last trip and lifetime
Remotely start the vehicle to pre-condition the interior temperature
A long term partnership between Google and GM?
According to a Wall Street Journal story last week, Google and GM are planning a broader partnership to integrate Android with OnStar. According to the publication's unnamed source, plans are in the works for performing tasks such as automatically alerting emergency officials about accidents from their Android phone remotely from the car. OnStar information alerts about vehicle maintenance needs, derived from GM's built-in diagnostics software, may also become available through Android phones, says the story.
As noted in an eWEEK story on the Journal article that appeared before today's specific Volt app announcement, Google appears to be countering Microsoft, which has an ongoing partnership with Ford. Microsoft software powers the Sync software for letting Ford drivers control a car's stereo by voice.
According to the story, Ford has previously stated that Sync will eventually enable BlackBerry and Android smartphone users to control websites such as Twitter and Pandora with voice commands in the Ford 2011 Fiesta model. (For extensive background on Sync, see our sister site WindowsForDevices.com, here.)
Many believe that Android will not only be communicating with in-car navigation and infotainment systems, but will actually be running on those systems. The Journal story did not suggest that GM was planning to move to Android for OnStar, but others are working on somewhat similar Android-based systems.
For example, Intel-owned Wind River, long a player in automotive systems, primarily with its VxWorks RTOS instead of Wind River Linux, recently announced an Android development platform. At the time, it suggested that automotive customers were already working on Android-based in-car systems.
Long-struggling GM is also a member of the Genivi Alliance, a group of car manufacturers, suppliers, and technology firms working on building standards for In-Vehicle Infotainment (IVI) systems. The group has initially adopted an Intel Atom-based reference platform running Moblin and Wind River Linux. Due to ship this summer, the reference platform will apparently be joined by similar Genivi-compliant reference platforms based on Freescale and Texas Instruments (TI) processors.
The Intel/Nokia MeeGo project meanwhile, has listed in-car infotainment as a target device for the mobile Linux operating system. Recently, another Genivi member, BMW Group, announced support for MeeGo, and said that a new Genivi reference plan would use MeeGo instead of Moblin.
Stated Tony DiSalle, Chevrolet Volt marketing director. "These two new features add to the suite of mobile application features for Volt that given Volt owners a personal connection to their car."
Availability
GM will demonstrate the new OnStar Mobile for Android app starting tomorrow at Google I/O in San Francisco, says GM. Version 2.0 of the app will ship at some unstated point after the Volt ships this fall with the version 1.0 app, says the company.
More information and a video demonstration may be found at this Chevy Volt page, here.
The May 13 Wall Street Journal story on the Google/GM partnership may be found on this subscription required page, here, and the follow-up eWEEK story may be found here.
---
This article was originally published on LinuxDevices.com and has been donated to the open source community by QuinStreet Inc. Please visit LinuxToday.com for up-to-date news and articles about Linux and open source.