Jun 2, 2009 — by Eric Brown — from the LinuxDevices Archive — 6 views

The Genivi Alliance of car manufacturers and suppliers, which is aiming to establish open source standards on In-Vehicle Infotainment (IVI) systems, has added three new members with close ties to embedded Linux. The new members are MontaVista Software, Texas Instruments, and Freescale Semiconductor, says Genivi.
When the Genivi Alliance was announced in early March, it had already been collaborating for some 18 months on developing an IVI reference design and middleware based on an Intel Atom platform running Wind River Linux. Due to ship this summer, the reference platform, it appears, will eventually be joined by similar Genivi-compliant reference platforms based on Freescale and Texas Instruments (TI) processors, conceivably running either Wind River Linux or MontaVista Linux.
The Genivi Alliance did not mention which Freescale and TI processor would support the platform. Texas Instruments' ARM Cortex-A8 OMAP35xx platform supports automotive infotainment, among many other applications, as does the Cortex-A8-based Freescale i.MX51 family of SoCs.
Freescale also sells a PowerPC-based MPC5121e processor that it is designed for automotive telematics devices, and is supported by Wind River Linux. Both Wind River and MontaVista support the Cortex-A8-based SoCs offered by Freescale and TI. In addition, MontaVista yesterday announced that it was supporting Moblin v2 on the Intel Atom, listing automotive infotainment devices as potential target applications.
Saving the car industry — one SoC at a time
The founding members of the Genivi Alliance are BMW Group, Delphi, General Motors (AKA, the U.S. government), Intel, Magneti Marelli, PSA Peugeot Citroen, Visteon, and Wind River. The new members "will contribute significant code and engineering resources for the continued development of the Genivi Open Source Platform," says the group. They will also offer automotive OEMs and Tier 1 manufacturers "increased alternatives for key hardware and software components in the resulting commercial GENIVI-based products," says the alliance.
The initial Intel/Wind River reference implementation will be made available as open source code, presumably after it begins rolling out in new automobiles and automotive devices. The design is based on the Wind River Linux Platform for Infotainment, a technology announced a year ago that builds in part on the Intel-sponsored Moblin Linux stack. The Genivi Alliance did not say which Intel Atom versions are being used, but they are likely the "P" and "PT" Atom models that Intel announced the day before the alliance was announced. These larger-format Atom parts are designed for the automotive and transportation industries.
According to the alliance, auto manufacturers and suppliers struggle to develop, test, deploy, and support IVI products and services across multiple car models and generations. To solve this problem, Genivi envisions a common software architecture for IVI systems that is "scalable across product lines and generations," and that will avoid duplication of development processes. The alliance further aims to reduce time-to-market and total cost of ownership for IVI systems and bring them "closer to the lifecycle of consumer devices" to enable new business models and connected services.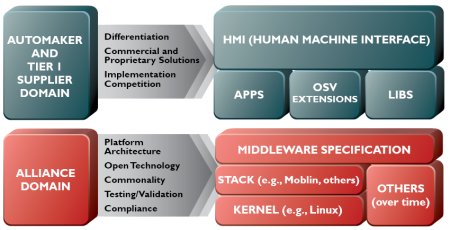 Conceptual diagram of Genivi IVI platform
(Click to enlarge)
The Genivi platform will consist of standardized open source middleware, application layer interfaces, and frameworks, says the alliance (see the diagram above). The platform is said to encompass automotive infotainment products and services that support music, news, Internet, multimedia, navigation, location, and telephony capabilities. To encourage differentiation, however, the platform does not currently address "highly competitive areas such as user interfaces and logic that defines the end-user experience," says the group.
The Genivi Alliance will sponsor technical, marketing, and compliance programs for the platform, as well as align automotive OEM requirements, says the alliance.
According to a recent study by ABI Research, the automotive industry is struggling to shorten its design and replacement cycles for telematics, navigation, and infotainment devices, in order to compete with third-party consumer electronics and wireless products. The only solution, the research firm suggests, is to support open source technologies and common reference platforms. Other recent automotive open source projects linked to the Intel Atom include Open Synergy's COQOS, a Linux-based "car operating system" available on an Atom-based evaluation board for automobile infotainment systems.
Stated Dan Cauchy, senior director of marketing at MontaVista, "MontaVista is joining the GENIVI Alliance to collaborate with other industry leaders in the development of an innovative, reliable, open source in-vehicle infotainment platform."
Stated Steve Nelson, director, global automotive marketing at Freescale Semiconductor, "Freescale has joined GENIVI to align our leading automotive semiconductor technologies with the open platform approach that GENIVI has pioneered to help OEMs and their tier 1 suppliers speed IVI product development and delivery."
Stated Brad Ballard, business development manager at TI, "More closely aligning the requirements of the consumer electronics and IVI markets in an open platform will help improve the attractiveness of new vehicles and increase the take rate for advanced vehicle options."
Availability
The Genivi Alliance's infotainment prototype reference design based on an Intel Atom platform running Wind River Linux is due to ship this summer, says the group.
---

This article was originally published on LinuxDevices.com and has been donated to the open source community by QuinStreet Inc. Please visit LinuxToday.com for up-to-date news and articles about Linux and open source.