Jul 19, 2010 — by Eric Brown — from the LinuxDevices Archive — views
Google received its last shipment of Nexus One smartphones from HTC, and will not re-stock once they're gone, says eWEEK. Meanwhile, the publication adds, Google posted solid second-quarter financials, with 24 percent higher revenues compared to 2Q 2009, and is making a bundle on Android-driven mobile advertising, but still faces major challenges.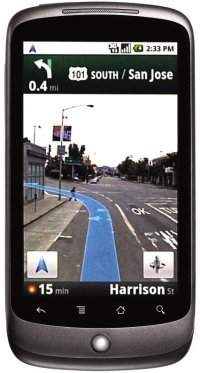 Smartphones tend to have a fairly short shelf life, with many highly hyped phones all but forgotten within the year. Google, however, is not waiting around for the Nexus One (pictured) to fade into obscurity. The company has pulled the plug on the first (and possibly last) phone to be branded and sold by Google.
On Friday, the search giant announced it has received its last shipment of Nexus One smartphones from HTC, and will not replace them once they're gone, reports Clint Boulton in our sister publication, eWEEK. Google will continue to provide customer support for current Nexus One customers, who began receiving Android 2.2 upgrades over the air in late June, says the story.
Customers can still procure the handset from Vodafone in Europe, KT in Korea. and local market retailers such as i Wireless in the midwest U.S., says eWEEK. Google will also be offering the Nexus One, via a partner, for sale to registered Android developers, Boulton adds.
Google ran into problems with the Nexus One soon after its launch in early January. Despite generally glowing reviews, and the fact that it was the only smartphone to run Android 2.1 for several months, Google was forced to respond to complaints about spotty 3G access, as well as a lawsuit from the family of the late sci-fi author Philip K. Dick over the product name.
The company also struggled with its new online Webstore, where it still sells the phone for $529 unlocked or $179 subsidized by a two-year deal from T-Mobile. The site, which was intended to act as a central hub for shopping for Android phones from multiple vendors and carriers suffered a number of start-up woes, and was accused of alleged misleading presentation of pricing plans.
Sales of the Nexus One were respectable, but slower than anticipated. Meanwhile, many handset vendors, carriers, and Android community members in general, were miffed at what it saw as a potential, Microsoft-like power grab by Google. After all, the company gave the Nexus One an exclusive on the significant, multi-touch-enabled Android 2.1 for several months.
In retrospect, the theory that the Google-branded phone experiment was less a "power grab" than an attempted corrective to the growing fragmentation of Android devices appears to hold up well. Despite the HTC manufacture, as Boulton notes, "Google itself designed [the Nexus One] from top to bottom to stand for what the company wanted in a high-end smartphone."
Yet, due in large part to its unusual marketing approach, the phone was not sufficiently popular to reestablish control over the fragmenting standard. In fact, with different versions of the phone required to support various networks, including those of Rogers Wireless and AT&T, it may have even contributed to fragmentation.

The chief problem, however, was the lack of availability in carrier retail outlets. Writes Boulton, "Consumers simply didn't want to buy a phone sight unseen or without hefting it in their hands." Although Verizon and Sprint said they would offer the Nexus One, by the end of April both carriers had changed their minds. The sole major carrier to offer the phone was Vodafone, which began selling the Nexus One April 30 in its U.K. stores, as well as online and over the phone.
Google then directed consumers to buy the very similar HTC Droid Incredible (pictured above left) from Verizon, while Sprint said it would focus on offering the HTC Evo 4G phone. Ironically, sales of both of these highly promising phones have since been hampered by severe display shortages.
According to Boulton, if the Nexus One didn't stop frag

mentation, it did at least inspire excellence in Android phone design, encouraging HTC, for example, to top the design with its Droid Incredible, and especially, its Evo 4G. Meanwhile, Samsung upped its game with the Galaxy S (pictured at right) and its U.S.-focused variants, and Droid X may have set a new high-end standard with its Droid X.
Fragmentation or not, and despite a disorganized Android Market, Android appears to be doing just fine. According to Google's most recent estimates, Android is shipping in more than 160,000 smartphones daily, and is now supported by 70,000 applications in the Android Market.
Original Droid now offered for free with contract
Regarding the current shelf life of an Android smartphone, it will be interesting to see if the original, eight-month-old Motorola Droid continues to rack up sales due to discounting — it's now being offered for free with a new Verizon Wireless account.
Sales of the Droid have held up surprisingly well throughout the spring. Now, thanks to the discount, as well as to general Android phone shortages, the potential for more Droid X shortages, and the awkward version of MotoBlur that Motorola has forced upon users of the otherwise exceptional Droid X, the Droid might may just keep on ticking.
Google's Q2 finances "solid"
On July 15. Google announced net revenues of $5.1 billion for the second quarter on earnings per share of $6.45. In the second quarter of 2009, the company earned $5.36 a share on net sales of $4.07 billion. Counting the money it pays to partners to advertise on their websites, Google reported revenues of $6.82 billion, a 24 percent increase over second-quarter 2009 revenues of $5.52 billion.
The company just missed analyst expectations of $6.53 earnings per share, but still reassured long-term investors with numbers that were much better than the same period a year ago, according to another Boulton report in eWEEK.
The latest in the company's "string of strong quarters" was driven primarily by advertising, says eWEEK. As financial analysts expected, paid clicks, or clicks related to ads served on Google sites and the sites of its AdSense partners, grew 15 percent from the year-ago period, says the story.
Noted Eric Schmidt, CEO of Google in the press release, "We saw strength in every major product area, as more and more traditional brand advertisers embraced search advertising and as large advertisers increasingly ran integrated campaigns across search, display, and mobile."
Android offers advertising payback
Meanwhile, according to a third eWEEK story posted yesterday by Boulton, Android is also paying the company significant dividends via advertising.
In its 2Q earnings call, Google CFO Patrick Pichette was said to have answered a question asking how Google earned money from Android by saying that, "Android is not material to the company." Pichette went on to note, however, that "[Android] is not a huge resource investment, but it's a formidable return in that what you have is the entire ecosystem exploding."
As clarified in the same call by Jonathan Rosenberg, senior vice president of product management for Google, that explosion is leading to profits garnered from mobile advertising. While Google earns ad dollars from any smartphone that offers Google Search, including the iPhone, use of search grew 300 percent on Android phones through the first half of this year, Rosenberg was said to have noted.
"The combination of people browsing on these connected smartphones and searching is basically the formula on how Google succeeds," Rosenberg was quoted as saying. Mobile click-to-call ads are also a slow, but fast growing source of search revenue, added Rosenberg.
Thanks to Google's now completed $750 million acquisition of AdMob, the comany can follow the lead of Apple's iAd advertising platform and let developers inject applications directly within ads, writes Boulton. Such capabilities were previewed during last month's Android 2.2 announcement, and may appear in the upcoming Android 3.0 "Gingerbread" release.
Perhaps in response to criticism that an increasingly chaotic Android Market needs more oversight from Google, Rosenberg also said that Google plans to improve e-commerce billing infrastructure on the site, says eWEEK.
According to Boulton, financial analysts came away from the earnings call "confident if not impressed" with Google's mobile strategy. Caris & Company's Sandeep Aggarwal, for example, writing in a research note on July 16, was said to have noted, "Google's mobile strategy is shaping up nicely. In our view, Google has done a great job with its mobile strategy and has emerged as one of the most formidable players in mobile market."
Google's many challenges
Those who fear a global, Big Brother-like takeover by Google of, well, just about everything digitizable, may be proven true in the end. Yet, the odds are against it. After, much the same was said of Microsoft only a few years ago — and before that about IBM and others — Redmond is now looking increasingly vulnerable in the mobile age.
Despite Google's purchase of AdMob, its continuing increase in advertising revenues, and the rapid growth of Android, analysts may well have reason to be skeptical of betting too heavily on Google, suggests Boulton.
Among other question marks and challenges, he lists the aforementioned failure of the Nexus One and Google's Webstore, as well as the continuing domination of the Apple iPhone in the smartphone market, as well as the iPad in the new tablet market. Android appears to be making progress against the iPhone, with the iPhone 4's antenna problems suggesting new opportunites for Android, but Android tablets have been late coming to market, letting the iPad become even further entrenched.
Meanwhile, Google still has no "cohesive plan to shore up its social networking front versus Facebook," writes Boulton. Other challenges for Google include the allegations of anti-competitive actions by Google that are being studied by the European Commission, says the story.
Not mentioned was the ongoing problem of Android fragmentation, as well as the growing disrepair of the Android Market. Meanwhile, projects such as Chrome OS, Google Music, and GoogleTV may take years to bear fruit, if they succeed at all.
Availability
eWEEK's story on Google pulling the plug on the Nexus One may be found here. Google's 2Q 2010 earnings announcement may be found here, and eWEEK's story on the earnings call may be found here.
The follow-up story on the role of Android-driven advertising in Google's bottom line may be found here.
---
This article was originally published on LinuxDevices.com and has been donated to the open source community by QuinStreet Inc. Please visit LinuxToday.com for up-to-date news and articles about Linux and open source.