Dec 6, 2010 — by LinuxDevices Staff — from the LinuxDevices Archive — 5 views
Google launched an online bookstore, which it says will allow free or paid access to more than three million titles. The eBookstore will support ePub and PDF formats, allow access via web browsers, and will be accompanied by free apps for the iPhone and Android devices.
Google's online bookstore is the company's effort to offer books online for purchase and free as an alternative to existing services from Amazon, Apple and Barnes & Noble. According to the search giant, consumers will be able to search among three million titles from the EBookstore (below), which will complement the existing Google Books platform that was launched in 2004 to help organize the world's books online.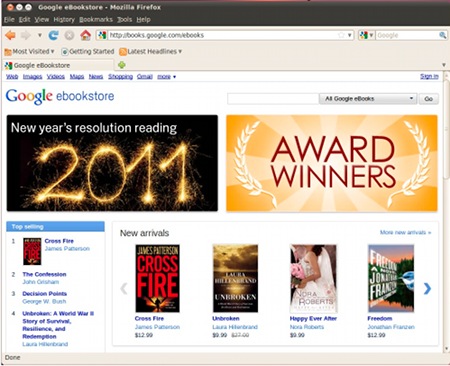 Google's eBookstore
(Click to enlarge)
eBooks, which will support the ePub and PDF formats, will include a Web reader to help users read indexed books from any device that supports a modern Web browser, including computers, tablets and smartphones. eBooks will be readily readable on the Sony Reader and Barnes & Noble Nook e-reading devices, Google adds, but only titles without digital rights management will be consumable on Amazon's Kindle.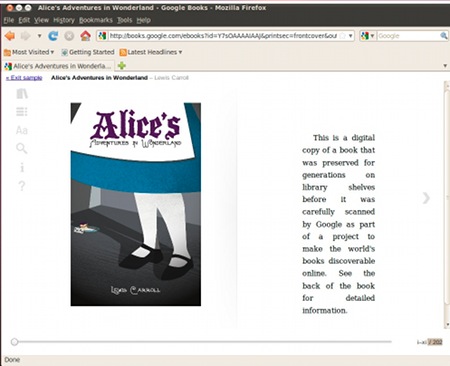 Google's web reader seen in Ubuntu
(Click to enlarge)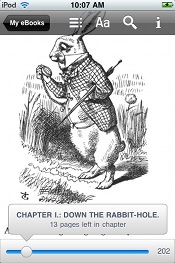 Google says it will also offer free applications to let users access eBooks from devices running Google's Android operating system, such as smartphones and tablets, and Apple's iOS (left), including the iPad and iPhone.
Of those three million titles Google will offer, hundreds of thousands will be offered for purchase, including George W. Bush's new Decision Points. Content will be provided by Google's 4,000-plus publisher partners, including Random House Macmillan, Simon & Schuster, Harper Collins and McGraw Hill.
Google has negotiated revenue splits on a publisher-by-publisher basis but won't disclose those percentage breakdowns, Scott Dougall, product management director for eBooks, told our sister publication eWEEK. It is believed Google will mostly pay most publishers 52 percent of the list price for sales made on the eBookstore Website.
More than two million book titles will be free, public-domain classics (of which users may already see snippets on the Google Books search platform). They'll include the likes of Jane Austen's Pride and Prejudice and Great Expectations by Charles Dickens.
The Google Books search platform will continue to surface results for books, with links on search results Web pages to let users purchase books from retailers. The Google eBooks store will be one of the choices where users can purchase titles.
According to Dougall, Google will not sell ads on the eBooks store through AdWords or AdSense. On the other hand, the Google Books search platform will continue to surface results for books, offering links on search results that let users purchase books from retailers. The Google eBooks store will be one of the choices where users can purchase titles, Dougall explained.
Google also sports a retailer and affiliate program, making the titles it offers from publishers available through online bookstores such as Powell's in Portland, Ore.
This retail channel also includes the more than 200 independent bookstores that are part of the American Booksellers Association that will sell Google eBooks from their online stores.
Revenues incurred from sales of books through affiliate partners will be split between the reseller, the publisher and Google. Dougall declined to specify what these splits were.
Google is entering a super-competitive market for ebook sales, where Amazon and Apple are currently the top providers.
Amazon offers 750,000-plus titles for purchase for its Kindle, which starts at $149. Apple offers the iBooks application for its iPad, backed by 60,000 titles in its iBookstore.
ChangeWave Research polled 2,800 consumers and found the iPad's share of the e-reader market had expanded from 16 percent to 32 percent between August and November, while the Kindle's dipped from 62 percent to 47 percent.
Barnes & Noble's Nook platform holds four percent of the market, a shade behind Sony Reader, which holds five percent.
While Google eBooks offers more titles, it is still starting from scratch against four established players.
Google had wanted to get the platform out the door this summer. Dougall attributed the delay to the challenge of trying to offer an open-platform alternative to the existing services.

Google's eBooks
(click to play)

Further information
A discussion of Google's new eBookstore may be found on its Google Mobile blog, here, while the eBookstore itself may be accessed here.
Google eBooks for Android may be downloaded here, while Google eBooks for iPhone, iPad, and iPod Touch may be downloaded here.
Clint Boulton is a writer for our sister site eWEEK.
---
This article was originally published on LinuxDevices.com and has been donated to the open source community by QuinStreet Inc. Please visit LinuxToday.com for up-to-date news and articles about Linux and open source.