Oct 18, 2010 — by Eric Brown — from the LinuxDevices Archive — 2 views
Pandigital announced a six-inch, electrophoretic ePaper version of its Barnes & Noble-ready e-reader. The Pandigital Novel Personal eReader offers an 800 x 600 grayscale touchscreen made by Sipix, Wi-Fi, 2GB of memory, and a microSD slot, says the company.
Pandigital makes no mention of Android, which was employed in its initial, poorly reviewed Pandigital Novel seven-inch color e-reader tablets, as well as a recently upgraded device bearing the same name.
The latter Novel was slightly smaller and lighter, and doubled available memory to 2GB, but was otherwise identical to the first version, selling for the same $200 MSRP. Both included an ARM11 processor, a seven-inch, 800 x 600 touchscreen, 802.11n, SD expansion, a mini-USB 2.0 port, accelerometers, and a six-hour battery.
We have yet to see a monochrome, electrophoretic e-reader that runs Android, but the interface and feature set of the new Novel Personal eReader appear somewhat similar to the earlier models. (Of course, the new device could be using another type of Linux instead.)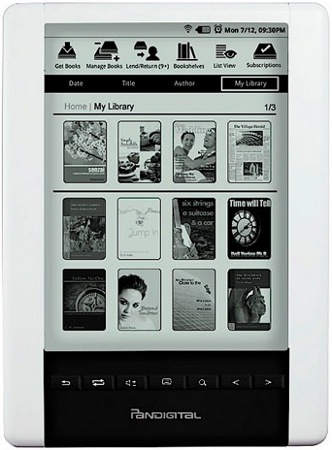 Pandigital Novel Personal eReader
The iPad and other color tablets, many of them based on Android, have clearly cut into the monochrome e-reader market. Judging by continued strong sales of the grayscale, Linux-based
Amazon Kindle
, the impact has not been as great as many expected.
Electrophoretic ePaper displays, most of which are made by E Ink, continue to have the advantage of greater readability, especially in sunlight, as well as lower power consumption and, typically, lighter weight. Their main disadvantage is the inability to play videos or show color images.
Sipix technology brings touch to ePaper displays
Unlike most grayscale e-readers, the Novel Personal eReader offers a touchscreen instead of depending on ancillary buttons. The display is manufactured by Sipix/AUO, says Pandigital. The Sipix technology is also available in the Windows-based, 9-inch Asus DR-900 e-reader.
Although the screen size of the Novel Personal eReader is an inch smaller than the company's color models, it offers similar 800 x 600 resolution. Other similar features include the 2GB of internal memory, as well as the built-in memory card reader, which accepts up to 32GB cards.
At press-time, Pandigital did not offer detailed specs on the site, so it is unclear if the device uses the same ARM11 processor used by the earlier tablets. Like the earlier models, the Novel Personal eReader provides Wi-Fi, although it's not clear if it shares their 802.11n version. Other common features include a speaker, mini headphone jack, and accelerometers, says the company.
The Novel Personal eReader weighs only 9.1 ounces, down from the 11.8 ounce weight of the second-gen Novel, which itself was slimmed down from the original's 16 ounces. With its six-inch screen, the device is smaller than the earlier models, measuring 6.75 x 4.88 x 0.38 inches, says the company.
The e-reader's lithium-ion battery, which recharges via AC adapter or the built-in mini-USB port, is capable of up to 6,000 page turns, compared to six hours of life for the refreshed Novel, says Pandigital. An ePaper e-reader only uses battery power for interactivity, not the display itself, so it's difficult to compare, but we'd expect the present device to last much longer on a battery charge.
Software features are said to include a virtual keyboard, a web browser, and email, as well as support for PDF and EPUB e-book formats. In addition, the Novel Personal eReader offers an adjustable font size, a built-in dictionary, word/character search, highlighting, and creation of multiple bookmarks, says Pandigital. An appointment calendar and an alarm clock are also said to be available.
Users can view photos or listen to music, but understandably for a monochrome e-reader, there is no mention made of video.
As noted, the devices shares the previous Novels' ability to access Barnes & Noble's eBookstore, which offers more than one million e-books, newspapers, and magazines. Barnes & Noble's LendMe technology for sharing ebooks for up to two weeks, also found on B&N's own, Android-based Nook e-reader, is also available.
Stated John Clough, President of Pandigital, "We're extending our Pandigital Novel eReader line to include an ePaper model that will encourage even more readers to embrace the ease, comfort and enjoyment of electronic book readers."
Availability
The Pandigital Novel Personal eReader will be available later this month at national U.S. retailers, says Pandigital. The suggested retail price is $200, but real-world pricing is expected to be lower, says the company. More information should eventually appear on Pandigital's site, here.
---
This article was originally published on LinuxDevices.com and has been donated to the open source community by QuinStreet Inc. Please visit LinuxToday.com for up-to-date news and articles about Linux and open source.